In the retail and CPG landscape, leading manufacturing firms have started shifting towards a fashion-oriented environment to meet the altering preferences of the consumers. To reach out to the right target audiences in an agile and seamless manner, it becomes indispensable for leading retail organizations to ensure that they have a robust supply chain. Supply chain analysis helps companies improve and strengthen their supply chain by making data readily available to the stakeholders. Also, ensuring better supply chain analysis helps organizations streamline and reshape their prevailing supply chain processes and effectively track and monitor supply chain activities.
Want to know more about our supply chain analysis? Contact our experts right away.
In every organization, the first and the foremost preference for manufacturers is to gain better visibility into the interruptions that could affect product delivery. With years of expertise in offering a plethora of solutions, Quantzig's supply chain analysis helps the client gain actionable insights on supplier inventory levels, efficiently meet the compliance issues, and devise a robust disaster recovery plan.
The Business Challenge
A renowned sports goods, apparel, and accessories manufacturer with supply chains spread across 20 countries was facing a predicament in identifying the major reasons for failures in inbound and outbound deliveries. The client wanted to understand delivery levels across four channels such as the wholesale, retail, franchise, and WHS monoband. Moreover, the client wanted to understand the factors leading to inbound delays, outbound delays, and the impact of inbound delays on outbound deliveries. By leveraging Quantzig's solution, the client wanted to assess the major factors responsible for the OTIF failures in the inbound and outbound supply chain.
The primary objective of this engagement was to optimize its supply chain by identifying the best suppliers and maximize OTIF levels for outbound deliveries.
Mitigate risks and stay on top of demand with Quantzig's supply chain analysis solutions. Request a FREE Demo to know more.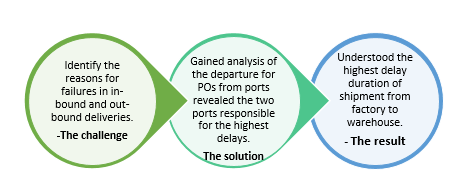 Solutions Offered and Value Delivered
To address the potential challenges in terms of OTIF failures, the client approached Quantzig's team of supply chain analysts. Quantzig's team of supply chain analysts created a dictionary comprising in-bound and outbound data based on the client's requirements. Furthermore, the client carried out assumption and exclusion criteria technique for data cleansing, including missing value treatment, outlier detection, and elimination and hierarchy for interim process dates. The client further crafted a dashboard to visualize the end-to-end supply chain process.
Want to learn more about our analytical methodologies? Request more information.
Benefits of Inbound and Outbound Data Analysis
Gained actionable insights on the exploratory and univariate analysis of inbound data
Gained analysis of departure for POs from ports revealed the two ports responsible for the highest delays
Gained more insights into the supply chain activities in terms of the delays in the shipping through CFS mode
Understood the highest delay duration from the shipment (factory to the warehouse)
Identified the wholesale channel that had the lowest out-bound OTIF levels
Identified the delay for OTIF deliveries
86% of the products were delivered with just a one-day delay in terms of the outbound lead time
Inbound and Outbound Data Analysis Predictive Insights
Identified the duration between the PO arrival at the destination port and reaching the warehouse
Created a robust linear regression model to understand the impact of each contributing factor
Identified the shipment type and port of departure that had a significant impact on the delay
Created a simulator to predict inbound delays
Identified the inbound logistics, warehouse storage, and manufacturing issues responsible for the cause of the delay
Identified the interim process and conditions with the highest delay probability to maximize out-bound OTIF