The Client
The client is a leading manufacturer and supplier of consumer packaged goods with several business units spread across Germany. With market expansion efforts in full swing, the client faced major OTIF delivery issues due to a lack of complete supply chain visibility and poor coverage rates. Though the company achieved substantial growth through mergers and acquisitions, its inability to address the supply chain issues proved to be a major roadblock for future expansion initiatives.
The Business Challenge
The supply chain of modern enterprises does much more than just physically transporting products and raw materials from one place to another. The digitally unified world today requires supply chains to act as the nexus between a digitally coordinated information ecosystem and the network of suppliers in order to enhance visibility, transparency, and flexibility. However, with the ongoing digital disruptions and globalization, businesses are reeling under the pressure to enhance supply chain visibility, which in turn has increased customer expectations and stretched supply chains to the farthest reaches of the planet. In fact, customer demands for faster response times now represent one of the top challenges for effective supply chain management.
Gain a holistic view of your datasets with customized supply chain management dashboards. Speak with our analytics experts right away!
Top Challenges Faced by the Client
Owing to their continuous market expansion efforts the CPG firm experienced increasing degrees of supply chain complexities along with a surge in costs for several years but did little to address the issues. The fragmented and decentralized nature of its supply network was mainly because the client lacked the basic analytics capabilities and a supply chain analytics dashboard to track supply chain processes.
Problem Statement 1
With order volumes exceeding millions and an average of 10,000+ monthly orders, the client needed to establish a robust supply chain management dashboard with different routing capabilities to track and monitor orders from different locations. The client's current supply chain management approach offered limited insights into such processes, giving rise to several issues related to OTIF delivery.
Problem Statement 2
The client's supply chain management strategy clearly did not offer the required insights into the supply chain processes to facilitate informed decision making. This proved to be a major challenge as it required the client to devise a holistic approach to enhance supply chain visibility across their global network.
Problem Statement 3
With a vast product portfolio and several different product categories under its umbrella, the client faced several challenges that hindered growth. The client needed to develop a supply chain management dashboard that compasses enterprise-level capabilities, technology, analytics, and data management skills to efficiently tackle supply chain disruptions.
Request a free proposal to know more about our supply chain management solutions.
Solutions Offered and Value Delivered
To gain the desired insights and tackle the complexities, the supply chain analytics experts at Quantzig adopted a comprehensive three-pronged approach that revolved around leveraging advanced supply chain management solutions.
Phase 1
The initial phase of this engagement focused on the development of a robust supply chain management dashboard to track and monitor OTIF performance across different nodes.
Phase 2
In the second phase, a dedicated team of supply chain management experts and data analysts were assigned the task of developing a supply chain visibility model to gauge the impacts of OTIF failures.
Phase 3
The third phase of this supply chain analytics engagement revolved around implementing a system dynamics-based simulation model to accurately predict the probability of OTIF failures in different scenarios.
Want more information on how supply chain management dashboards can help you drive tangible results across the entire supply network? Speak with our analytics experts today!
The supply chain management dashboard along with the robust supply chain solutions empowered the client to enhance end-to-end supply chain visibility across different product categories. The supply chain management dashboard also helped the client to accurately identify and prioritize scenarios that would lead to a higher probability of OTIF failures. By enhancing supply chain visibility, the client was able to accurately predict the probability of delays in the delivery process and make informed decisions regarding corrective actions. The customized supply chain management dashboard also offered a comprehensive view of delivery performance along with in-depth insights into the impact of late deliveries. This further empowered the sales and operations teams to redesign their approach to supply chain management, enabling them to split and re-allocate deliveries to get OTIF back on track.
The supply chain management dashboard also enabled the client to:
Improve OTIF delivery for outbound supply chain by 89%
Improve OTIF delivery for inbound supply chain by 80%
Gain near real-time visibility of orders across the supply chain
What are the Key Elements of Supply Chain Management?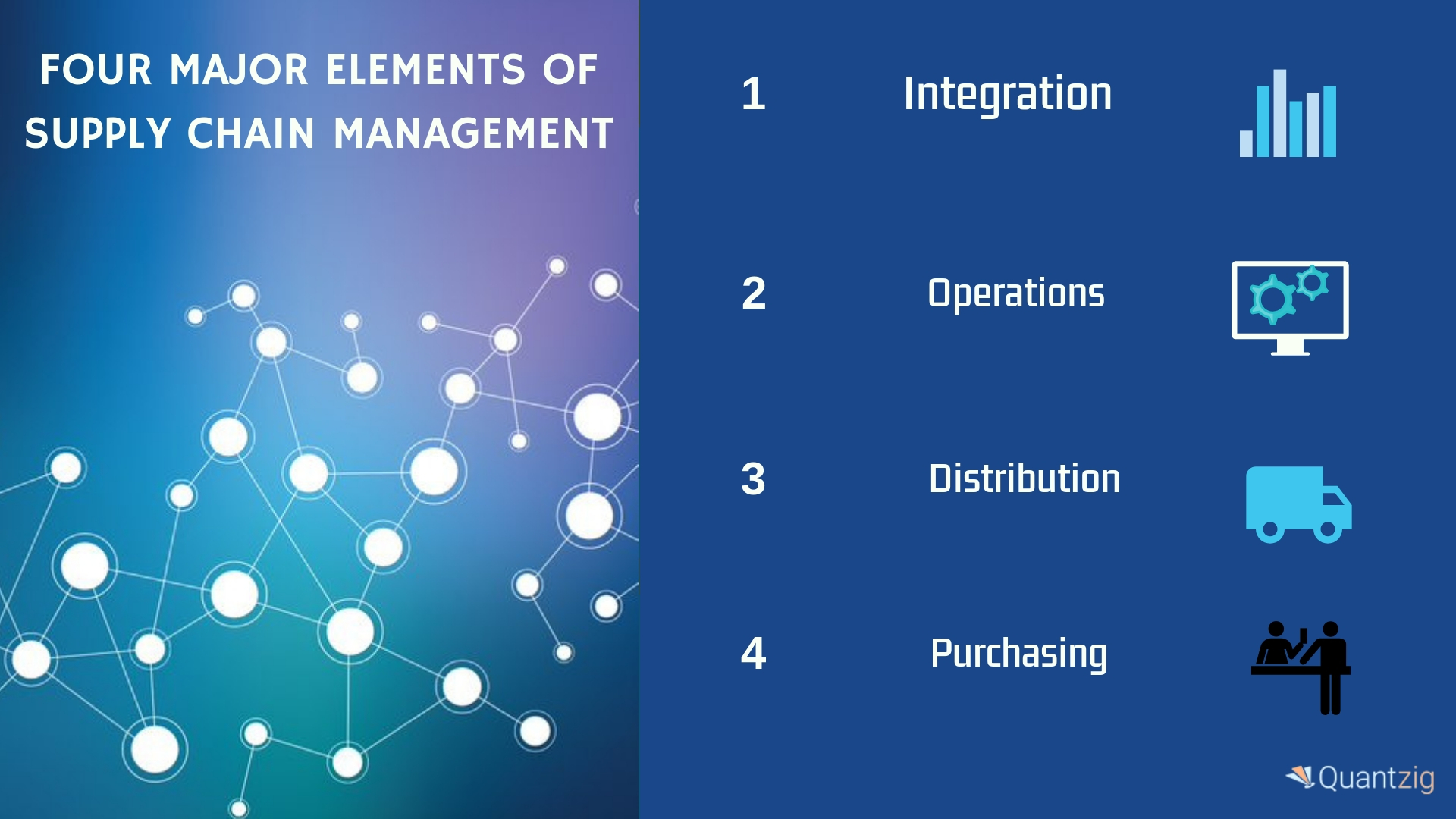 How Can Quantzig's Supply Chain Analytics Solutions Help?
Quantzig's supply chain management solutions help organizations to enhance performance through data, working together with them to build analytics-driven organizations and providing end-to-end support covering strategy, operations, data science, implementation, and data management solutions. Our supply chain analytics engagements range from use-case specific applications to full-scale analytics transformations. Quantzig's highly skilled team of consultants, data scientists, and data analysts work with clients to identify new opportunities, assess available data, define solutions, develop cutting-edge algorithms, visualize outputs, and assess impacts while building capabilities to sustain and expand existing supply networks.