Highlights of the Case Study
| | |
| --- | --- |
| Particulars | Description |
| Client | A telecom major in India was struggling with a high churn rate (customer attrition rate) which had a substantial negative impact on the sales numbers and revenue.  |
| Business Challenge | The client approached Quantzig to leverage its advanced data analytics for conducting whitespace analysis to build an anti-churn model for customer retention.   |
| Impact | Quantzig identified the gaps and designed an anti-churn model that created a correlation between the client's subscription plans and customer needs.   |
Game-Changing Solutions for the Telecom Industry
The telecom industry is highly unpredictable, where customer retention is tremendously low. Service providers compete to provide lucrative offers and tariff plans to win more subscribers. Moreover, the government's anti-monopoly policies also make the industry very volatile. It is, therefore, necessary to conduct whitespace analysis to bridge the gap between what ongoing plans the existing customer has activated and what else can be provided.
Whitespace analysis involves digging deep into the sales data to explore opportunities to scale up business revenue from the existing customers by deploying the cross-selling and up-selling approaches. The more services the current user base is activating, the harder it will be for them to move to another service provider. Hence companies will benefit from customer loyalty and a high turnover rate. 
Quantzig's whitespace intel analyses the current market needs to identify what services are succeeding among the telecom operators worldwide, what benefits have become outdated and examines the potential for new growth opportunities. Our competitive intelligence can leverage sales numbers to identify the gaps and suggest growth strategies. This will include upselling and cross-selling strategies resulting in top-line growth. 
The Challenges of the Telecom Client
Our client, a telecom major in India, was struggling with the high churn rate (customer attrition rate), which had a substantial negative impact on its sales numbers, adversely affecting the top-line growth and market share. The client approached Quantzig to conduct a whitespace analysis and help build an anti-churn model for customer retention.  
Some of the data points that the client was struggling with were as follows: 
70% of the Indian subscribers keep shifting to other service providers for better deals. 
5% was the average quarterly churn rate for the client. 
Existing models for cross-selling and upselling strategies were failing to keep the business afloat.  
The telco client wanted our sales analytics and competitive intelligence solutions to fine-tune and create successful upselling and cross-selling strategies based on customer activation plans to offset the churn-based loss and increase sales.  By leveraging our whitespace analysis solutions, we were able to provide much more to the client.
Request a Demo of this Case Study.
Quantzig's Big Data Analytics and Whitespace Analysis Solutions
Quantzig identified the gaps in the client's existing framework by conducting a white space analysis leveraging its big data analytics to curate the sales data across all subscription plans. We segmented the existing customers based on various parameters, including spending, demographics, purchases, etc., to develop effective upsell and cross-sell recommendations. 
Based on our white space gap analysis findings, we designed an anti-churn model that determined the correlation between the client's subscription plans based on customer behavior.  With this model, the client was able to identify the trends, visualize the existing known variables and put down conclusions regarding the perfect additional services that would match a group of customers' original plans. This enabled the client to drill down to the leading cause of the churn rate, which helped develop a satisfied customer base, leading to increased sales from the existing customer base in less than half the cost involved in new customer acquisition. 
Impact Analysis of Big Data Analytics Solutions
Our custom build model backed by data analytics helped the client achieve the following benefits: 
Unlock millions from the existing customer's purchases
Identify the existing customers in the new market spaces 
Identify possible gaps in sales and improve the current strategies to reach customers better 
Eliminate customer attrition rate 
Increase sales four-fold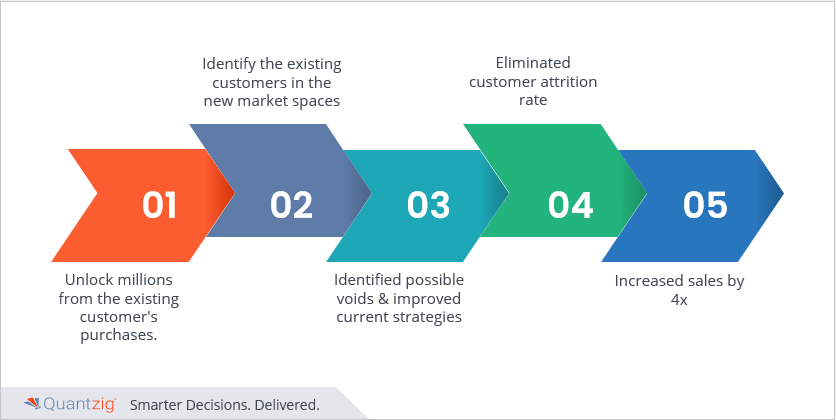 Key Outcomes
Quantzig's intervention enabled the client to implement its service recommendation platform improvements successfully. Improved recommendations increased the client's chances of being visible among other network operators. Quantzig's advanced data analytics solutions enabled the client to leverage its existing customer database to identify white spaces and use that information to provide targeted services for cross-selling and upselling purposes. This helped the client to improve its relationship with existing customers, ensured customer loyalty, and reduced the costs involved in acquiring new customers. All these factors helped improve the client's business and raised profits.
Broad Perspective on the Role of Whitespace Analytics in the Telecom Sector
Data analytics in the telecom industry is an intelligence process by which network service providers (NSPs) can analyze their voluminous data and determine actionable insights.  These insights can lead to a satisfying customer experience, ensure retention and increase sales.  Quantzig's advanced data analytics technologies can help automate and streamline processes for telecom service providers.  
Key Takeaways of Whitespace Analytics:
Quantzig's big data analytics solutions helped the client achieve the following:
Identified whitespaces where cross-selling and upselling could be implemented
Reduced customer churn by providing better plans and services
Matched customer groups to specific plans for better adoption success
Increased sales four-fold
Leveraged existing customers to reduce new customer acquisition costs
Request a Demo of this Case Study.
Related Articles: