Introduction
All Businesses need a real-time unified planning environment to democratize decision-making and optimize planning across lines of business activities, from operational to strategic levels. Effective automated demand planning delivers both customer satisfaction and profit by helping businesses strike an accurate balance between customer demand and sufficient inventory levels. With our automated demand planning solution, you can solve manual challenges and identify which inventory to order and when to order it, that will save time, reduce overstocks and stockouts, and ultimately improve your customer service. In this article, we delve into the transformative power of automated demand planning, exploring how best demand planning tools streamline operations, enhance accuracy, and empower businesses to not only meet but anticipate the ever-changing needs of their customers.
Benefits of demand planning automation for achieving business goals: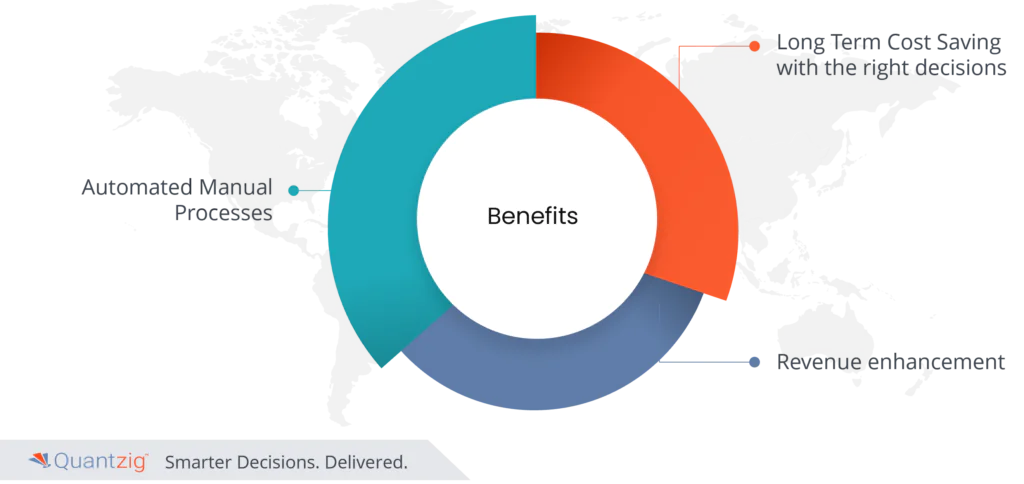 The automated demand planning process relies on machine learning and data analytics, leveraging historical data, trends, and technology to help you receive the right products in the right places, at the right time. Every day saved in the demand planning process contributes to a domino effect on the overall business impact. Timely insights from automated forecasting enhance inventory precision, cost efficiency, and customer satisfaction. In the realm of demand planning, automation isn't just a time-saver, it's the linchpin that sets in motion a chain reaction of positive business transformations.
In some organizations, we see data validation that is done manually or through Excel, which is prone to errors or oversight. In this process, individuals manually inspect and cross-check data, and make it susceptible to transcription mistakes, formula errors, and oversights. These inaccuracies can then propagate throughout the organization, leading to flawed decisions, operational disruptions, and financial losses. Unlike automation systems, manual validation lacks the consistency and efficiency needed to handle the complex and ever-changing demands of modern businesses. Transitioning to automated data validation not only mitigates risks but also ensures reliable, accurate data that forms the foundation for informed and confident decision-making.
Potential challenges in implementing demand planning automation for businesses:
Moving data back and forth between the retail partners, the Planning team, and the Sales team may contribute to delays and potential data errors. Balancing customization with scalability is tough, and the initial setup demands adequate time and resources. Besides, collating data across 30+ sales team members add to delays in the overall planning process since a single person's delay impacts the entire process capacity. However, conquering these challenges promises streamlined operations, reduced delays, and enhanced decision-making accuracy, underscoring the transformative potential of demand planning automation in modernizing businesses.
Conclusion:
Automated demand planning is a cross-functional process that helps lots of businesses fulfill customer demands for products while avoiding supply chain disruptions and minimizing excess inventory. It increases customer satisfaction, and profitability and leads to efficiency gains. Embracing automated demand planning isn't merely a choice, it's a strategic imperative that propels organizations into a future defined by data-driven precision and sustainable success. Automated demand forecasting stands not just as a tool, but as the catalyst propelling businesses toward resilience, growth, and an unassailable competitive edge.
Success Story:
Discover how Quantzig empowered a leading CPG client to revolutionize their demand planning process through cutting-edge automation!
Client Details: A leading CPG company located in the USA.
Challenges: 
The total process time was close to 3 business weeks to move from the data requisition to the orchestration across 30 Regional sales managers and finalization of forecasts. Manual coordination bottlenecked communication, while disparate data formats hindered seamless consolidation. The absence of real-time insights curtailed proactive decision-making. These hurdles highlighted the pressing need for streamlined workflows, automated collaboration, and expedited orchestration. Overcoming these challenges holds the promise of accelerated processes, heightened accuracy, and a fortified decision landscape, ultimately propelling the client towards agility and competitiveness in their operations.
The production team needed support in moving from the traditional process to the digitized version. We created a consumption campaign to successfully implement the solution. This campaign aimed to foster understanding, engagement, and adoption of the new solution. By effectively communicating the benefits of digitalization, addressing concerns, and providing tailored training, the consumption campaign paved the way for a seamless implementation. It empowered the production team to embrace the digital paradigm, enhancing efficiency, collaboration, and responsiveness while navigating the transformative journey from tradition to innovation.
Solutions:
Automating the demand and capacity planning process yielded transformative benefits for the client. By pinpointing and automating previously manual processes, their entire team experienced heightened efficiency and accuracy. Real-time data-driven insights empowered agile decision-making and reduced response times to market fluctuations. Resource allocation became optimized, curbing wastage and enhancing cost-effectiveness. The streamlined workflow improved collaboration, eradicating bottlenecks. Ultimately, this automated demand planning fortified the client's competitive stance and enabled them to meet demand with precision, minimize operational costs, and respond adeptly to dynamic market conditions, amplifying overall productivity and business success.
By meticulously identifying and automating key process components, the client experienced a paradigm shift in efficiency and accuracy. Streamlining the Quality Control (QC) and data transformation for distributor demand data ensured data integrity. Triggering Machine Learning (ML) models for precise forecasting and benchmark comparison elevated accuracy. The automated approval mechanism facilitated swift value updates by Regional Sales Managers (RSMs), enhancing agility. Digitizing follow-ups expedited the approval process while automating data integration and QC pre-ingestion bolstered reliability. Collectively, these interventions ushered in heightened productivity, precision, and collaboration, positioning the client to respond adeptly to market dynamics, reduce operational costs, and maximize business impact.
Impact Delivered: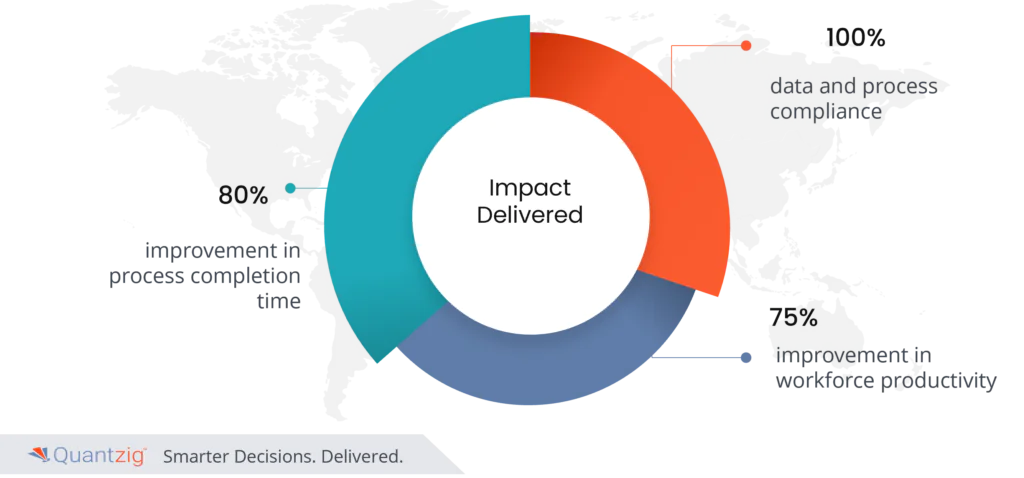 80% improvement in process completion time
100% data and process compliance
75% improvement in workforce productivity 
Unlock the potential of automation in your demand planning processes. Read the full case study now to learn more about our transformative partnership and the remarkable outcomes achieved. Start your journey towards operational excellence with Quantzig today.