Introduction
In today's hypercompetitive consumer products landscape, achieving sustainable revenue growth is the ultimate pursuit. Commercial excellence stands as the linchpin of success, encompassing a dynamic array of strategies and trends that propel businesses forward. In this article, we embark on an insightful exploration of the ever-evolving world of commercial excellence trends in the consumer products sector. From data-driven insights that unlock consumer desires to innovative approaches in pricing, distribution, and customer engagement, we uncover the keys to driving revenue growth and staying ahead in an industry where adaptation is the name of the game. Join us in deciphering the roadmap to triumph in consumer product revenue management.
Importance of Commercial Excellence in Consumer Products: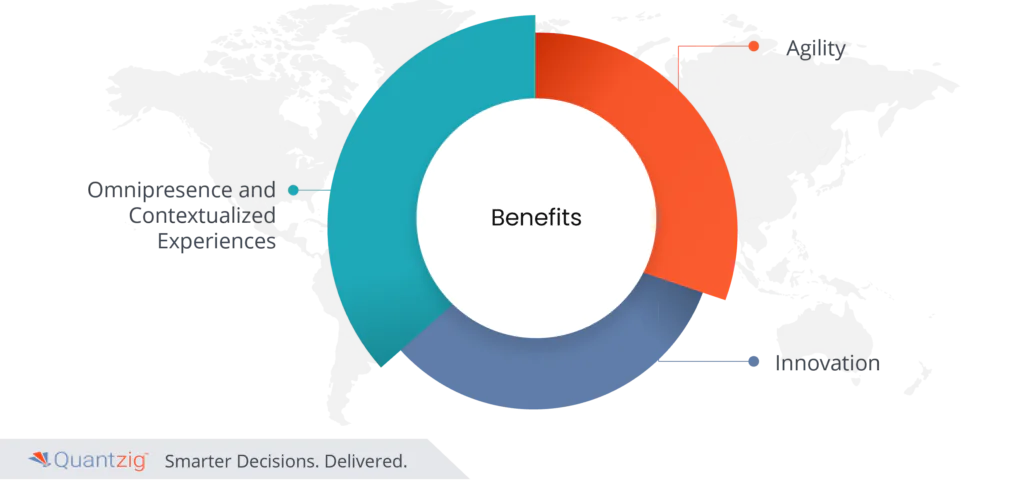 Omnipresence and Contextualized Experiences: In the contemporary consumer landscape, the digital realm has become the primary arena for information gathering and shopping. As consumers seamlessly navigate between physical and online channels, brands must adapt to this dynamic shift. Being omnipresent means establishing a robust presence across various touchpoints – both physical and online, such as websites, social media, mobile apps, and even physical stores. However, it's not just about being everywhere; it's about offering a consistent and contextualized experience. Brands need to leverage data-driven insights to understand individual preferences, purchase history, and real-time behavior to tailor their offerings and messaging. This personalization and seamlessness create a deeper connection with consumers, enhancing brand loyalty and ultimately driving sales excellence development.
Agility and Innovation: Consumer behaviors and market dynamics are in a constant state of flux. To thrive in this environment, brands must be agile and flexible. This agility enables them to quickly respond to changing trends, emerging technologies, and shifts in consumer preferences. It means having the ability to innovate rapidly, experiment with new strategies or excellent commercial products, and manage change effectively. Brands that can afford to take calculated risks and adapt swiftly gain a competitive edge. This might involve adopting new technologies, adjusting marketing campaigns in real-time, or even pivoting product offerings. Agility and flexibility are the cornerstones of resilience, helping brands not only survive but thrive in an ever-evolving consumer landscape.
Challenges during the implementation of commercial excellence in Consumer Products:
The evolution of RGM (Revenue Growth Management) represents a collective strategy that necessitates a co-creative mindset and a collaborative vendor/client execution model. This approach aims to craft customized, bespoke solutions driven by expertise, enhancing conventional business practices.
Modern RGM solutions commence with fragmented data sources to establish initial intelligence. However, they do not stop there. These solutions are dynamic, continually gathering insights from both traditional and non-conventional sources. This adaptability ensures they remain relevant in an ever-changing landscape. They are scalable, capable of accommodating expanding datasets, and forward-looking, prepared to integrate data from emerging sources.
The crux of this new-age RGM framework lies in its collaborative and co-creative nature. It draws from the collective expertise of vendors and clients, tailoring strategies to specific needs. By continuously evolving and adapting to an evolving data landscape, it empowers businesses to stay ahead of the curve and make informed decisions in an increasingly complex and data-rich environment.
Benefits of commercial excellence in Consumer Products:
The concept of a continuously learning and evolving framework in the context of business, particularly in areas like Revenue Growth Management (RGM), is akin to having a dynamic and adaptable strategy at the core of operations. It begins with a strong foundation, leveraging existing data sources and control mechanisms to kickstart the program effectively. This initial setup ensures that the organization is equipped to make informed decisions and optimize key aspects of its business, such as pricing, promotions, and distribution.
However, what sets this framework apart is its forward-looking nature. It doesn't stop at the initial setup; instead, it charts a coverage roadmap for the integration of additional data sources and the consideration of evolving business factors like health and wellness, and ESG (Environmental, Social, Governance) concerns. It is designed to continuously learn from market feedback and emerging trends, allowing the organization to adapt and refine its strategies in real-time. This adaptability and commitment to ongoing improvement are critical for staying competitive in today's rapidly changing business landscape.
What our capability does?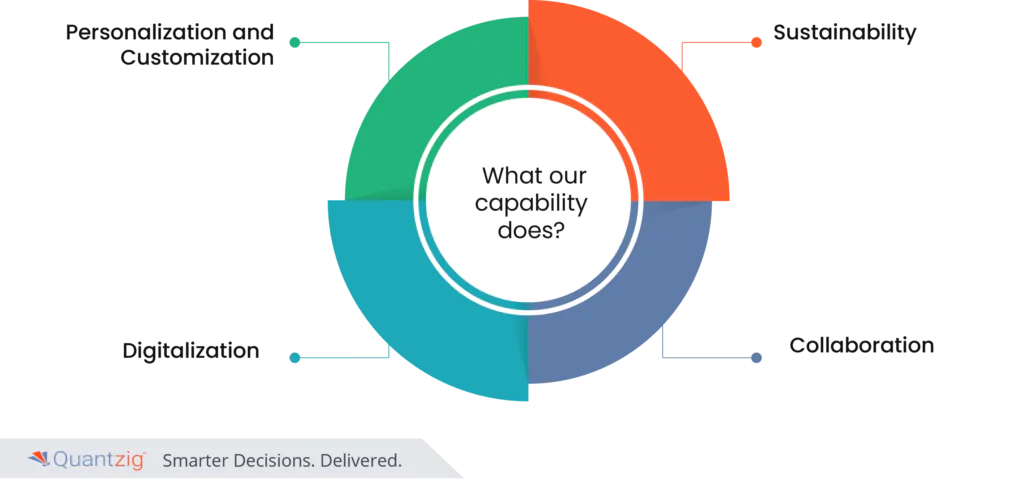 Personalization and Customization: In today's consumer-driven market, personalization and customization are paramount. Tailoring products and experiences to suit different consumer personas creates a deeper connection with customers. Personalization involves leveraging data and insights to offer unique product recommendations, content, and marketing messages based on individual preferences and behaviors. Mass customization, on the other hand, allows customers to configure and design products to their liking. This not only enhances customer satisfaction but also increases brand loyalty and drives sales excellence strategy.
Sustainability: Sustainability has become a central concern for commercial consumers and businesses alike. Addressing sustainability goals and compliance across the supply chain is no longer an option; it's a necessity. By prioritizing sustainability in sourcing, procurement, manufacturing, and distribution processes, companies not only meet consumer expectations but also reduce environmental impact, enhance brand reputation, and tap into the growing market of eco-conscious consumers.
Digitalization: The digital transformation is reshaping how businesses engage with consumers. Providing digital toolkits empowers companies to navigate the digital landscape effectively. These toolkits encompass digital marketing strategies, e-commerce platforms, and other technologies that enable businesses to extend their reach, engage consumers online, and stay competitive in the digital age.
Collaboration: Collaboration is essential for success in today's interconnected business world. RGM solutions facilitate collaboration with various stakeholders, including retailers, suppliers, and distributors. This collaboration can lead to the development of innovative products, improved supply chain efficiency, and expanded market or category reach. By fostering transparent and intelligent partnerships, companies can unlock CPG industry growth opportunities and streamline operations in a mutually beneficial manner.
Why should a client opt for our offering?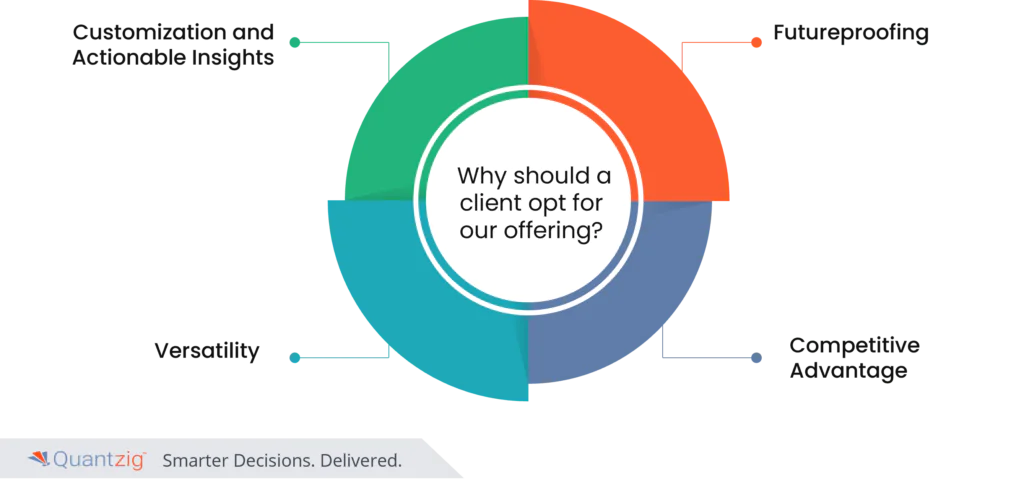 A client should opt for our bespoke RGM revenue growth management solutions for several compelling reasons:
Customization: Our solutions are not generic; they are crafted in collaboration with the client's commercial functions and excellence teams. This tailored approach ensures that RGM strategies precisely align with the client's unique goals, challenges, and market dynamics.
Actionable Insights: Our co-created solutions are designed to provide actionable intelligence, empowering clients to make informed decisions. This goes beyond mere data analysis, offering practical insights that drive tangible results.
Futureproofing: Our emphasis on internal enterprise roadmaps means that RGM strategies are adaptable and forward-thinking. Clients can confidently navigate evolving market trends and technologies, ensuring long-term relevance.
Versatility: Our range of consumption mechanisms accommodates various business requirements and functional landscapes. Whether a client needs measurement, planning, lighthouse solutions, or full automation, our offerings cater to diverse needs, promoting scalability and efficiency.
Competitive Advantage: By opting for our tailored RGM solutions, clients gain a competitive edge. They can respond swiftly to market changes, optimize operations, and ultimately drive revenue growth in a way that standardized solutions cannot achieve.
In summary, our bespoke RGM solutions offer clients a unique blend of customization, actionable insights, adaptability, versatility, and a competitive edge – all critical factors for success in today's dynamic business environment.
Conclusion
In conclusion, the commercial excellence in CPG products for revenue growth management is shaping a new era of business strategies. In an environment where consumers demand personalized experiences, sustainability is paramount, and digitalization is the norm, businesses must adapt or risk falling behind. The emphasis on bespoke solutions, actionable insights, and collaboration with stakeholders is enabling companies to thrive in an ever-changing marketplace. By embracing these trends, organizations are not only enhancing profitability but also fostering innovation, customer loyalty, and responsible business practices. In this dynamic landscape, staying ahead means not just meeting consumer expectations but exceeding them, and the future belongs to those who embrace these commercial excellence trends wholeheartedly.