Introduction
In today's highly competitive business landscape, understanding and engaging with customers on a personalized level has become paramount for success. Micro-segmentation is a powerful technique that allows businesses to dissect their customer base into granular segments, enabling targeted and tailored marketing strategies based on near real-time data. This data-driven precision not only enhances customer engagement and satisfaction but also drives improved conversion rates and business growth. Through this comprehensive article, we'll explore the transformative impact of customer micro-segmentation on marketing effectiveness. 
Make the most of your data!
Connect with us for tailor-made solutions
Importance of Effective Customer Marketing with Customer Micro-Segmentation:
Effective customer marketing with customer micro-marketing segmentation empowers businesses to develop a deeper understanding of individual customer needs and preferences based on their journey with the brand. By analyzing vast datasets and customer interactions, businesses can identify critical touchpoints, pain points, and preferences along the customer journey. This data-driven approach allows for the creation of personalized marketing campaigns, tailored product recommendations, and targeted promotions, enhancing customer engagement and satisfaction. Understanding customers on an individual level leads to increased loyalty, improved customer retention, and higher conversion rates. Embracing micro-segmentation is vital in today's competitive landscape, as it enables businesses to build lasting relationships with their customers and gain a competitive edge in the market. 
Effective customer marketing with customer analytics and segmentation allows businesses to implement dynamic customer segment, based on the latest interactions across various marketing channels. This data-driven approach enables real-time tracking of customer behaviors, preferences, and responses, leading to a comprehensive understanding of changes in customer mindset. By constantly updating customer segments based on the latest data, businesses can deliver highly personalized and relevant marketing campaigns, maximizing customer engagement and satisfaction. Understanding changes in customer mindset is crucial for businesses to adapt quickly to shifting market dynamics and customer preferences. Embracing micro-marketing segmentation facilitates agile and effective marketing strategies; ensuring businesses stay ahead of the competition and foster lasting relationships with their customers, ultimately driving business growth and success. 
Challenges present in a lack of Effective Customer Marketing:
Today, businesses struggle to effectively market to their customers despite access to multiple channels of outreach and increased promotion budgets. This is primarily owing to siloed data across marketing teams and the resistance from individual teams to adopt a unified assessment approach. Individual marketing teams tend to operate independently, believing that their specific channel requires unique strategies to impact customers effectively. Each marketing team reaches out to customers based on their understanding of customer needs, being completely agnostic to customer journey with brand across channels and any recent preference/behavioral changes. This results in multiple brand messages with varied CTAs going to the same customer leading to poor customer experience.
Without micro-marketing segmentation, businesses struggle to create personalized campaigns that resonate with individual customers. Furthermore, the absence of a unified approach leads to missed opportunities for cross-channel collaboration, resulting in suboptimal customer engagement and limited ROI. Embracing micro-segmentation breaks down data silos, fosters collaboration, and enables businesses to deliver highly targeted marketing efforts that drive customer satisfaction and loyalty.
Benefits of Effective Customer Marketing with Customer Micro-Segmentation:
Effective Customer Marketing with Micro-Segmentation enables businesses to identify specific customer preferences and pain points, allowing them to craft targeted campaigns that resonate deeply with each customer. Personalized marketing tactics result in increased conversion probability, fosters stronger emotional connections, enhances customer engagement, and ultimately boosts conversion rates. Embracing customer analytics and segmentation empowers businesses to deliver impactful marketing initiatives that drive higher customer satisfaction and loyalty, driving overall business growth and success. 
With effective customer marketing through micro-marketing segmentation, businesses capture real-time insights into customer interactions. This helps companies identify the next-best tactic and best channel to engage each customer depending on the latest customer action across channels. Embracing micro-segmentation allows businesses to be agile, maximizing customer engagement duration thus boosting overall RoI.
Conclusion:
In conclusion, effective customer marketing with customer micro-segmentation emerges as a game-changing strategy for businesses seeking to drive customer engagement and conversions to new heights. Through real-time insights and data-driven precision, a customer segmentation system empowers businesses to understand customer behavior changes, enabling personalized and impactful marketing tactics. By identifying the next-best action and the best marketing channel for each customer at a given point in their journey, businesses can tailor their messaging and offers, enhancing customer satisfaction and loyalty. Embracing micro-segmentation positions businesses as agile market leaders, delivering targeted campaigns that resonate with customers across various channels.  
Success Story:
Driving customer marketing success through customer micro-segmentation: A Quantzig Case Study 
Client Details:
A leading retailer in the USA 
Challenges: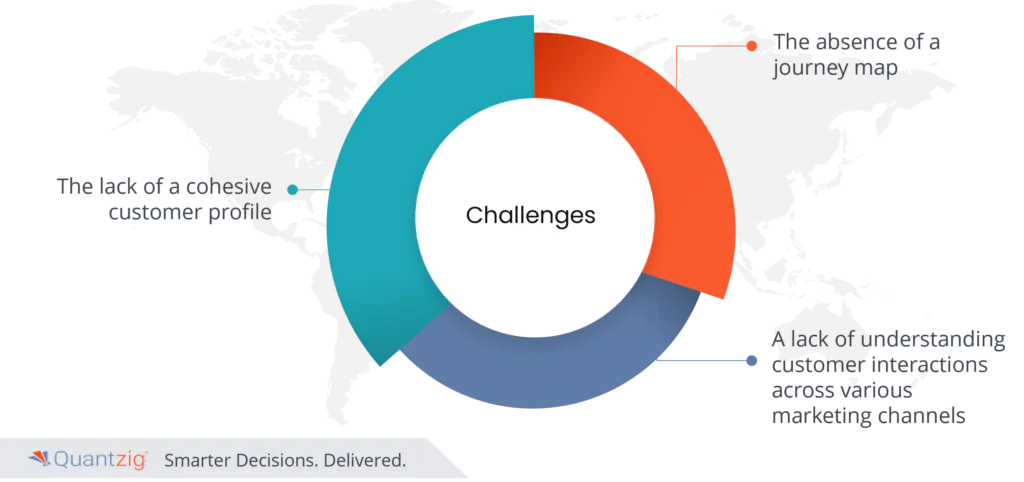 A leading e-commerce retailer in the USA faced significant challenges in understanding customer interactions across various marketing channels. Disconnected data made it difficult to trace the customer journey, hindering the development of personalized marketing strategies. The lack of a cohesive customer profile and journey map resulted in missed opportunities for customer engagement and increased customer churn. 
Make the most of your data!
Connect with us for tailor-made solutions
Solutions:
Quantzig, a global data analytics and strategic consulting firm, offered a transformative solution through its customer 3.0 framework. By leveraging advanced identity resolution techniques, we built a comprehensive 360-degree customer profile, connecting customer data from diverse channels. This enabled the client to create a unified customer journey map, identifying potential re-activation and potential churn points. Utilizing predictive analytics, the next-best action for each customer was determined, allowing for highly personalized marketing tactics to help increase customer retention and reduce churn.
Impact Delivered: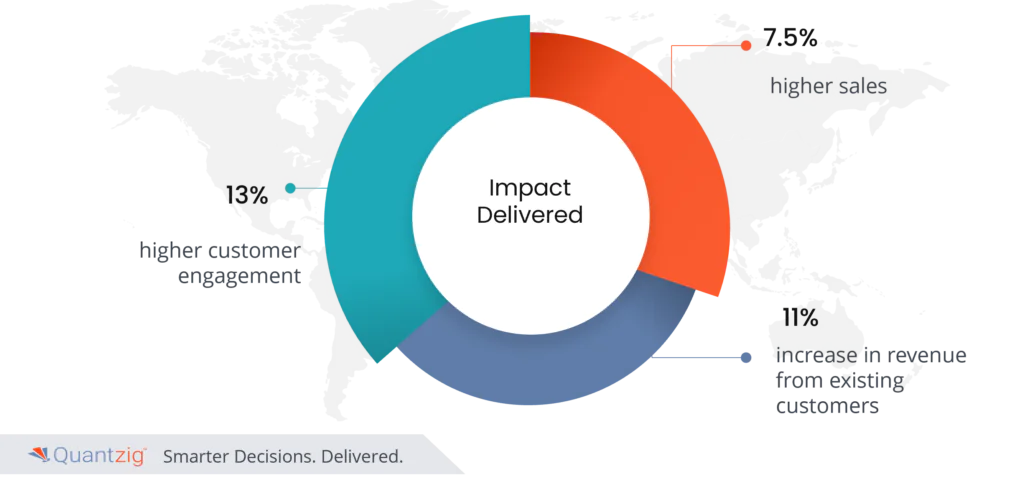 13% higher customer engagement
7.5% higher sales
11% increase in revenue from existing customers 
Elevate your customer marketing game with Quantzig's micro-segmentation solutions. Unlock the power of data-driven insights to engage customers effectively, reduce churn, and drive business growth. Contact us today to revolutionize your customer marketing strategy and become a leader in your industry.