Introduction
In the rapidly evolving landscape of Consumer-Packaged Goods (CPG), where convenience and digital experiences intersect, the stage is set for a dazzling spectacle of innovation and transformation. The fusion of cutting-edge technology, data-driven insights, and a consumer-centric approach has given birth to an era of CPG ecommerce trends and Digital propositions that are nothing short of futuristic. This article embarks on a thrilling journey through the very heart of this revolution, where traditional retail models are being reshaped and redefined. We delve into the disruptive technologies and strategies that are redefining the way consumers interact with their favorite brands, offering a glimpse into a world where personalized recommendations, frictionless shopping, and sustainability are at the forefront. As we explore these groundbreaking trends, one thing becomes abundantly clear: the future of CPG is a dynamic blend of innovation and consumer empowerment, where the possibilities are as limitless as the digital realm itself.
Importance of Futuristic and Innovative trends in CPG E-commerce & Digital propositions:
In the ever-evolving landscape of Consumer Packaged Goods (CPG), the emergence of digital natives and small-scale competitors, along with the ongoing threat of mainstream giants embracing disruptive concepts, has intensified the need for CPG firms to adopt data-driven strategies for product innovation and Product Lifecycle Management (PLM).
The lower barriers to entry in the digital age have paved the way for nimble startups and digitally-savvy entrepreneurs to swiftly enter the market, capturing niche segments and encroaching upon the market share of established players. Meanwhile, industry behemoths have demonstrated an eagerness to disrupt traditional norms with novel ideas, posing a formidable challenge.
To navigate this competitive terrain, CPG firms must harness the power of data analytics to inform product innovation and optimize the entire PLM process. By leveraging consumer insights, market trends, and real-time data, these companies can make informed decisions about product development, demand forecasting, supply chain management, and marketing strategies. Such data-driven agility is key to maintaining market relevance and meeting consumer expectations in this era of constant change.
Challenges/Problems faced while implementing Futuristic and Innovative trends in CPG E-commerce and digital propositions:
In a landscape marked by the ever-expanding diversity of markets and the proliferation of digital data sources, the challenge of distinguishing meaningful signals from the cacophony of noise is paramount. Identifying genuine trends and valuable opportunities amid fleeting market fads is a formidable task, amplifying the risk associated with investing in market-driven innovation as opposed to in-house propositions.
An ideal analytics solution for this complex scenario should address this challenge head-on. It must offer a sophisticated framework for discerning the right trends and opportunities that align with a business's objectives, all while detecting them at an actionable early stage. By doing so, it empowers organizations to maximize their potential for innovation and growth. Such a solution should harness advanced data analytics, machine learning, and predictive modeling to sift through vast datasets, identify emerging trends, and provide actionable insights, thereby reducing the uncertainty and risk associated with market-driven innovation. In this way, businesses can stay ahead of the curve, capitalize on genuine opportunities, and make strategic investments with confidence in a rapidly changing business environment.
Benefits of implementing Futuristic and Innovative trends in CPG E-commerce and digital propositions:
Our comprehensive suite of Innovation Analytics tools serves as an invaluable resource throughout the entire product lifecycle, aiding in informed decision-making at each critical stage. We empower R&D teams by providing innovation intelligence and decision support, facilitating process innovation, and ultimately expediting time to market while enabling swift, scalable decision-making.
One of our standout offerings is the New Product Launch (NPL) analytics framework, a versatile tool that offers invaluable pre-launch validation and post-launch performance measurement, enhancing your understanding of consumer sentiment and proposition effectiveness.
Our toolkit comprises specialized solutions designed to address specific needs:
Pre-launch Intelligence: This facet of our toolkit is designed to equip you with the insights necessary for confident decision-making before product launch. It encompasses Innovation Ideation and Market Trends analysis, Concept Validation, and assessment of Product Market Readiness. Additionally, it offers support for Product Lifecycle Management (PLM) and strategies for fast-tracking Time to Market. The toolkit also assists in Marketing Testing and Launch Planning, ensuring a robust pre-launch strategy.
Post-launch Measurement and Management: After your product hits the market, our toolkit continues to be your partner in success. It provides comprehensive support for refining Marketing and Campaign Strategies, executing Sales Enablement, and measuring and managing Performance. You can gauge Market Adoption and Consumer Response effectively and stay ahead with up-to-date Market and Competitive Intelligence.
Our Innovation Analytics toolkit is your reliable companion, facilitating data-driven, agile decision-making, and enhancing your ability to succeed in a dynamic and competitive business landscape.
Conclusion:
In conclusion, the world of Consumer-Packaged Goods (CPG) has embarked on an exhilarating journey into the digital age, where innovation knows no bounds. The fusion of cutting-edge technology, data-driven strategies, and consumer-centric experiences has redefined the very essence of CPG digital trends. It is a realm where convenience, personalization, and sustainability converge to shape the future of consumer interactions with brands.
As we've explored these futuristic trends, it is evident that CPG firms that embrace this dynamic landscape with data-driven strategies will thrive. The lower barriers to entry, the rise of digital natives, and the persistent mainstream competition all signal a need for agility and foresight. Success lies in the ability to isolate meaningful signals from the noise, and investing in market-driven innovation, all while staying attuned to ever-evolving consumer demands. The future of CPG trends belongs to those who dare to innovate, adapt, and harness the power of the digital realm to lead with creativity and insight.
Success Story:
"Revolutionizing consumer packaged goods examples: Unleashing Digital Innovations for Market Dominance"
Client Details:
A multinational chocolate manufacturer headquartered in Europe with annual revenue of $450 Mn+.
Challenges Faced by the Client:
The Product Innovation Team sought a solution to proactively identify emerging trends and unexplored product opportunities. Their objective was to stay ahead in the market by recognizing potential future trends and product whitespace areas. This initiative aimed to enhance strategic planning and provide a competitive edge by allowing the team to focus on innovation where customer demands intersect with untapped market segments. In summary, the team aimed to leverage data-driven insights to anticipate and capitalize on evolving consumer needs, ensuring that their product development efforts were aligned with the dynamic landscape of their industry.
Solutions offered by Quantzig:
Through extensive keyword research, Quantzig identified pivotal conversational platforms where consumers, influencers, and manufacturers engage in discussions pertaining to the category. To enhance this understanding, we developed a Machine Learning-based Natural Language Processing (NLP) solution. This innovative tool effectively categorizes conversations, sorting them into distinct innovation areas such as ingredients, value propositions, utility, and more. By segmenting and analyzing these dialogues, we enable our clients to gain comprehensive insights into the key factors driving innovation and consumer engagement within their specific market, fostering informed decision-making and strategic advancements.
Impact Delivered: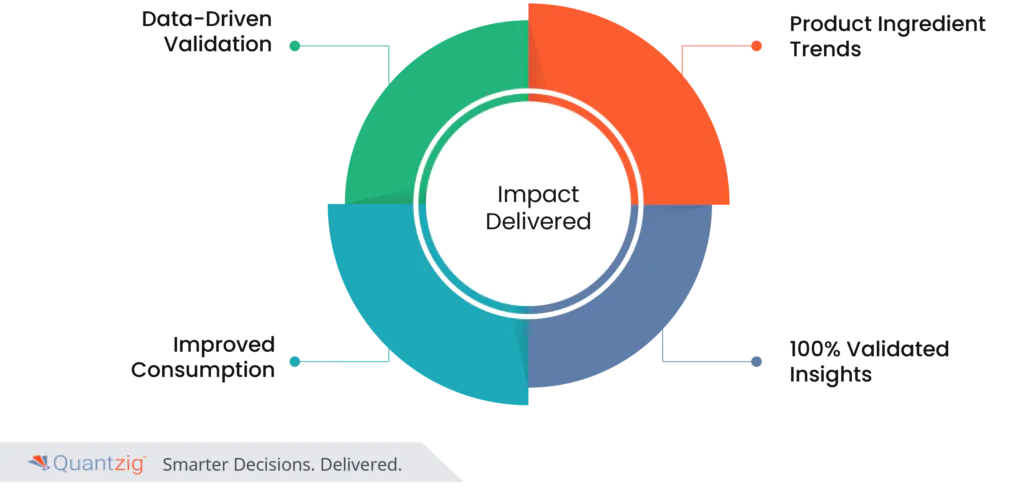 Data-Driven Validation: Utilizing data-driven techniques, we validated innovation propositions to ensure their viability and alignment with market needs.
Product Ingredient Trends: We identified and analyzed product ingredient trends to pinpoint the most relevant and promising elements for future product development.
Improved Consumption: Our CPG ecommerce strategy led to a significant 60% improvement in the adoption and usage of our solution.
100% Validated Insights: All insights were rigorously validated through the marketplace, guaranteeing consumer acceptance and marketplace maturity, and providing a solid foundation for strategic decision-making.
"Discover how Quantzig supercharged our client's CPG journey into the future! Read the case study for insights on how to harness the power of digital propositions. Transform your business with innovative strategies. Get Started Today!"