What You'll Find in this Case Study:
About the Client
Clickstream Analytics Challenge Faced by the Client
Clickstream Analytics Solution Offered and Value Delivered
Clickstream Analytics Engagement Outcome
Business Outcome
About the Client
The client- is a leading online retail firm based out of the Netherlands that strives to provide the highest quality goods and services to its customers through its online channels. With a wide array of offerings that include electronics, clothing, and fashion accessories, they have been successful in maintaining a diverse customer base.
Clickstream Analytics Challenge Faced by the Client
With the e-commerce sector growing rapidly it is often the small details that define business success while providing a winning edge over your peers. Leveraging advanced data-extraction and web crawling techniques can help you track and analyze important metrics related to your website's performance. Quantzig's web analytics solutions can help you scrap through the product lines and key offerings of your customers to analyze their features, benefits, and key offerings.
At the start of their personalization journey, the company primarily focused on capturing the details of its website visitors to offer incentives based on the referral source. Such campaigns were mainly driven by rule-based segments and simple, yet effective pop-up messages. After testing the power of personalization and achieving several quick wins, they approached Quantzig as they were looking at leveraging it's clickstream analytics capabilities for offering more individualized and intent-driven shopping experiences for visitors across its website.
Clickstream Analytics Solution Offered and Value Delivered
Quantzig's dedicated 'Analytics Centre of Excellence' with a team of 20+ data scientists and clickstream analytics experts designed an innovative three-pronged approach to tackle the challenges faced by the retailer. The clickstream analytics solutions leveraged sophisticated mathematical models and AI-driven algorithmic decision making to analyze customer journeys and segment the end-users based on their usage patterns.
Harnessing the power of clickstream analytics can help you turn insights into actions to improve customer satisfaction and engagement rates. Contact our analytics experts for detailed insights.
The solutions and recommendations offered by our clickstream analytics experts empowered the e-commerce client to identify key web analytics metrics and improve their online presence. Clickstream analytics coupled with advanced data mining techniques helped the client to gain valuable insights into their customer's visiting behavior and optimize the use of available data. This, in turn, brought major changes in their business structure through a 120% surge in their clickthrough rates.
Phase 1
The first phase of this clickstream analytics engagement revolved around the use of advanced data mining algorithms and machine learning techniques to enrich raw data and refine it for further analysis.
Phase 2
The second phase of the clickstream analytics engagement focused on clustering clickstream data to draw valuable insights and make significant adjustments to their online marketing strategies.
Phase 3
The final phase of this clickstream analytics engagement revolved around analyzing customer journeys to extract data-driven personas for the most frequent digital journeys of their customers.
Clickstream Analytics Engagement Outcome
Business Outcome
Leveraging clickstream analytics helped the client to gain a deeper understanding of their customer's interests, preferences, and intent. This, in turn, helped them create and deploy personalized experiences across its website to offer personalized messages and products to each customer. The client also witnessed an 18% increase in conversion rates, which was a remarkable 5x higher than the average conversion rate on the site.
Quantzig's clickstream analytics solutions also empowered the client to: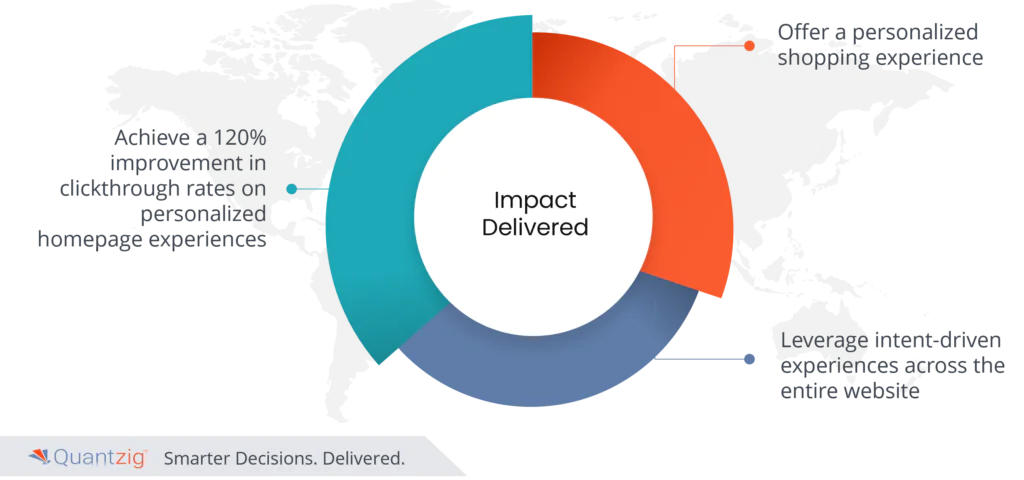 Achieve a 120% improvement in clickthrough rates on personalized homepage experiences!
Offer a personalized shopping experience
Leverage intent-driven experiences across the entire website