Introduction
In an era defined by data-driven decision-making, the dynamic landscape of customer analytics is being profoundly influenced by the relentless march of technology. From artificial intelligence and machine learning to big data processing and predictive analytics, technology is not just a tool but a driving force shaping the future of customer insights. This article delves deep into the transformative role that technology plays in the realm of customer analytic trends, exploring the cutting-edge trends and insights that are redefining how businesses understand, engage, and delight their customers. As we navigate the digital age, it's imperative to comprehend how tech-driven innovations are revolutionizing the way companies harness data to create unparalleled customer experiences and drive growth.
Importance of technology in shaping Customer Trends Analytics and Insights:
Unified customer data management and decision support systems represent the cornerstone of customer-centric operations and achieving business excellence in today's competitive landscape. In the modern customer journey, personalization and timely responses are paramount, and this is precisely where these systems shine.
By consolidating and harmonizing customer data from various touchpoints, these systems provide a holistic view of the customer's interactions and preferences. This comprehensive understanding empowers businesses to respond with personalized actions precisely at the key moments that matter, creating a seamless and satisfying customer journey. Furthermore, these systems enable data-driven decision-making. They leverage advanced analytics, AI, and machine learning to extract actionable insights from the collected data. This empowers organizations to anticipate customer needs, identify trends, and optimize their strategies accordingly.
New-age toolkits and platforms, often cloud-based and scalable, play a pivotal role in accelerating the implementation and addressing the dynamic market requirements. They provide the agility and flexibility required to adapt to changing customer behaviors and preferences swiftly. Ultimately, this combination of unified data management and advanced technology tools is the linchpin for businesses aspiring to be customer-centric, ensuring they not only meet but exceed customer expectations and drive sustainable growth.
Challenges/Problems faced while implementing technology in shaping Customer Analytics Trends and Insights:
In the modern enterprise landscape, customer data has emerged as one of the most substantial and rapidly expanding data ecosystems. This evolution is largely driven by the proliferation of digital workflows and processes that generate a continuous influx of customer-related information. However, this abundance of data is accompanied by a fundamental challenge: the absence of a state of "perfect" or 100% complete data coverage. The dynamic nature of data streams means that newer sources are consistently being established, leading to a perpetual lack of comprehensive and pristine data.
This predicament presents a pressing business dilemma. On one hand, there's an urgent need to kickstart customer analytics implementation, as data-driven insights are crucial for staying competitive and delivering exceptional customer experiences. On the other hand, the ever-changing data landscape necessitates a thoughtful approach. To navigate this challenge effectively, organizations must adopt and institutionalize next-generation customer analytics solutions.
Key capabilities in this context include the ability to adapt to evolving data streams, employ advanced analytics techniques, and maintain data quality and security. Enablers encompass robust data governance, agile analytics platforms, and a data-driven culture. By addressing these capabilities and enablers, companies can harness the power of customer data while remaining agile and responsive to ongoing changes, thereby ensuring long-term success in customer analytics and business excellence.
Benefits of implementing technology in shaping Customer Trends in Analytics and Insights:
Our cutting-edge customer analytics solutions, part of Customer Analytics 3.0, are strategically designed to boost revenue by focusing on omnichannel customers and cultivating high return-on-investment consumer behaviors. Here's a breakdown of our approach: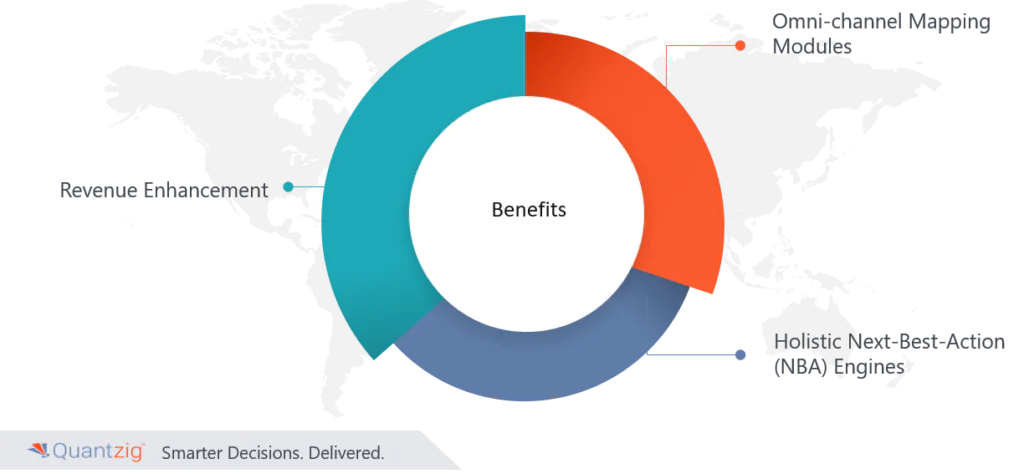 Revenue Enhancement: Our solutions are engineered to optimize revenue streams, with a primary focus on omnichannel customers, by recognizing and nurturing behaviors that yield the highest returns.
Omni-channel Mapping Modules: These modules act as data powerhouses, meticulously tracking and processing every consumer interaction across all channels. As consumers progress through the purchase journey, these modules continually generate increasingly valuable insights, enriching our understanding of their preferences and behavior. This information is crucial for personalized targeting and engagement.
Holistic Next-Best-Action (NBA) Engines: At the heart of our strategy are the Holistic Next-Best-Action (NBA) engines, powered by cutting-edge AI modules. These engines are capable of real-time data analysis trends of customer behavior, purchase intent, and lifecycle stage. Leveraging this insight, they generate personalized marketing and content recommendations for each customer. These recommendations are tailored to precisely meet the customer's unique needs and preferences, resulting in a highly engaging and satisfying customer experience.
By integrating these components, our Customer Analytics 3.0 solutions offer a comprehensive and dynamic approach to customer engagement, significantly impacting revenue growth and customer loyalty.
Conclusion:
In an age defined by data and digital transformation, technology's role in shaping customer analytics trends and insights is nothing short of revolutionary. It has redefined the way businesses understand, engage, and serve their customers. As technology continues to advance, the landscape of customer analytics evolves, offering unprecedented opportunities for personalized interactions, predictive insights, and informed decision-making. The synergy of technology and data has ushered in a new era of customer-centric operations, empowering companies to excel in an ever-competitive marketplace. Embracing this symbiotic relationship is not merely a choice but a necessity for those aspiring to unlock the full potential of data-driven excellence, business analytics trends, and customer satisfaction.
Success Story
"Revolutionizing Real-time Customer Analytics: How Quantzig Unlocked Growth Through Tech Advancements"
Client Details:
A leading e-commerce company located in Europe.
The challenges faced by the Client:
The client was confronted with several critical challenges in their customer data management and personalized strategy implementation:
Poor Data Management: The absence of a robust data management system hindered their ability to effectively organize, store, and access customer data. Inconsistent or incomplete data could lead to inaccurate customer profiles and hinder the creation of personalized strategies.
Lack of Personalization: Without access to well-structured data, the client struggled to create personalized and contextualized strategies. Tailoring marketing and engagement efforts to individual customer preferences and behaviors was a significant challenge, limiting the potential for effective customer retention and growth.
Identifying Repeat Customers: The client's e-commerce team specifically needed a solution to identify transactional customers likely to become repeat customers. Without a data-driven approach, this task relied on guesswork rather than actionable insights, resulting in missed opportunities to nurture and retain valuable customers.
Overall, the client's challenges underscored the critical importance of efficient data management and customer analytics models to enhance personalization, inform strategic decisions, and foster customer loyalty.
Solutions offered by QZ:
The process began with the construction of a comprehensive Customer 360 Datamart, integrating a diverse range of data types, including demographic, transactional, channel, and behavioral information. This served as the foundational repository for deep customer analytics. Subsequently, we meticulously identified all potential attributes that held the potential to influence purchase behavior, creating a nuanced understanding of customer dynamics.
Through sophisticated current trends in business analytics, we pinpointed customers exhibiting higher propensities for specific behaviors and identified the key attributes driving these propensities. This consumer trend analysis was instrumental in uncovering the critical factors that influenced customer choices and preferences.
In response to these findings, we formulated tailored activation plans for both the inner loop (website) and outer loop (campaigns) of the customer journey. These plans aimed to leverage the insights gained to enhance engagement, personalization, and conversion at every touchpoint. In doing so, we not only optimized the customer experience but also maximized the effectiveness of marketing campaigns, ultimately driving revenue and fostering long-term customer relationships.
Impact Delivered: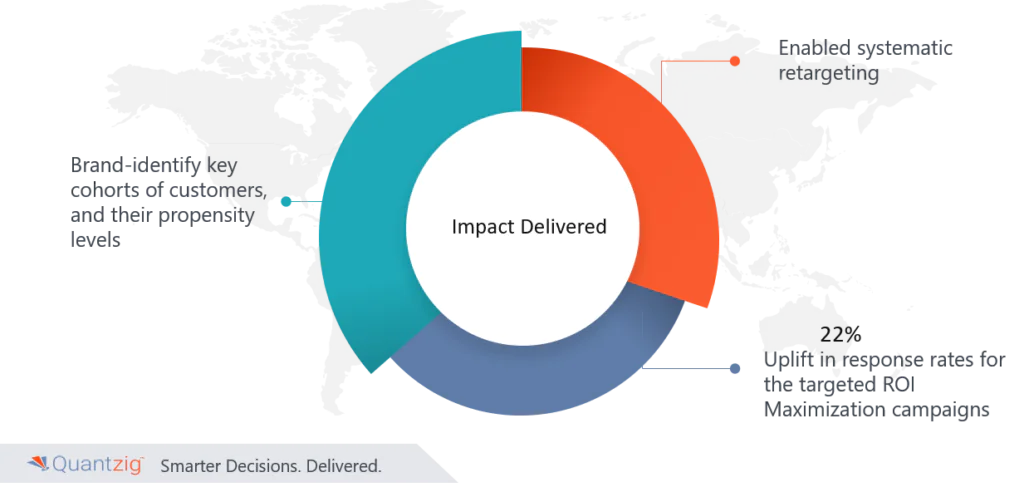 We helped them brand-identify key cohorts of customers, and their propensity levels and enabled systematic retargeting.
Campaign performances showed a 22% uplift in response rates for the targeted ROI Maximization campaigns.
"Unlock Your Business's Full Potential with Customer Analytics Services – Learn from Our Success Story Today!"