Introduction
In an era where supply chain dynamics shape the business landscape, the untapped potential within warehouses holds the key to unlocking unprecedented revenue streams. Warehouse optimization solutions harness cutting-edge technology and strategic insights to transform chaotic storage spaces into seamless hubs of efficiency, maximizing revenue and minimizing operational costs. It mainly deals with creating the following issues more efficiently: the use of space, time, and warehouse resources. The key purpose of such a warehouse optimizing shift is to improve customers' experience and satisfaction significantly. This leads to revenue enhancement through more precise process automation and planning. 
The article delves into the transformative realm of warehouse optimization solutions – a strategic gateway that not only maximizes operational efficiency but also becomes the driving force behind revenue enhancement.
Make the most of your data!
Connect with us for tailor-made solutions
Importance of warehouse optimization solutions for revenue enhancement:
In the fast-paced world of supply chain management, warehouse optimization solutions emerge as a critical driver for revenue enhancement. These solutions not only address immediate challenges but also pave the way for sustained profitability and competitiveness.
1. Strategic Inventory Management and Location Planning: Warehouse optimization solutions play a pivotal role in planning warehouse locations and managing inventory to align with customer demands. The prevention of overstocking, which often leads to obsolescence, is a key objective. By orchestrating seamless inventory management and strategic location planning, these solutions ensure that products are positioned strategically, minimizing losses, and maximizing profits. This strategic positioning also contributes to a competitive edge in the dynamic market landscape.
2. Enhanced Return on Investment (ROI) through Efficient Space Utilization: In an environment characterized by substantial warehouse setup and maintenance costs, optimization becomes imperative for sustained profitability. Warehouse management and optimization solutions stand as the strategic answer, unlocking enhanced ROI. These solutions efficiently utilize warehouse space, transforming fixed expenses into valuable assets. By fostering prudent resource allocation and streamlining workflows, warehouse optimization directly impacts the bottom line. The efficient use of space not only boosts operational efficiency but also translates into tangible financial gains, highlighting the transformative power of optimization solutions.
3. Improved Operational Efficiency and Cost Conversion: Warehouse optimization solutions go beyond space utilization; they significantly contribute to improved operational efficiency. By streamlining workflows and minimizing redundancies, these solutions ensure that resources are utilized optimally. The result is a more agile and cost-effective warehouse operation. The conversion of fixed expenses into valuable assets becomes evident as operational efficiency increases, creating a domino effect that positively impacts overall revenue.
4. Prudent Resource Allocation and Workflow Streamlining: Warehouse optimization solutions facilitate prudent resource allocation by providing insights into the most efficient use of available resources. Whether it's labor, equipment, or storage space, these solutions guide businesses in allocating resources where they are most needed. This, in turn, streamlines workflows, reduces bottlenecks, and contributes to a more agile and responsive supply chain. The impact of prudent resource allocation is felt not only in operational efficiency but also in the financial gains reflected in revenue enhancement.
The importance of warehouse optimization solutions for revenue enhancement is multi-faceted. From strategic inventory management to efficient space utilization and improved operational efficiency, these solutions offer a comprehensive approach to achieving sustained profitability. In a competitive market, where every aspect of the supply chain matters, investing in warehouse optimization emerges as a strategic imperative for businesses aiming to thrive and succeed.
Challenges present in implementing warehouse optimization: 
The implementation of warehouse optimization strategies is a complex undertaking that involves numerous challenges, ranging from regulatory intricacies to substantial capital expenditure. Navigating these challenges is essential for the successful execution of optimization initiatives.
1. Regulatory and Contractual Complexities: Warehouse optimization decisions, such as establishing new setups, upsizing, or downsizing, often encounter regulatory and contractual complexities. Compliance with zoning laws, safety codes, and lease agreements introduces additional layers of challenge. Balancing operational efficiency with legal requirements demands meticulous planning and negotiation. Failure to align optimization strategies with legal frameworks can lead to delays, legal disputes, or unforeseen costs. Successful warehouse optimization must harmonize business goals with regulatory and contractual obligations for seamless and productive operations.
2. Long Payback Period and Capital Expenditure: The substantial capital expenditure required in the initial phase of warehouse-related decisions, while recouped over an extended period, poses significant challenges. Due to the long payback period, choices made during setup, layout, or technology adoption carry lasting consequences. Any misalignment with operational needs or evolving market dynamics becomes harder to rectify, resulting in potential inefficiencies or missed opportunities. The infrequent ability to modify these decisions demands thorough evaluation, foresight, and adaptability. Warehouse optimization, therefore, requires meticulous planning to ensure that initial choices resonate with long-term efficiency and adaptability, mitigating the challenges posed by their lasting impact.
3. Technology Adoption and Integration: Implementing warehouse optimization often involves the adoption and integration of advanced technologies, such as warehouse management systems (WMS), automation, and analytics. The challenges lie in selecting the right technologies that align with the specific needs of the warehouse and integrating them seamlessly into existing operations. The complexity of technology adoption, coupled with the need for employee training and adaptation, adds another layer of challenge to the optimization process.
4. Workforce Adaptation and Change Management: Warehouse optimization initiatives may necessitate changes in workflows, processes, and roles within the workforce. Resistance to change among employees and the need for comprehensive change management strategies can be significant challenges. Ensuring that the workforce is adequately trained, informed, and motivated to embrace new processes and technologies is crucial for the success of warehouse optimization.
Benefits of warehouse optimization solutions for enterprises: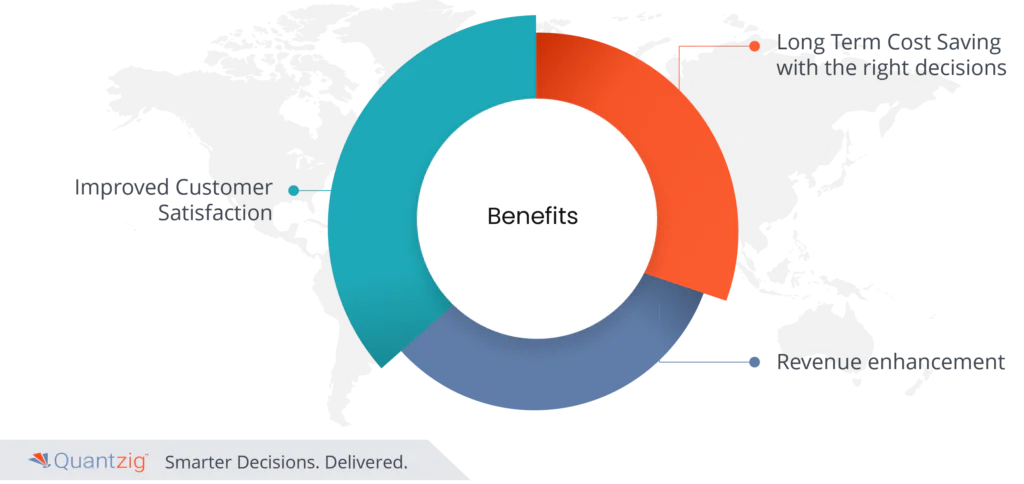 Improved Customer Satisfaction:
Warehouse management and optimization solutions enhance customer satisfaction by ensuring timely and accurate order fulfillment. Businesses can promptly meet customer demands by strategically positioning inventory and streamlining processes. This leads to reduced delivery times, minimized errors, and increased product availability. The result is a seamless customer experience that builds loyalty and trust. Customers receive their desired products on time, leading to higher satisfaction levels and a more substantial brand reputation. The ripple effect of efficient warehouse management resonates positively, forging lasting connections with customers who feel valued and prioritized.
Long Term Cost Saving with the right decisions:
Long-term cost savings through warehouse optimization solutions stem from informed decisions. By leveraging real-time data and insights, businesses can avoid overstocking, reduce storage expenses, and prevent losses from obsolete inventory. Strategically managing inventory levels and warehouse space leads to efficient resource allocation, minimizing waste and unnecessary expenditures. The result is a leaner, more agile operation that optimizes expenses over time. Moreover, these solutions enable businesses to identify trends, forecast demand accurately, and adapt to market shifts, all of which contribute to sustained cost savings. With the right decisions driven by data-driven strategies, companies not only secure their financial well-being but also establish a foundation for enduring success and growth.
Conclusion:
In conclusion, Warehouse management and optimization, if done accurately provides a wide range of advantages such as improved customer satisfaction, long-term cost savings with the right decisions, optimized layouts and routes, better resource utilization, data accuracy, and higher productivity. So, it can be stated that it is a powerful step toward overcoming a broad range of challenges like inventory failures, poor order processing quality, and inbound route management errors. As businesses embrace the transformative potential of warehouse optimization, they not only unlock operational excellence but also compose a symphony of enduring growth and financial prosperity in the competitive landscape.
Success Story:
Elevating Revenue through Warehouse Optimization: How Quantzig Revolutionized Operational Efficiency for Client Success
Client Details: A Leading manufacturing company located in Europe. 
Challenges: 
Customer demand volatility was leading to frequent stockouts and delayed customer deliveries across warehouses. Fluctuating demand patterns made it difficult to predict inventory needs accurately, which resulted in inadequate stock levels or overstock situations. These disruptions led to compromised customer satisfaction, eroding brand trust and market share. The dynamic nature of demand underscored the need for an agile solution that could effectively balance inventory levels, streamline distribution, and enhance supply chain resilience to swiftly respond to ever-changing customer needs.
The client confronted the challenge of pinpointing the root causes behind warehouse inefficiencies that were having detrimental effects on the overall ROI of their supply chain. Lacking clear visibility into bottlenecks, process gaps, and resource allocation issues within their warehouse operations hindered effective optimization. This obscured the path to strategic decision-making, preventing timely interventions and improvements. The inability to decipher these inefficiencies not only curtailed operational effectiveness but also eroded profitability, emphasizing the urgency for a comprehensive solution to unveil underlying challenges and pave the way for a more efficient and lucrative supply chain.
Make the most of your data!
Connect with us for tailor-made solutions
Solutions:
Quantzig enabled the client to conquer demand volatility through advanced analytics. By studying historical demand patterns, we predicted future fluctuations and enabled optimal inventory stocking. Additionally, our solution identified viable stock translocation strategies and ensured ad hoc customer requirements were met while minimizing cost ramifications. Our data-driven insights empowered the client to proactively align inventory with market dynamics and enhanced customer service levels and operational efficiency. With Quantzig's expertise, the client transformed their supply chain into a responsive, profit-driven engine, navigating demand uncertainties and elevating their competitive edge in the market.
Quantzig revolutionized warehouse operations by centralizing all activities onto a single platform. We enabled deep insights into the client's operations, deciphering the root causes of returns, damages, stockouts, and obsolescence. Our data-driven approach uncovered trends and patterns and facilitated the identification of optimal corrective actions. Through advanced analytics, we provided the client with a roadmap for optimizing warehouse processes. Quantzig's solution not only enhanced operational efficiency but also reduced losses, improved customer satisfaction, and streamlined decision-making. By harnessing our expertise, the client transformed their warehouse into a strategic hub of productivity and cost-effectiveness and propelled their business forward.
Impact Delivered: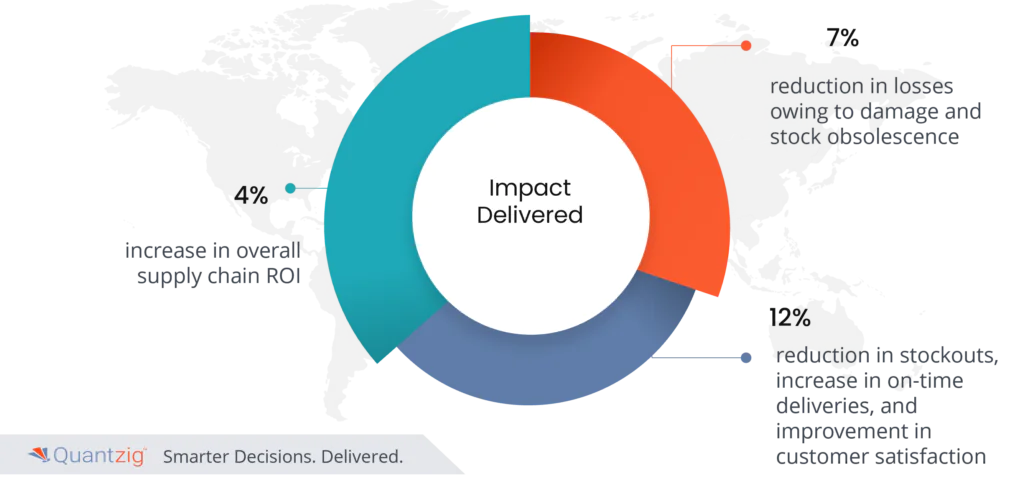 4% increase in overall supply chain ROI
7% reduction in losses owing to damage and stock obsolescence.
12% reduction in stockouts, increase in on-time deliveries, and improvement in customer satisfaction.
Ready to unlock new levels of revenue through warehouse optimization? Discover how Quantzig transformed operational efficiency, propelling our client's success. Explore the case study to unveil the power of data-driven insights and take the first step toward elevating your revenue growth!