Introduction
In a world where the life sciences industry is at the forefront of innovation and discovery, the integration of artificial intelligence stands as a transformative force and trends in life sciences, reshaping the entire value chain. The article embarks on a compelling journey through the remarkable synergy of AI and the life sciences sector. It unveils a profound evolution, where AI transcends boundaries to enhance drug discovery, streamline clinical trials, and optimize healthcare delivery. As we delve into this exploration, we witness the boundless potential of AI to revolutionize and accelerate the life sciences, ultimately reshaping the way we understand, develop, and deliver healthcare solutions to the world.
Importance of Amplifying AI's Reach Across the Life Sciences Value Chain:
In the rapidly evolving healthcare landscape, the demand for real-time access to the latest information has never been more pronounced. Patients and physicians alike seek immediate and accurate insights to make informed decisions. Concurrently, pharmaceutical markets are experiencing increased volatility, necessitating agile responses. The life sciences industry finds itself at the confluence of these forces, managing vast amounts of data teeming with untapped potential.
To address these challenges, pharmaceutical companies are increasingly turning to AI-based solutions. These technological trends in life sciences offer accelerated response times, benefiting both internal stakeholders and external customers, including physicians and patients. AI's power lies in its ability to enable swifter and more precise diagnoses, personalized treatment plans, and streamlined drug development processes. From drug discovery to optimizing life science supply chain, AI revolutionizes the life sciences value chain, enhancing efficiency and, most importantly, improving patient outcomes.
As AI continues to advance, it holds the promise of transforming the pharmaceutical landscape, facilitating data-driven decision-making, and ushering in a new era of personalized healthcare that is faster, more accurate, and more patient-centric.
Challenges/Problems faced while implementing AI Across the Life Sciences Value Chain:
The pharmaceutical industry faces significant challenges in harnessing its vast data resources. These hurdles include the sheer volume of data collected at various stages, limitations in data analysis capabilities, and GDPR constraining data capture. Moreover, the utilization of AI models not contextualized for pharma-specific terminologies and protocols often results in misleading and incomprehensible outputs for business stakeholders. Overcoming these obstacles necessitates tailored AI solutions, robust data analytics capabilities, and stringent adherence to data privacy regulations, ultimately enabling the industry to derive meaningful insights from its data and make informed, contextually relevant decisions.
Benefits of implementing AI Across the Life Sciences Value Chain: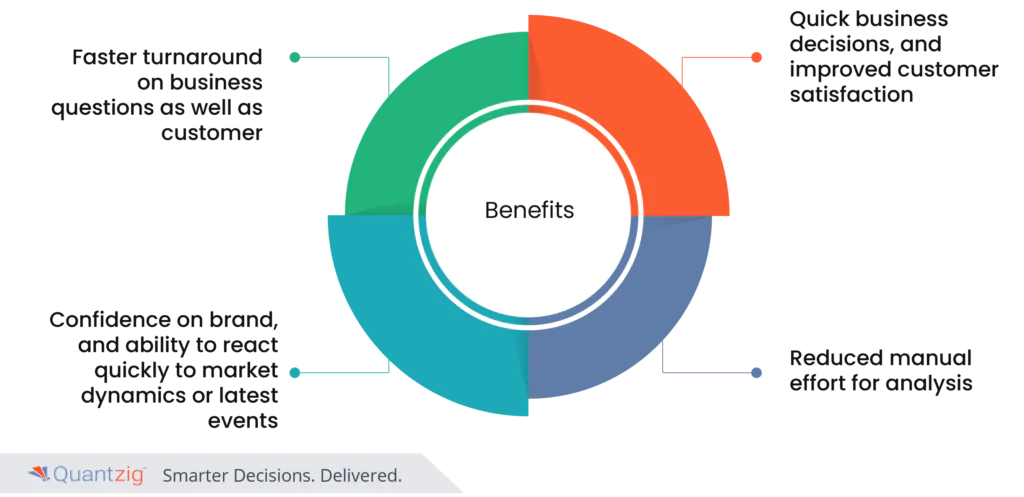 The integration of AI solutions within the pharmaceutical industry promises a myriad of benefits. These encompass faster responses to critical business inquiries and customer queries, including those from physicians and patients. Swift decision-making, empowered by AI-driven insights, ensures that pharmaceutical companies can adapt promptly to market dynamics and respond effectively to the latest events, such as emerging healthcare trends or regulatory changes. Moreover, this not only enhances customer satisfaction but also builds confidence in the brand.
Furthermore, the reduction in manual effort for data analysis is a significant advantage. AI's ability to process and analyze vast datasets at remarkable speeds enables pharmaceutical professionals to redirect their focus toward higher-value tasks, such as strategy development and innovation. In a rapidly evolving sector, the adoption of AI not only streamlines operations but also places pharmaceutical companies at the forefront of healthcare advancements, ultimately benefiting patients, physicians, and the industry as a whole.
Conclusion
As we conclude this exploration of AI's transformative role in the life sciences value chain, it's evident that we stand on the brink of a new era. AI's integration has the potential to reshape the industry, making healthcare more efficient, personalized, and responsive to the needs of patients and physicians. With the ability to process vast data, accelerate diagnoses, and enhance drug development, AI empowers the life sciences sector to tackle its most complex challenges. Unparalleled opportunities mark this journey into the future, and as AI continues to amplify its reach across the life sciences value chain, we are poised for a healthcare landscape that is not only smarter but profoundly more patient-centric and innovative.
Success Story
"Revolutionizing Pharmaceuticals: Amplifying AI's Impact on the Life Sciences Value Chain"
Client Details:
A leading pharmaceutical company located in the US.
Challenges faced by the Client:
The launch of a new drug is a critical juncture for pharmaceutical companies, and rapid market adoption is often impeded by information gaps. In this scenario, the client's sales team found themselves inundated with inquiries from physicians seeking details on the drug's benefits, efficacy, insurance coverage, and real-world evidence (RWE) supporting its use. The manual handling of these inquiries not only consumed valuable sales team resources but also hindered the timely dissemination of crucial information to physicians. As a result, the slower response times impacted the confidence-building process, delaying the market's acceptance of the new drug. To mitigate this challenge, implementing an efficient AI-driven solution for information retrieval and response management can significantly accelerate the confidence-building process and revenue growth.
Solutions offered by QZ:
Quantzig spearheaded the development of a game-changing centralized platform, leveraging AI algorithms, to enhance the customer experience for physicians visiting the company's website. This innovative solution allowed physicians to pose inquiries about the brand and promptly receive answers in near real-time, effectively addressing a staggering 90% of their questions. For the remaining 10%, which demanded a more personalized touch, the system seamlessly routed these queries to the respective sales representatives or business executives. This approach not only streamlined and expedited the information exchange process but also empowered the sales team to focus on higher-priority, more complex inquiries. The result was a more efficient and responsive engagement model, fostering stronger relationships with physicians and, ultimately, accelerating market acceptance and revenue growth.
Impact Delivered: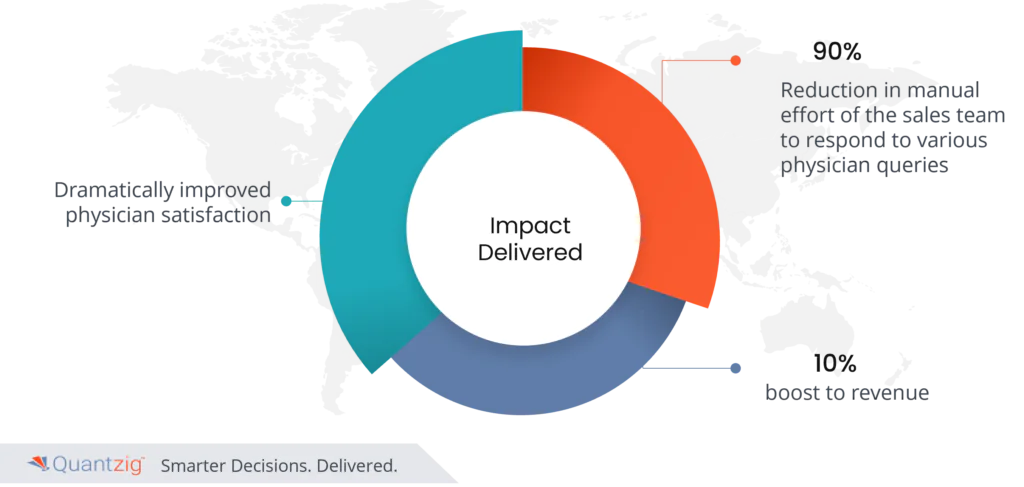 Dramatically improved physician satisfaction;
90% reduction in manual effort of the sales team to respond to various physician queries;
10% boost to revenue
"Unlock the Power of AI in Healthcare Today! Learn How Quantzig's Solutions Transformed a Pharmaceutical Client's Success. Contact Us to Revolutionize Your Own Life Sciences Journey."