Introduction
In today's rapidly evolving technological landscape, application development, and maintenance have become pivotal pillars of success for businesses across the globe. However, as the digital realm continues to expand, so do the challenges associated with creating and sustaining software applications. From ever-changing user expectations to the relentless march of new technologies, navigating this dynamic terrain can be a daunting task. In this article, we delve into the intricate web of challenges of enterprise application development and maintenance, and, more importantly, unveil strategies and insights to triumph over these obstacles. Join us on this journey as we uncover the keys to not just surviving but thriving in the complex world of application development and maintenance.
Challenges/Problems faced while implementing Application Development & Maintenance Services:
Selecting the right automation platform is a crucial decision for organizations as it directly impacts efficiency, cost-effectiveness, and the overall success of automation initiatives. The complexity of this choice stems from the vast array of available tools, each catering to specific needs. Three fundamental factors play a pivotal role in making the optimal selection:
Ease of Procurement: Often, the simplest choice is leveraging existing tools, like Microsoft's Power Platform, which many organizations already possess. Integration with approved IT tools streamlines the procurement process, minimizing hurdles.
Cost Structure: Determining the right cost model is essential. Subscription models, ideal for large organizations, offer unlimited users for a fixed fee. Licensing models suit scenarios with a limited user base per use case, while on-premises models, like Knime, are cost-efficient but demand intricate IT implementations.
Ease of Maintenance: Choosing between no-code and code-intensive platforms hinges on project complexity. No-code platforms, like Power Platform, simplify automation for less complex tasks, reducing the technical knowledge required. In contrast, code-intensive platforms, such as Knime, offer more flexibility but necessitate a technologically savvy maintenance team.
Maintainability and Customization: Balancing maintainability and customization is vital. Complex platforms may demand a skilled team but offer extensive customization capabilities. No-code platforms require minimal technical expertise, reducing the Total Cost of Ownership (TCO) but offering limited customization options.
Efficiency and Robustness: Ensuring automation scripts are efficient and maintainable is paramount, especially for intricate applications. Striking this balance poses a challenge but is essential for long-term success.
In conclusion, the complexity of choosing the right automation platform necessitates a thorough evaluation of these factors. The decision should align with an organization's specific needs, resources, and long-term automation goals, ensuring a successful automation journey.
Benefits of implementing Application Development & Maintenance:
Overcoming the challenges of application development and maintenance methodology requires a thoughtful and strategic approach. Here are some key tips to navigate this complex landscape effectively: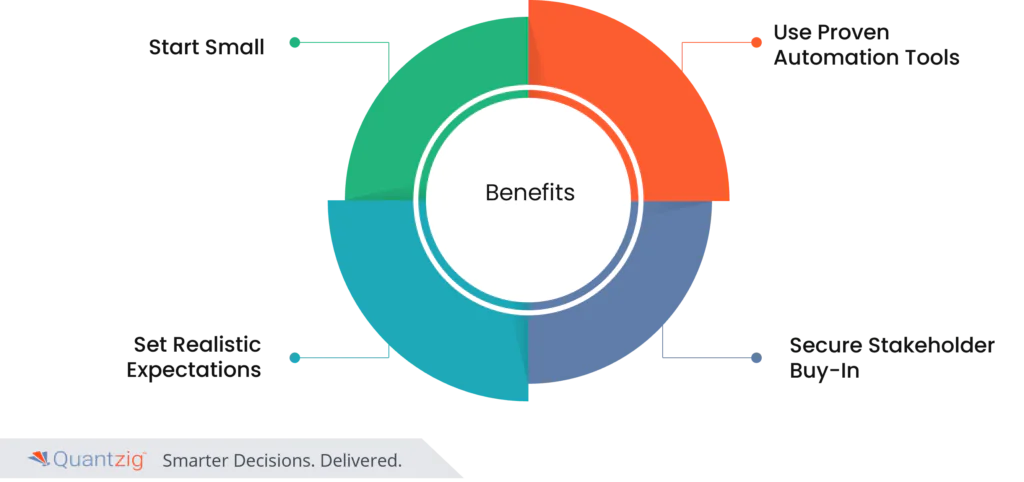 Start Small: One of the most common pitfalls in automation is attempting to automate everything at once. Instead, begin with a well-defined, manageable project. Starting small allows your team to gain valuable experience, identify potential issues, and fine-tune your automation processes before scaling up. It's a prudent way to mitigate risks and build confidence in automation's benefits.
Use Proven Automation Tools: Not all automation tools are created equal, and selecting the right one is critical. Research and choose a tool with a proven track record in your industry or domain. Ensure that it aligns with the specific requirements of the applications you intend to automate. A reliable tool can significantly impact the success of your automation initiatives.
Secure Stakeholder Buy-In: Successful automation projects require the cooperation and support of all stakeholders, including development, quality assurance (QA), and operations teams. Encourage collaboration from the outset to align expectations and goals. Involving all relevant parties ensures that the automation strategy addresses the unique needs and challenges faced by each team.
Set Realistic Expectations: Automation is a powerful tool, but it's not a one-size-fits-all solution. It's essential to maintain realistic expectations. Automation can enhance efficiency, reduce repetitive tasks, and improve software quality, but it should not be seen as a complete replacement for manual testing or development efforts. Understanding its limitations and capabilities is crucial for its successful integration into your workflow.
In conclusion, overcoming the challenges of automation application development demands a methodical and incremental approach. Starting small, selecting the right tools, fostering collaboration among stakeholders, and maintaining realistic expectations are key pillars of a successful automation strategy. By following these tips, organizations can harness the full potential of automation while avoiding common pitfalls and ensuring long-term success in software development and maintenance.
Conclusion
In the ever-evolving landscape of application development and maintenance, challenges are inevitable, but they need not be insurmountable roadblocks. By embracing strategic approaches such as careful tool selection, stakeholder alignment, and realistic expectations, organizations can navigate the complexities with confidence. Starting small and gradually expanding automation efforts allows for a smoother transition and better risk management. Ultimately, the journey is about achieving higher efficiency, improved software quality, and enhanced competitiveness. By addressing these challenges head-on and implementing the right strategies, organizations can not only overcome obstacles but also thrive in the dynamic realm of application development and maintenance.
Success Story
"Revolutionizing Application Development & Maintenance: A Game-Changing Success Story"
Client Details:
A retail company located in the US
Challenges
The client faced several pressing challenges. First, the urgency of developing a safety reporting application within a tight timeframe demanded rapid development and deployment. Second, their limited budget posed constraints, ruling out the option of procuring a licensed product with annual contract costs. This necessitated finding a cost-effective alternative. Additionally, ensuring a low Total Cost of Ownership (TCO) was paramount, as ongoing maintenance and operational expenses needed to remain minimal. Balancing the need for speed, affordability, and long-term sustainability in the context of workplace safety reporting presented a formidable challenge for the client.
Solutions
Quantzig successfully designed a comprehensive workforce safety application by harnessing the capabilities of Microsoft Power Platform. PowerApps facilitated the creation of an intuitive user interface, ensuring seamless interaction with the application. Integration with PowerBI enhanced data visualization and analysis, empowering users with actionable insights. Meanwhile, Power Automate handled the backend processes and automation, streamlining operations and ensuring efficient workflow management. This end-to-end solution, leveraging the power of Microsoft's platform, not only enhances workplace safety but also optimizes operational efficiency, demonstrating our commitment to delivering robust and user-friendly applications.
Impact Delivered: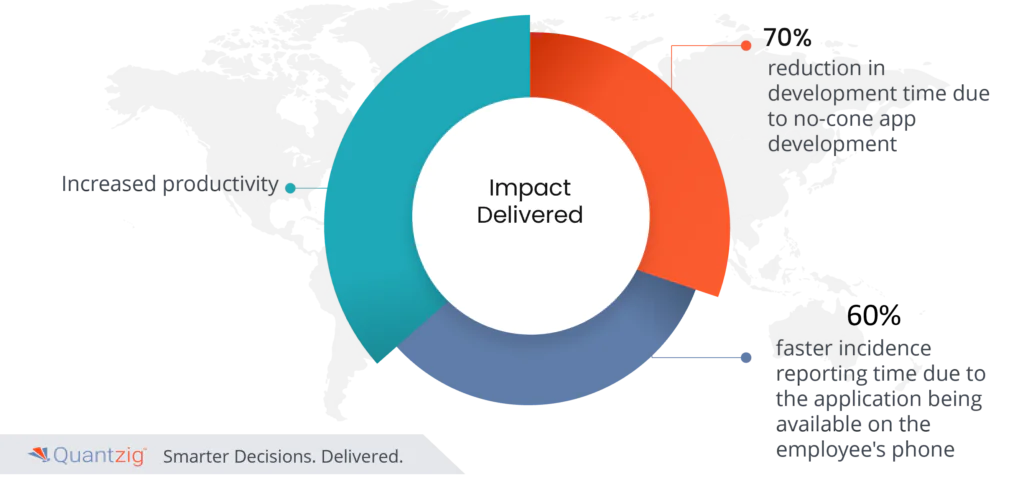 70% reduction in development time due to no-cone app development
60% faster incidence reporting time due to the application being available on the employee's phone
Discover how Quantzig transformed application development and maintenance for our client, delivering unparalleled efficiency and success. Learn More!