Introduction
In an era where competition in the hospitality industry is fiercer than ever, the success of hotels hinges on their ability to adapt and innovate. The article delves into the dynamic landscape of the hotel business, unveiling a transformative approach to revenue management. In an age where data is king, this article explores how harnessing the power of analytics can revolutionize a hotel's revenue generation. We will uncover how this modern toolkit empowers hoteliers to make informed decisions, tailor pricing, and enhance the overall guest experience, ultimately driving profitability and ensuring sustainable growth. Join us on a journey through the data-driven realm of hospitality, where the path to success is illuminated by insights and revenue management strategies that can redefine the future of hotels.
The importance of revenue management
for ho
tels:
Commercial operations within the hotel industry are inherently cyclical, influenced by a myriad of market dynamics, including seasonality, economic conditions, and competitive forces. To navigate this complex landscape successfully, hotels must adopt a multifaceted approach that spans long-term planning, medium-term actioning, and tactical decision-support initiatives.
Long-term planning involves setting strategic goals and identifying market trends, which can span several years. Medium-term action entails implementing strategies to address evolving conditions, whether it be adjusting room rates, marketing efforts, or renovating facilities. Tactical decision support initiatives come into play at the operational level, providing real-time guidance for immediate decision-making.
Data is the linchpin that holds these elements together. It facilitates commercial excellence by enabling robust forecasting models, dynamic pricing strategies, cost optimizations, and efficient customer conversion solutions. Data-driven insights empower hoteliers to make informed decisions, adapt to changing market conditions, and tailor their offerings to meet customer demands. This, in turn, allows hotels to maximize profitability beyond baseline expectations, ensuring a sustainable and competitive position in the market.
In sum, commercial operations for hotels require a harmonious orchestration of long-term vision, medium-term adaptability, and tactical precision, all underpinned by data-driven strategies to thrive in a dynamic and highly competitive industry.
Challenges/Problems faced while implementing Revenue Optimization Strategies for Hotels:
Optimizing revenue in the hotel industry is a dynamic process closely tied to market dynamics, demand fluctuations, and strategic marketing endeavors. The adaptability of revenue optimization is imperative due to the inherent seasonality and diverse demands inherent to the hotel business.
Business forecasting plays a pivotal role, enabling hotels to anticipate market shifts and demand patterns. Effective pricing and promotion strategies must be synchronized with these forecasts to maximize revenue. The absence of a unified and streamlined approach across these elements can result in process inconsistencies, potentially leading to revenue loss and increased opportunity costs, particularly in the management of room occupancies.
Achieving harmony among business forecasting, pricing, promotions, and customer operations is paramount for maintaining revenue stability. A cohesive revenue management strategy ensures that pricing aligns with demand and marketing campaigns effectively target the right audience at the right time. This cohesion is essential for mitigating revenue loss, seizing opportunities, and enhancing overall financial performance in a highly competitive and seasonally driven hotel industry.
Benefits of implementing revenue management strategies for ho
tels:
Revenue growth solutions offer a comprehensive approach to addressing the complexities of data within an organization. These solutions are designed to provide actionable insights and equip decision-makers with advanced analytics capabilities across the entire value chain, ultimately driving revenue enhancement.
These solutions grant organizations a holistic perspective on their current position, the ongoing dynamics in their operations, and what actions need to be taken, offering a granular level of detail that empowers commercial experts to make well-informed decisions. This panoramic view ensures that businesses can proactively adapt to market changes and seize opportunities.
Quantzig's robust Revenue Growth Management (RGM) Framework is a three-phased roadmap designed to deliver end-to-end transformation. The RGM Core establishes the foundation with integrated data, while the RGM Insights module handles diagnostics and reporting. The RGMx Module focuses on advanced solutions for pricing, promotion, forecasting, planning, and execution, ensuring a well-rounded approach to revenue optimization.
By combining Business Forecasting and Customer Analytics solutions with Quantzig's RGM toolkits, clients gain access to a unified, streamlined, and best-in-class revenue management program. This integrated revenue management strategy enables organizations to maximize revenue potential, align strategies with market realities, and excel in the increasingly competitive business landscape.
Conclusion
In the ever-evolving realm of the hospitality industry, the convergence of data and analytics emerges as the lodestar guiding hotels toward unprecedented success. Hotel revenue management strategies: Leveraging Data and Analytics not only illuminates the path to profitability but also underscores the imperative of adaptation and innovation. By harnessing the insights gleaned from this transformative toolkit, hotels can navigate shifting market tides, tailor pricing strategies, and enhance the guest experience, thereby ensuring sustainable growth and enduring competitiveness. In a world where data reigns supreme, this article serves as a beacon, lighting the way for hotels to redefine the future and elevate their revenue generation game to unparalleled heights.
What our capability does: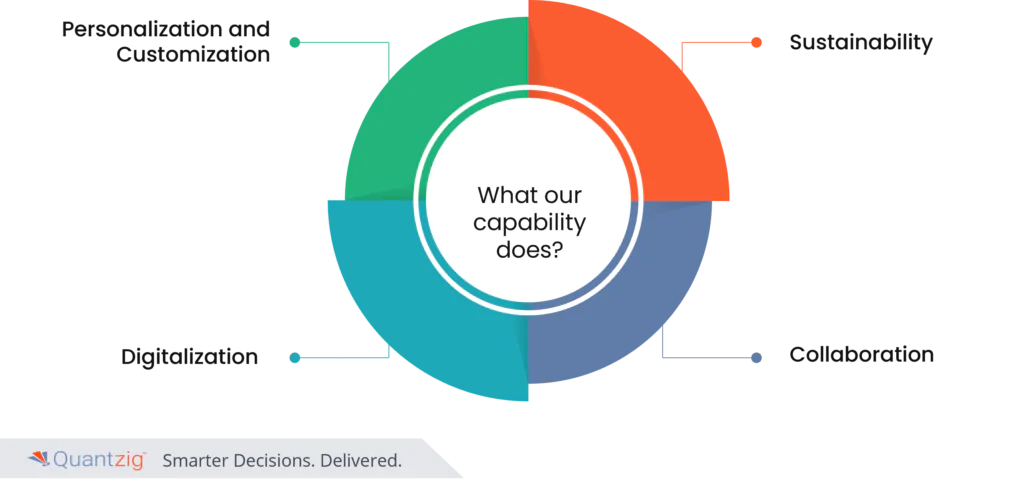 Our approach encompasses four key pillars that are pivotal in today's dynamic business landscape.
Personalization and Customization: In an era where customer expectations are higher than ever, personalization and mass customization are non-negotiable. We empower businesses to engage with diverse consumer personas by offering unique and tailored experiences. This personal touch not only fosters stronger customer relationships but also enhances brand loyalty and drives revenue growth.
Sustainability: Sustainable practices are no longer just a moral obligation but a profitable strategy. With 80% of consumers willing to pay more for sustainable products and services, our focus on sustainability is not just about being environmentally responsible; it's a commercially savvy move. We help you set and execute sustainability goals, ensuring that your processes and practices are carbon-neutral and sustainable. This not only benefits the planet but also bolsters your brand's reputation and attractiveness to conscious consumers.
Digitalization: The digital landscape is the new marketplace. We equip you with the necessary toolkits for digital marketing, e-commerce, and other technologies. These tools enable you to reach a wider audience, engage consumers effectively, and stay competitive in a rapidly evolving digital space.
Collaboration: Collaboration is key to success in today's interconnected world. Our Revenue Growth Management (RGM) solutions facilitate transparent and intelligent collaboration with various stakeholders. This collaboration extends to innovative promotions, dynamic pricing strategies, improved service efficiency, and outreach to new segments or categories. By working together seamlessly, you can tap into new opportunities and drive commercial growth.
Incorporating these pillars into your business strategy not only ensures relevance and competitiveness in today's market but also positions your brand as one that is responsive to consumer needs, sustainable, digitally savvy, and capable of fostering meaningful partnerships to drive commercial success.
Why should a client opt for our offering?
In a departure from standardized, one-size-fits-all Revenue Growth Management (RGM) solutions, our approach is characterized by its bespoke nature. We collaborate closely with commercial functions and excellence teams to craft solutions that are not only specific but also highly actionable and imbued with intelligence. This customization is pivotal in ensuring that our solutions are not just relevant for today's challenges but also future-proofed, aligning seamlessly with your internal enterprise roadmap.
Our diverse range of consumption mechanisms caters to a spectrum of business requirements and functional landscapes. From measurement and planning tools to comprehensive control tower solutions and even fully automated sales execution frameworks, we offer a tailored approach that can be flexibly adapted to suit your unique needs. This adaptability ensures that you have the right tools at your disposal, allowing your organization to operate efficiently, respond to changing market dynamics, and drive commercial excellence in a rapidly evolving business environment.