Written by: Sudeshna Ghosh
Introduction to CPG Data Analytics
In today's fast-paced consumer goods market, CPG data analytics has become an indispensable tool for businesses looking to thrive and stay competitive. This practice involves the systematic collection, analysis, and interpretation of data related to consumer-packaged goods (CPG). By leveraging CPG data analytics, companies gain invaluable insights into consumer behaviors, market trends, and can make data-driven decisions that significantly impact their products' success.
The importance of CPG data analytics cannot be overstated. With the consumer goods industry becoming increasingly dynamic, the ability to quickly analyze and respond to market changes is crucial. CPG data analytics empowers companies with this agility. Utilizing advanced tools and techniques, businesses can process vast amounts of data from diverse sources like sales transactions, social media, and customer surveys, transforming this data into actionable insights.
These insights are vital for understanding product performance, optimizing pricing strategies, forecasting demand, and segmenting customers. As a result, companies that implement effective CPG data analytics strategies often see a remarkable improvement in their overall business performance. Notably, CPG companies that embrace data analytics report a 25% increase in sales and a 40% higher ROI, underscoring the transformative power of data in the consumer goods sector.
Quantzig's analytics solutions help CPG companies to spend less and compete more effectively using data-driven insights. Request a FREE proposal to know more about our portfolio of services.
Importance of Data Analytics in the CPG Industry
The significance of CPG data analytics in the consumer-packaged goods industry cannot be understated. In an environment where over 80% of CPG companies use data analytics to optimize their supply chain operations, the role of analytics has evolved from a mere operational tool to a strategic asset.
The power of CPG data analytics lies in its ability to turn vast amounts of raw data into meaningful insights. These insights help companies understand not just market trends, but also consumer preferences, behaviors, and needs. By comprehending these crucial elements, CPG companies can make informed decisions that align with market demands and consumer expectations.
Data-driven strategies have also proven effective in enhancing competitive performance. For instance, pricing and promotion optimization, two critical aspects of the CPG industry, greatly benefit from analytics. Data-driven pricing strategies can lead to a 15% reduction in costs for CPG manufacturers, while analytics-based promotional campaigns boost customer engagement and brand loyalty by 30%.
Furthermore, CPG data analytics is instrumental in forecasting. Accurate demand forecasting ensures that companies maintain optimal inventory levels, reducing waste and inefficiencies. This aspect is particularly important in an industry where consumer trends can change rapidly, and the ability to quickly adapt to these changes is vital for success.
In summary, the importance of data analytics in the CPG industry is multifaceted, impacting everything from supply chain optimization to customer engagement. It is no longer just a tool for understanding the market; it's a necessity for thriving in the competitive landscape of consumer goods.
Key Metrics and KPIs for CPG Data Analytics
Understanding the right metrics and KPIs is crucial for maximizing the effectiveness of CPG data analytics. These metrics and KPIs serve as the dashboard for businesses to gauge their performance, understand market dynamics, and make informed decisions.
Sales Performance Metrics: Sales data, including volume, frequency, and value, are fundamental in CPG analytics. Analyzing these metrics helps companies assess their market position, understand sales trends, and identify areas for growth.
Inventory Turnover: Inventory metrics, particularly turnover rates, provide insights into how efficiently a company is managing its stock. High turnover rates can indicate strong sales, whereas low rates might signal overstocking or declining demand.
Consumer Segmentation Metrics: Understanding different consumer segments is vital. Metrics like purchase history, preferences, and demographic data allow companies to tailor their products and marketing strategies to specific customer groups.
Marketing ROI: Calculating the return on investment for marketing campaigns is essential. This involves analyzing the effectiveness of different marketing channels and strategies in driving sales and engaging customers.
Supply Chain Efficiency: Metrics related to supply chain performance, such as delivery times, transportation costs, and supplier reliability, are key in optimizing the distribution process.
Predictive Analytics Metrics: Advanced metrics such as predictive sales forecasting and demand planning indicators are becoming increasingly important. These metrics allow companies to anticipate market changes and adjust their strategies accordingly.
Incorporating these metrics into a comprehensive analytics dashboard offers a real-time view of a company's performance. Tools and software for CPG analytics enable businesses to visualize these metrics, turning complex data sets into understandable and actionable insights. By focusing on these key metrics and KPIs, CPG companies can fine-tune their strategies for optimal performance and competitive advantage.
Collecting and Managing CPG Data
Effective CPG data analytics hinges on the ability to collect and manage data efficiently. In the consumer goods industry, data comes from a myriad of sources, each offering valuable insights into different aspects of the business.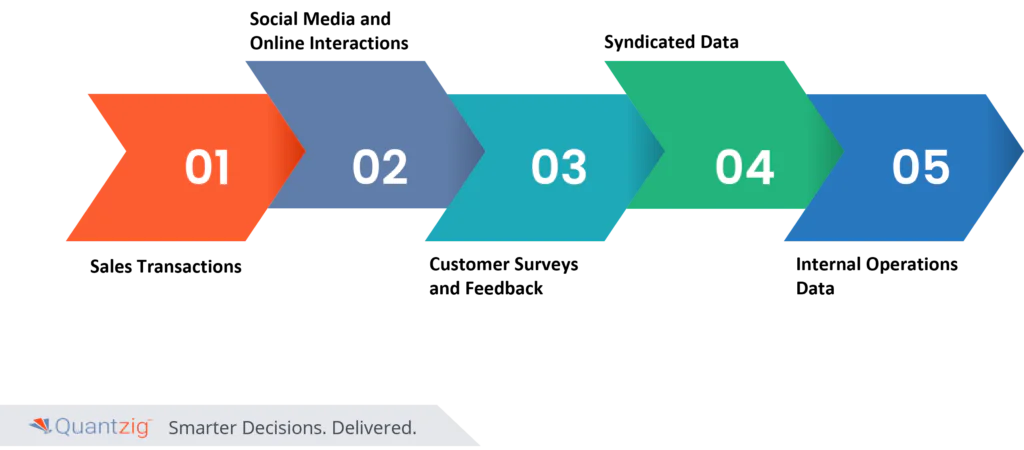 Sales Transactions: This is a primary source of data, providing insights into sales performance, consumer preferences, and market trends. Tools and software designed for CPG analytics help in aggregating and analyzing these transactions to uncover actionable insights.
Social Media and Online Interactions: In the age of digital transformation, social media platforms and online interactions are rich sources of consumer data. Analyzing this data helps in understanding consumer sentiments, trends, and brand perception.
Customer Surveys and Feedback: Direct feedback from consumers is invaluable. It provides a deeper understanding of customer needs and expectations, aiding in more targeted and effective marketing strategies.
Syndicated Data: Data purchased from external sources can provide broader market insights and competitive intelligence, crucial for strategic planning.
Internal Operations Data: Data from internal processes, such as supply chain and inventory management, are vital for optimizing operational efficiency and forecasting demand.
Once collected, managing this data effectively is crucial. This involves ensuring data quality, integrating various data sources, and employing robust data analysis tools. CPG analytics software plays a critical role here, offering platforms for data integration, visualization, and analysis. These tools not only simplify the management of large data sets but also enhance the accuracy and efficiency of data analytics.
In summary, collecting a diverse range of data and managing it effectively is essential for CPG data analytics. It enables CPG companies to build a comprehensive understanding of their market, optimize their operations, and stay competitive in a rapidly evolving industry.
Data Visualization and Reporting in CPG Analytics
Data visualization and reporting are critical components of CPG data analytics, transforming complex data sets into comprehensible and actionable insights. In an industry driven by data, the ability to visualize trends, patterns, and metrics effectively is essential for decision-making.
Dashboards and Data Visualization Tools: Utilizing dashboards and data visualization tools is fundamental in CPG analytics. These tools allow companies to create visual representations of data, making it easier to identify trends, outliers, and patterns. Effective visualization aids in simplifying complex data, enabling stakeholders to grasp the insights quickly.
Real-Time Reporting: The fast-paced nature of the CPG market demands real-time reporting capabilities. This enables businesses to respond promptly to market changes, optimize inventory levels, and adjust marketing strategies swiftly.
Performance Tracking: Visualization tools help in tracking key performance indicators (KPIs) and metrics. This tracking is crucial for monitoring the effectiveness of strategies and operations, ensuring that business objectives are met.
Predictive Analysis Visualization: Advanced visualization tools also play a significant role in predictive analytics. They help in modeling different scenarios and forecasting future trends, providing a strategic advantage in planning and decision-making.
In essence, data visualization and reporting in CPG analytics are not just about presenting data; they're about translating data into a story that can guide business strategy and operations. By effectively utilizing these tools, CPG companies can ensure that their decisions are informed, timely, and data-driven.
Predictive Analytics in the CPG Industry
Predictive analytics has become a cornerstone of CPG data analytics, driving data-driven decision-making and future-proofing strategies in the consumer-packaged goods industry.
Demand Forecasting: Predictive analytics plays a critical role in forecasting demand. By analyzing historical sales data, market trends, and consumer behavior patterns, CPG companies can predict future demand with greater accuracy. This foresight is crucial for inventory optimization, production planning, and minimizing waste.
Consumer Behavior Prediction: Understanding and anticipating consumer behavior is key to staying ahead in the competitive CPG market. Predictive analytics enables companies to identify emerging trends and consumer preferences, allowing them to tailor their products and marketing strategies effectively.
Optimization of Marketing Efforts: By analyzing consumer data and market dynamics, predictive analytics can help in optimizing marketing campaigns. This involves determining the most effective channels, messaging, and timing for marketing activities, leading to higher engagement and ROI.
Supply Chain Optimization: Predictive analytics is also instrumental in optimizing supply chain operations. It helps in identifying potential disruptions, optimizing delivery routes, and forecasting supplier performance, thereby ensuring smooth and efficient supply chain management.
Pricing Strategies: CPG companies use predictive analytics to develop dynamic pricing strategies. Analyzing factors like competitor pricing, consumer demand, and market conditions allows for more effective pricing decisions, which can significantly impact profitability.
Overall, predictive analytics in the CPG industry is about more than just predicting the future; it's about creating a roadmap for sustainable growth and competitiveness. By leveraging predictive analytics, CPG companies can make more informed decisions, respond proactively to market changes, and maintain a competitive edge.
Customer Segmentation and Targeting in CPG Data Analytics
In the highly competitive CPG industry, understanding and catering to specific customer segments is vital for success. CPG data analytics plays a pivotal role in enabling effective customer segmentation and targeting.
Identifying Customer Segments: Using analytics, CPG companies can segment their customers based on various criteria such as demographics, purchasing behavior, preferences, and lifestyle. This segmentation allows for a more focused and personalized approach in marketing and product development.
Targeted Marketing Strategies: Once customer segments are identified, analytics can be used to develop targeted marketing strategies. By understanding the unique characteristics and needs of each segment, companies can tailor their messaging and campaigns to resonate more effectively with each group.
Enhancing Customer Experience: Segmentation and targeting also play a crucial role in enhancing the overall customer experience. By delivering relevant and personalized experiences, CPG companies can increase customer satisfaction, loyalty, and ultimately, brand advocacy.
Predictive Targeting: Advanced predictive analytics techniques enable CPG companies to predict future buying behaviors of different customer segments. This predictive targeting helps in anticipating the needs of customers, leading to more timely and effective marketing efforts.
Effective customer segmentation and targeting, powered by CPG data analytics, enable companies to allocate their resources more efficiently, ensuring that marketing efforts yield the best possible return on investment. This strategic approach not only drives sales but also builds a stronger connection with consumers.
Pricing and Promotion Optimization Using Data Analytics in the CPG Industry
In the dynamic CPG sector, effective pricing and promotion strategies are crucial for maintaining a competitive edge. CPG data analytics plays a central role in optimizing these aspects, ensuring that companies not only meet consumer expectations but also achieve profitability.
Data-Driven Pricing Strategies: Leveraging analytics for pricing decisions allows CPG companies to set prices that reflect current market conditions, consumer demand, and competitor strategies. This approach leads to more dynamic and effective pricing, which can result in a 15% reduction in costs and enhanced market positioning.
Promotional Effectiveness Analysis: Analytics helps in evaluating the effectiveness of promotional campaigns. By analyzing sales data, consumer responses, and market trends, companies can determine which promotions resonate with consumers and drive sales, leading to more successful future campaigns.
Customized Promotions: With insights gained from data analytics, CPG companies can design customized promotions that appeal to specific customer segments. This targeted approach not only increases the efficacy of promotional activities but also strengthens customer relationships.
Optimizing Promotion Timing and Channels: Analytics enables companies to identify the best times and channels for promotions. By understanding consumer behavior patterns, CPG firms can strategically schedule promotions and choose the most effective channels for maximum impact.
ROI Analysis: Finally, analytics provides a means to measure the return on investment of pricing and promotional strategies. This analysis is key to understanding the financial impact of these decisions and guiding future strategies for better results.
By harnessing the power of CPG data analytics for pricing and promotion optimization, companies can make more informed decisions that drive sales and profitability. This optimization is not just about adjusting prices or launching promotions; it's about creating strategies that resonate with the market and deliver tangible results.
Supply Chain and Distribution Analytics in the CPG Industry
Effective management of the supply chain and distribution networks is pivotal for CPG companies. CPG data analytics plays a critical role in optimizing these aspects, ensuring efficiency, cost-effectiveness, and customer satisfaction.
Optimizing Supply Chain Operations: Analytics helps in streamlining supply chain operations by analyzing various factors such as transportation costs, delivery times, and supplier performance. This optimization leads to reduced operational costs and improved efficiency.
Inventory Management: Effective inventory management is crucial in the CPG industry. Data analytics enables companies to maintain optimal inventory levels by predicting demand patterns, thereby reducing the risk of overstocking or stockouts.
Distribution Network Analysis: By analyzing distribution networks, CPG companies can identify the most efficient routes and methods for product distribution. This analysis helps in reducing delivery times and costs, enhancing overall customer service.
Supplier Performance Tracking: Analytics also allows for the monitoring of supplier performance, ensuring that supply chain partners meet the required standards and contribute positively to the company's operations.
Demand Forecasting: Advanced predictive analytics are used for accurate demand forecasting. This forecasting is vital for planning production, managing inventory, and ensuring that products are available where and when customers need them.
Supply chain and distribution analytics provide CPG companies with the insights needed to optimize their operations, reduce costs, and improve service levels. In an industry where timely delivery and operational efficiency are key, the role of analytics in supply chain and distribution cannot be overstated.
Charting the Future of CPG with Quantzig's Data Analytics Expertise
The journey through the realms of CPG data analytics, as discussed in this article, underscores its critical role in steering business success in the ever-evolving consumer goods market. The challenges of today's dynamic market environment demand more than just conventional strategies; they require data-driven insights and actions.
Quantzig stands at the forefront of this data-driven transformation in the CPG industry. Our deep expertise in data analytics and a keen understanding of the CPG landscape empower businesses to turn their data into a strategic asset. Whether it's through enhancing supply chain efficiency, refining pricing strategies, or unlocking new market opportunities through customer segmentation, Quantzig's tailored analytics solutions drive tangible business results.
Our commitment at Quantzig is to not just provide analytics services but to be a partner in our clients' journey towards growth and market leadership. Leveraging state-of-the-art tools, advanced predictive analytics, and our team's rich industry experience, we help CPG companies navigate market complexities and emerge as frontrunners in their domain.
In conclusion, the transformative potential of CPG data analytics is immense, and its successful implementation can redefine market positions and drive unprecedented growth. With Quantzig as your analytics partner, the path towards a data-driven, insightful, and innovative future in the CPG industry is clear and promising.

FAQs
What is CPG Data Analytics? CPG data analytics is the process of collecting, analyzing, and interpreting data related to consumer-packaged goods to understand market trends, consumer behavior, and make informed business decisions.
How Does CPG Data Analytics Benefit Consumer Goods Companies? CPG data analytics helps companies in various ways, including improving product performance, optimizing pricing strategies, enhancing marketing campaigns, and streamlining supply chain operations. It enables data-driven decision-making which can lead to increased sales and ROI.
What Are the Key Metrics in CPG Data Analytics? Key metrics in CPG data analytics typically include sales performance, inventory turnover, consumer segmentation, marketing ROI, supply chain efficiency, and predictive analytics metrics.
Can CPG Data Analytics Predict Consumer Behavior? Yes, one of the significant capabilities of CPG data analytics is predicting consumer behavior. It involves analyzing past buying patterns, market trends, and other relevant data to anticipate future consumer actions and preferences.
What Role Does Predictive Analytics Play in the CPG Industry? Predictive analytics in the CPG industry is used for demand forecasting, consumer behavior prediction, optimization of marketing efforts, supply chain optimization, and dynamic pricing strategies. It helps companies anticipate market changes and plan their strategies accordingly.
CPG retail analytics solutions can help you gain a full view of your customer's spending and behavioral patterns. Wonder how? Request for more information.