What You Can Expect from the benefits of social media analytics Article
Introduction
Benefits of Social Media Analytics
Highlights of the advantages of Social Media Analytics Article
| | |
| --- | --- |
| S No | Benefits of Social Media Analytics |
| 1. | Gain an edge over the competition |
| 2. | Product improvements |
| 3. | Learn from customers |
| 4. | Improved target marketing efforts |
| 5. | Scope for innovation |
Introduction
Social media's contribution to marketing and business growth cannot go unnoticed. But with a vast number of comments and feedbacks that a brand has to cater to on social media, getting a larger picture of the customers' opinions could prove to be difficult. This is where techniques such as social media analytics and media monitoring come in handy. It does not just give companies an idea of what people think of their brand, but they can also stay up to date on what the competitors are up to and what is trending on social media. They form key elements in formulating the brand's further social media strategies. In a nutshell, social media analytics is the practice of gathering data from social media websites and analyzing that data using social media analytics tools to make business decisions. Media monitoring is closely related to social media analytics; it tells a company what exactly customers, competitors, and other stakeholders are talking about them.
Implement our solutions to solve your complex business challenges at no cost with our 4-week complimentary pilot. This offer bears no hidden clauses and serves as a perfect opportunity to explore our comprehensive portfolio of advanced BI and business analytics solutions.
Benefits of Social Media Analytics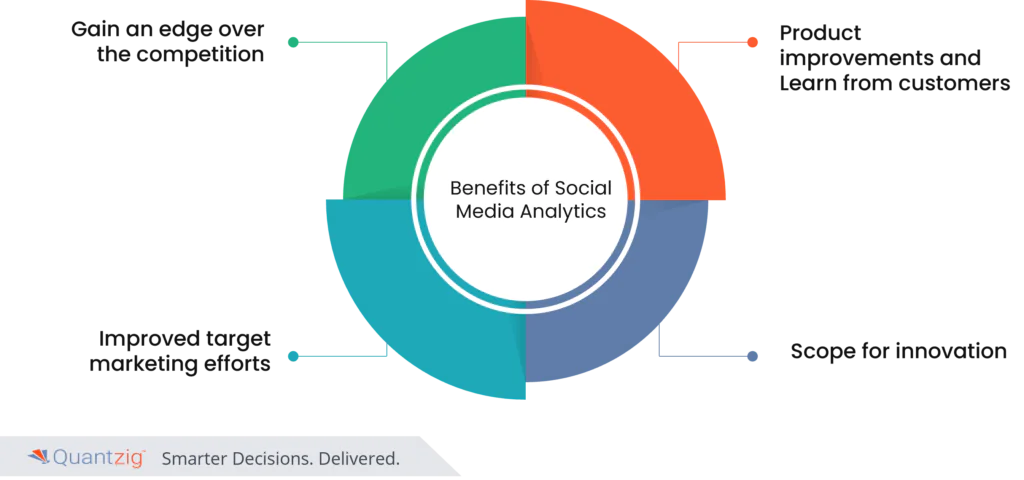 1. Gain an edge over the competition
Analytics of social media gives companies insights about their brand and also about what the competitors are doing. It gives companies a better understanding of the problems customers has with their products and services, how their customers use their products and the overall perception of the company. This helps businesses to understand their pros and cons and take corrective action accordingly. When the customers feel that a brand genuinely cares about what they think, it eventually leads to an increase in goodwill and gives companies a competitive advantage over others.
---
Learn more about the benefits of leveraging social media data for decision making by getting in touch with an expert.
---
2. Product improvements
Customers often tend to provide product reviews and feedback on social media. Brands can analyze this feedback using media monitoring techniques. The negative comments can be used by companies to understand where they are going wrong and what corrective action can be taken. This will help brands to improve their offerings and consequently provide a better customer experience. And the best part for companies is that social media analytics is a much cheaper option to collect customer feedback.
Request a free proposal to learn how we can help you validate your performance using social media data sets.
3. Learn from customers
Social media marketing and other online sales platforms have proved to be a method for several companies to expand their customer base. Also, in many cases, customers may have practical solutions for some of the issues faced by an organization. Take the example of a product that is being sold in the market without proper documentation. In this case, the chances of user errors increases. However, some users may find a solution to this problem through trial-and-error, and then post their findings in different social forums, which can help the company determine whether better documentation is required, and what users really need to know.
4. Improved target marketing efforts
Using advanced techniques such as social media analytics brands can gain timely information on demographic and psychographic characteristics for product and service usage. Companies can use the information to target marketing campaigns especially internet-based marketing campaigns.
5. Scope for innovation
Companies can garner a deep understanding of their products and customers through media monitoring. Social media analytics tools can be configured to discover capability gaps in the market as a whole. For example, the minimalist innovation in the running shoe market was partially fueled by user feedback desiring lighter, more relaxed running shoes. Companies that can mine user feedback via social media sites and use it to innovate their business have been the most successful in recent times.
Request a free demo to know more about social media analytics and media monitoring for business.