Advantages of Behavioral Segmentation
| | |
| --- | --- |
| S No | Advantages of Behavioral Segmentation |
| 1. | Dietary Choices of Customers |
| 2. | Track the Take Away |
| 3. | Target Specific Customer Groups |
| 4. | Easier marketing strategy creation |
| 5. | Make predictions and plan ahead |
"Don't find customers for your products, find products for your customers."

-Seth Godin
What is Behavioral Segmentation?
People are different, so are their food habits and purchasing behavior. Consumers often display various behavioral patterns while making purchasing decisions, and understanding these behavioral patterns and grouping customers is known as behavioral segmentation.
In the fast-food industry, businesses can make use of behavioral segmentation to target customers displaying a particular behavior or channel advertising campaign to identify market segments. Some of the other common customer behavior that is tracked by players in the fast food industry are customer knowledge and awareness about the food product, customer attitude towards the product, frequency of usage, and customer loyalty.
Contact us to know more about how behavioral segmentation can help your business.
What is behavioral segmentation?
Behavioral segmentation is a marketing strategy that categorizes consumers into distinct groups based on their behavior, actions, and interactions with a product or service. It focuses on understanding how consumers respond to products, services, and marketing efforts. This advantage of market segmentation considers factors such as purchasing patterns, brand loyalty, product usage, and decision-making processes. By analyzing these behaviors, businesses can tailor their marketing campaigns and offerings to effectively target and meet the specific needs and preferences of each segment. Behavioral segmentation is a powerful tool for creating personalized marketing strategies that maximize customer engagement and satisfaction, leading to increased sales and brand loyalty.
How Can the Fast-Food Industry Reap the advantages of behavioral segmentation?
By incorporation behavioral segmentation into their marketing and operational strategies, companies in the fast-food industry can target their customers better and improve their product offerings. Here are some of the key advantages of behavioral segmentation in the fast-food industry: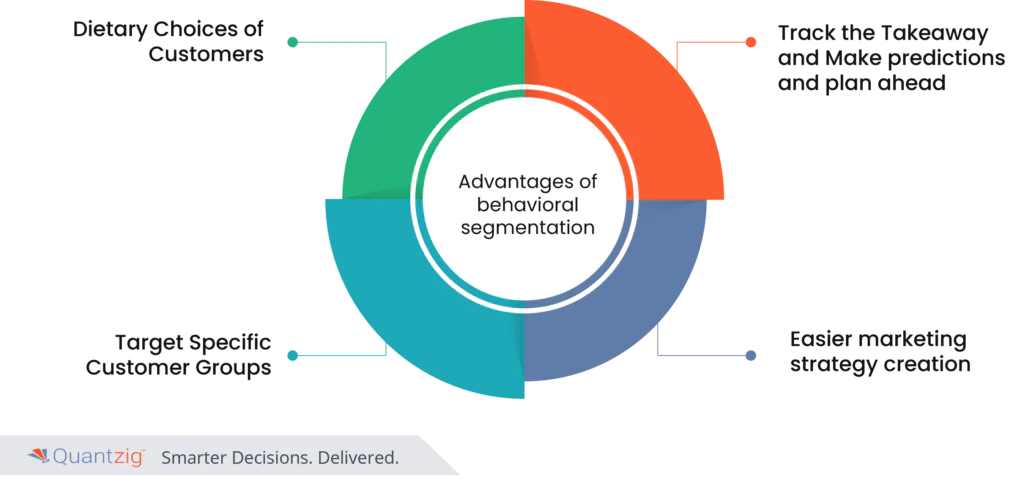 1. Dietary Choices of Customers
Over the years, consumer dietary trends have been evolving. There has been an increase in the popularity of organic and gluten-free. Therefore, businesses in the fast-food industry need to keep a constant track of the changing consumer diet requirements and incorporate the same into their products to garner more attention from the customers. This can be done with the help of effective customer segmentation that would help the business understand what portion of their customer base are happy with their existing food menu and how many are looking for better or healthier options.
2. Track the Takeaway
Restaurant chains in the fast food industry need to track the number of dine-in customers the number of takeaway customers with appropriate customer segmentation methods. In case the number of takeaway orders is increasing, it would help the restaurants to add a grab-and-go outlet to the location. This would help reduce customer wait time, and the restaurant can tailor make a different menu for taking away orders.
3. Target Specific Customer Groups
Customer segmentation in the fast food industry will help the companies to break down their customer base based on different attributes such as age, gender, demographics, making it easier to direct specific products and advertisements at these target groups. For example, the kid's meal in McDonald's has been tailor-made to look attractive with toys and smaller meal packages to appeal to the kid's segment more easily.
Our expertise and domain knowledge also reflects in the number of projects we've worked on and the results that have prompted businesses to engage with us on an ongoing basis. Request a free proposal to partner with us.
4. Easier marketing strategy creation
With the help of behavioral segmentation, marketing teams are able to better understand their customers' buying behavior and create specific strategies to target the most profitable customers.
5. Make predictions and plan ahead
Understanding customer behavior and buying pattern enable fast food organizations to forward plan and create strategies to sell specific products during certain times. This enables organizations to fine-tune their marketing approach, update communication, enhance products, and optimize service based on customer needs and expectations. Behavioral segmentation also gives a peek into competitor product preference and enables organizations to create counterstrategies effectively.
What are the Disadvantages of Behavioral Segmentation in the F&B Sector?
1. Data Privacy Concerns:
Collecting and analyzing customer behavior data can raise privacy concerns. Customers may be uncomfortable with the extent of data collected about their dining habits. F&B businesses need to navigate these concerns carefully to maintain customer trust and adhere to data protection regulations, such as GDPR or CCPA.
2. Data Collection Costs:
Gathering and managing behavioral data can be costly, particularly for small or independent F&B establishments. This may necessitate investments in data collection technologies, personnel, and systems, which can strain limited budgets.
3. Data Accuracy and Quality:
The effectiveness of behavioral segmentation relies heavily on the accuracy and quality of the data collected. Errors, inconsistencies, or biases in data can lead to incorrect conclusions and ineffective marketing efforts. Maintaining data accuracy is a constant challenge.
4. Segment Overlaps and Complexity:
Customers often exhibit behaviors that span multiple segments, making it challenging to categorize them accurately. This overlap can lead to confusion in segment definitions and less precise targeting. Additionally, managing multiple segments can be complex and resource intensive.
Examples of behavioral segmentation:
Behavioral segmentation is a powerful marketing strategy that categorizes customers into distinct groups based on their actions, behaviors, and interactions with products or services. Here are four examples of behavioral segmentation:
1. Purchase Behavior:
This segmentation categorizes customers based on their purchasing patterns. For example, an e-commerce platform may identify segments like "frequent shoppers," "occasional buyers," or "shopping cart abandoners." Tailoring marketing strategies to each segment can involve offering loyalty discounts to frequent shoppers, retargeting ads to cart abandoners, or providing product recommendations based on past purchases.
2. Usage Behavior:
This type of segmentation focuses on how often and in what ways customers use a product or service. For instance, a software company might distinguish between "heavy users" and "infrequent users." Heavy users may receive invitations to premium features or upgrades, while infrequent users might be encouraged to explore additional functionalities.
3. Brand Loyalty:
Brand loyalty segmentation identifies customers' loyalty levels to a specific brand or product. It could involve categorizing customers as "loyal brand advocates," "occasional purchasers," or "brand switchers." Loyal advocates might be rewarded with exclusive offers, while occasional purchasers could receive incentives to strengthen their loyalty.
4. Response to Promotions:
Businesses can segment customers based on their responsiveness to promotional activities. This could lead to segments like "coupon enthusiasts" and "price-sensitive buyers." Coupon enthusiasts may receive tailored discount offers, while price-sensitive buyers might be targeted with competitive pricing strategies.
By applying these behavioral segmentation strategies, businesses can personalize their marketing efforts, optimize customer engagement, and ultimately increase customer satisfaction and loyalty, leading to improved sales and profitability.
What are the types of behavioral segmentation?
Behavioral segmentation is a method used by marketers to categorize a target audience based on their actions, interactions, and behaviors, allowing for more effective marketing strategies. Four common types of behavioral segmentation include:
1. Purchase Behavior:
This segmentation classifies customers based on their buying habits. It includes categories like "frequent purchasers," "occasional buyers," and "non-buyers." By understanding purchase behavior, businesses can customize marketing approaches. Frequent purchasers may receive loyalty rewards, while occasional buyers may be encouraged to make additional purchases through promotions.
2. Usage Behavior:
Usage behavior categorizes customers by how they engage with a product or service. It can involve segments such as "heavy users," "moderate users," and "non-users." For instance, a streaming service might provide personalized recommendations for heavy users while re-engaging non-users with special trial offers.
3. Brand Loyalty:
Brand loyalty segmentation focuses on customers' loyalty to a particular brand or product. It distinguishes between segments like "loyal advocates," "occasional patrons," and "brand switchers." Loyal advocates could receive exclusive benefits or early access to products, while occasional patrons may be targeted with incentives to boost their loyalty.
4. Response to Promotions:
This segmentation analyzes how customers react to marketing campaigns, like "coupon enthusiasts," "price-sensitive shoppers," or "non-responders." It allows businesses to refine promotional strategies based on the audience's receptiveness. Coupon enthusiasts may receive regular discounts, while price-sensitive shoppers might benefit from competitive pricing tactics.
These behavioral segmentation types provide businesses with insights to craft targeted marketing efforts, increase customer engagement, and cultivate customer satisfaction and loyalty. By understanding and leveraging customer behaviors, companies can improve their marketing ROI and enhance the overall customer experience.
In conclusion, behavioral segmentation offers numerous advantages for F&B businesses, including enhanced personalization, improved customer retention, efficient marketing campaigns, and opportunities for product development and innovation. However, it also comes with challenges, such as data privacy concerns, costs associated with data collection, data accuracy and quality issues, and the complexities of managing multiple segments. To successfully implement behavioral segmentation in the F&B sector, businesses should strike a balance between leveraging the benefits and addressing these potential drawbacks while adhering to privacy regulations and ensuring data integrity.
Related Articles