Highlights of the Article – Big Data Challenges in the M&E Industry
The Complex Media and Entertainment Industry – Overview
Big Data Challenges in the M&E Industry
The Future of M&E Industry – Big Data Analytics
The Complex Media and Entertainment Industry – Overview
The media and entertainment industry is growing at an unprecedented rate, with companies finding it difficult to keep up with the pace. The challenges arise due to pressures to keep the costs down while trying to improve revenues. Further complications arise as the media consumption habits of customers are highly fragmented. The trend of one big company dominating the market is gradually fading away, providing an opportunity for small players to complete successfully. One of the most significant trends observed in the media industry is the shift in media platforms from traditional channels to online mediums. As a result, it paves the way for the media industry to implement big data and data analytics technology to gain more profound audience insights. With a new source of data available to the media companies each day, companies can efficiently understand customer needs and deliver content that pleases the audience. However, with the rapid adoption of digital technologies, the media industry does face a few big data challenges which slow down their progression. To fully realize the potential of digital technologies, companies should successfully tackle these big data challenges.
Get in touch with an analytics expert to solve your complex business challenges with the help of advanced analytics.
Big Data Challenges in the M&E Industry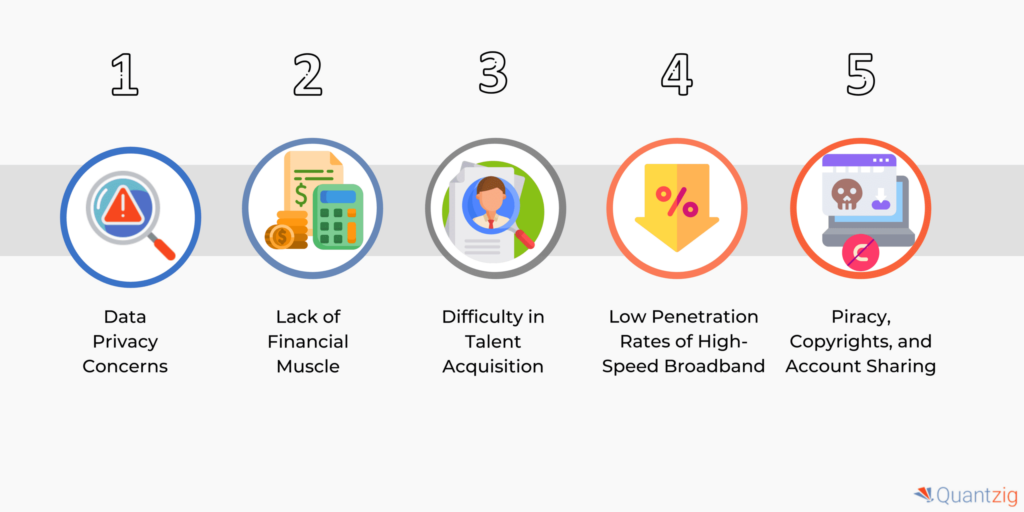 1. Data Privacy Concerns
Numerous leaks of personal information and media have been making the headlines recently. Consequently, consumers are being more sensitive towards their data and are concerned about how their personal data is being used. Additionally, policymakers have also addressed their issues and have implemented regulations for businesses that handle personal data. Such big data challenges can pose problems when it comes to accumulating sufficient user data, without which accurate analysis cannot be performed. Regulations have also been in place for companies that broker personal data to media houses.
2. Lack of Financial Muscle
One of the most significant big data challenges in the media industry is the lack of financial muscle for media start-ups and SMEs. While accounting for cost factors to implement data analytics, companies need to look at various factors including data storage costs, infrastructure costs, data processing costs, and human resource costs. Although it is relatively easy to start a new company producing content, games, or apps, it can be tough to scale up without significant investments. Thankfully, the advent of cloud storage and SaaS solutions have provided a way out for start-ups and SMEs.
3. Difficulty in Talent Acquisition
There is a significant imbalance in the supply and demand of data scientists all across the world. The imbalance is mostly in terms of the shortage of supply of analytics professionals. Furthermore, the demand for data scientists has been increasing exponentially, and there aren't many professionals to fill the void. As a result, companies have to pay out hefty salaries to such professionals usually upwards of $100,000. The problem of talent acquisition is one of the key big data challenges in the media industry, which cries out for professionals in data journalism and product management.
---
Get more information from our analytics experts about big data challenges in the media industry, data analytics, predictive analytics, and the media and entertainment industry.
---
4. Low Penetration Rates of High-Speed Broadband
A large part of the content delivered to the audience today is via online mediums. To facilitate this, high-speed broadband is a must. However, the penetration rates of high-speed broadband services haven't been that impressive across the world as it is limited mostly to metro cities. Firstly, it reduces the potential customer base and then gathers data from only urban segment consumers. Analysts cannot gain insights into customers who lack access to high-speed broadband and thus resort to traditional mediums.
5. Piracy, Copyrights, and Account Sharing
Piracy and copyright issues have been there in the media and entertainment industry for a long time. However, the advent of the digital medium has created new big data challenges, the problem of account sharing. For the majority of video streaming sites, a large number of people gain access by sharing account information and passwords. Analysts will have a tough time performing analysis on customer preferences as they cannot pinpoint the demographic details of the user. Both the child and the adult may be using the same account, so an effective judgment is impossible on whether the child or the adult prefers a specific genre.
The Future of M&E Industry – Big Data Analytics
Media and entertainment organizations contain a variety of external data such as customer-generated content, market data, mobile app data, images/videos, social media data. This data needs to be taken advantage of, but traditional analysis techniques are not enough to extract complete value from such vast amounts of structured and unstructured data. This is where AI-driven big data analytics comes to play. Big data will enable media and entertainment players to better predict consumer needs and expectations, and measure important metrics like audience engagement rate, consumer insights, content management, call center operations, and more.
Related Articles