If you've ever been a part of the media and entertainment industry, then you already know the immense competition and pressure the industry has seen in the recent years!
The media and entertainment industry is already embracing a customer-centric model to deliver a superior customer experience, ultimately resulting in a reduced customer attrition.
Organizations in this industry need to leverage big data analytics to effectively create a connection with their audience. However, implementing big data analytics is easier said than done.
Organizations aiming to improve their efficiency and performance, need to develop the ability to access, analyze, and manage large volume of data.
In this detailed write-up, we'll be highlighting the real-world use cases for big data analytics in the M&E industry while bringing attention to one such client of Quantzig.
We've highlighted these big data use cases in this article:
Data Privacy Concerns
Lack of Financial Muscle
Difficulty in Talent Acquisition
Low-Penetration Rates of High-Speed Broadband
And more…
Apart from these, there is a plethora of use cases of big data analytics for the media and entertainment industry since the industry itself is ever expanding! But before heading over to the use cases, let's first look at the highlights and overview of the industry.
Highlights of the Write-Up– Big Data Challenges in the M&E Industry
The Complex Media and Entertainment Industry – Overview
Big Data Challenges in the M&E Industry
The Future of M&E Industry – Big Data Analytics
The Complex Media and Entertainment Industry – Overview
The media and entertainment industry is growing at an unprecedented rate, with companies finding it difficult to keep up with the pace. The challenges arise due to pressures to keep the costs down while trying to improve revenues. Further complications arise as the media consumption habits of customers are highly fragmented.
Also did you know that in 2020, the average consumer spent 474 minutes a day on digital media?

Source: Curemedia
The trend of one big company dominating the market is gradually fading away, providing an opportunity for small players to complete successfully. One of the most significant trends observed in the media industry is the shift in media platforms from traditional channels to online mediums.
As a result, it paves the way for the media industry to implement big data and data analytics technology to gain more profound audience insights. With a new source of data available to the media companies each day, companies can efficiently understand customer needs and deliver content that pleases the audience. However, with the rapid adoption of digital technologies, the media industry does face a few big data challenges which slow down their progression. To fully realize the potential of digital technologies, companies should successfully tackle these big data challenges.
Not only this, there are various factors that also influence the growth of the media and entertainment industry with Big data analytics:
Staying Relevant in a New Digital Landscape: Players within the media and entertainment industry must increase their focus on shifting to a more of an audience-based approach driven by data inputs to stay relevant in today's competitive landscape. Additionally, big data, storage, and the ability to deliver real-time communications or offers are expected to evolve the relationship between consumer and marketer.
Mobile Compatibility: Today, due to the rise in mobile technology, media portals need to have a strong mobile presence to keep pace with the changing lifestyle. As a result, developing a responsive web design is crucial for companies.
By 2023, estimates suggests that mobile consumption will account for 35% of all media consumption!

Insiderintelligence
Facing similar challenges?
Get in touch with an analytics expert to solve your complex business challenges with the help of advanced analytics.
Big Data Challenges in the M&E Industry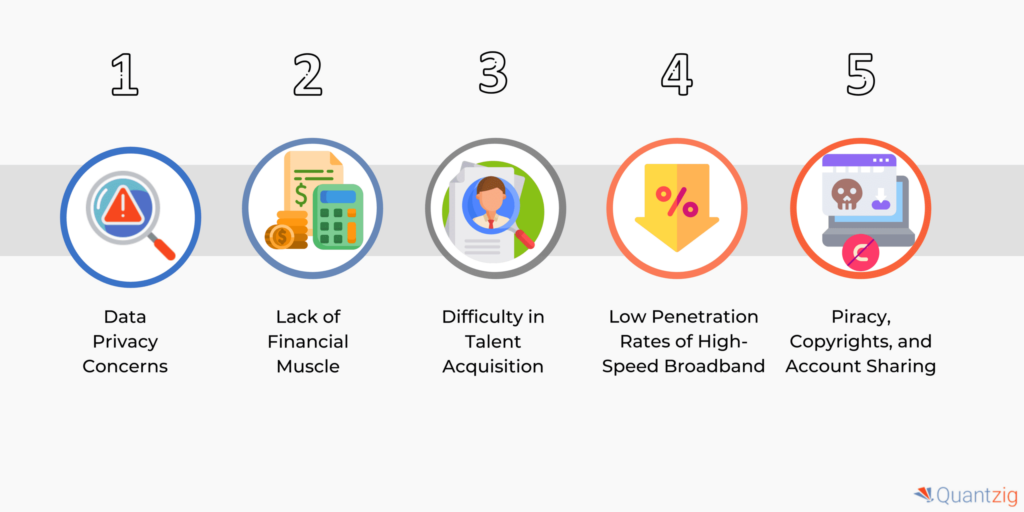 Use Cases of Big Data in the M&E Industry:
1. Superior Data Privacy in the Media Industry
Numerous leaks of personal information and media have been making the headlines recently. Consequently, consumers are being more sensitive towards their data and are concerned about how their personal data is being used. Additionally, policymakers have also addressed their issues and have implemented regulations for businesses that handle personal data. Such big data challenges can pose problems when it comes to accumulating sufficient user data, without which accurate analysis cannot be performed. Superior big data analytics solutions helps organizations eradicate such challenges with ease.
2. Lack of Financial Muscle To Adopt Big Data
One of the most significant necessity for big data in the media industry is the requirement of strong financial muscle for media start-ups and SMEs. While accounting for cost factors to implement data analytics, companies need to look at various factors including data storage costs, infrastructure costs, data processing costs, and human resource costs. Although it is relatively easy to start a new company producing content, games, or apps, it can be tough to scale up without significant investments. Thankfully, the advent of cloud storage and SaaS solutions have provided a way out for start-ups and SMEs.
3. Complex Talent Acquisition in M&E Industry
There is a significant imbalance in the supply and demand of data scientists all across the world. The imbalance is mostly in terms of the shortage of supply of analytics professionals. Furthermore, the demand for data scientists has been increasing exponentially, and there aren't many professionals to fill the void. However, an organization like Quantzig can help you bridge the gap between such problems.
Facing similar challenges?
Get more information from our analytics experts about big data challenges in the media industry, data analytics, predictive analytics, and the media and entertainment industry.
4. Increasing Penetration Rates of High-Speed Broadband
A large part of the content delivered to the audience today is via online mediums. To facilitate this, high-speed broadband is a must. However, the penetration rates of high-speed broadband services haven't been that impressive across the world as it is limited mostly to metro cities. Firstly, it reduces the potential customer base and then gathers data from only urban segment consumers. However, through big data analytics and high speed broadbands, analysts can efficiently gain insights into customers.
5. Big Data Predicts Audience Interests
Traditionally media content was developed only in limited forms. But today they have got replaced by myriad media services like live streaming, pay per view, and much more. In the process of content delivery across these forms, media distributors also collect a vast amount of user data. Big data in the media and entertainment landscape can offer an in-depth understanding of the behavior and preferences of consumers. For example, big data analytics has helped a major media channel to unearth several interesting statistics about its users including insights on the kind of videos viewers watch and the device they use for video streaming. Big data in the media and entertainment industry can be leveraged to understand audience behavior and syndicate content that is closely aligned to their viewer preferences.
6. Big Data Optimizes Scheduling of Media Streams
The increasing growth of digital media distribution platforms has literally reduced the barrier that existed between end-users and distributors. With big data in media and entertainment reaching the end-users directly without any intermediary has become feasible. Moreover, big data analytics has helped media companies to connect with the audience directly through scheduled media streaming and maximize profits. Additionally, big data in the media and entertainment industry has helped in identifying the exact content which customers would want to engage with on a scheduled basis.
There are various other use cases for the increasing role of big data analytics in the media and entertainment industry. However, if we start working on each case then it'll take our wizards weeks to write up a single article with all the use cases.
Now that that's done, let's take a look at what the future holds for the industry and how Quantzig might be able to help you out.
The Future of M&E Industry – Big Data Analytics
Media and entertainment organizations contain a variety of external data such as customer-generated content, market data, mobile app data, images/videos, social media data. This data needs to be taken advantage of, but traditional analysis techniques are not enough to extract complete value from such vast amounts of structured and unstructured data. This is where AI-driven big data analytics comes to play. Big data will enable media and entertainment players to better predict consumer needs and expectations, and measure important metrics like audience engagement rate, consumer insights, content management, call center operations, and more. 
RELATED ARTICLES: