The concept of customer segmentation is widely accepted across industries such as retail and telecommunications. However, it has recently gained momentum in the healthcare industry as it allows hospitals and healthcare service providers to facilitate patient engagement and enables personalization. An effective customer segmentation strategy offers in-depth patient insights to the organizations in the healthcare industry. These insights help the players in the healthcare industry to understand their target market, their preferences, and address their needs to improve community health as a whole significantly. The patients can be segmented in different ways such as risk level and insurance coverage status among other patient demographics. Slowly but steadily healthcare organizations will have to adopt customer segmentation strategies to deliver effective medical care.
Contact our analytics experts to know more about customer segmentation in the healthcare industry.
Benefits of Healthcare Customer Segmentation: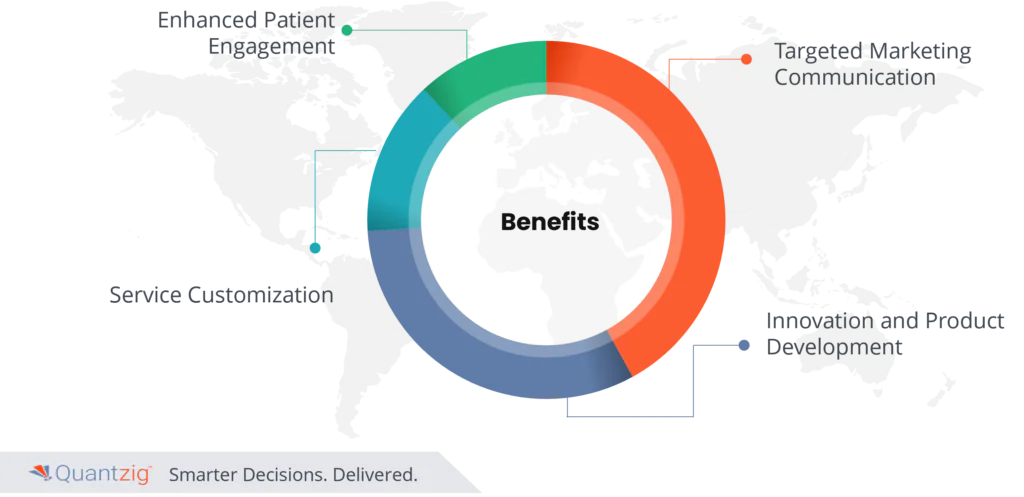 Healthcare organizations, armed with vast amounts of data from diverse sources, have a unique opportunity to leverage customer segmentation strategies. This approach goes beyond traditional healthcare practices, offering a plethora of benefits that can revolutionize patient engagement and service delivery across the globe.
Enhanced Patient Engagement: Customer segmentation enables healthcare providers to tailor engagement strategies based on patient preferences, attitudes, and motivations. This personalized approach fosters a deeper connection with patients, facilitating more effective health management practices globally. By understanding individual needs, healthcare professionals can implement targeted communication strategies that resonate with specific patient segments.
Targeted Marketing Communication: Developing targeted marketing materials is pivotal in prompting individuals to respond. Customer segmentation provides in-depth insights into consumer attitudes and behavior, allowing the healthcare industry to craft communication materials that focus on a singular message. This tailored approach enhances the effectiveness of marketing campaigns, driving better response rates and patient interactions.
Service Customization: Identifying consumer segments through segmentation strategies allows healthcare organizations to understand the diverse needs of their patient population. This knowledge aids in determining suitable providers and tailoring services accordingly. Customer segmentation helps position healthcare products and services accurately in the market, ensuring alignment with the specific requirements of distinct consumer groups.
Innovation and Product Development: Armed with insights into consumer needs, preferences, and market gaps, healthcare organizations can leverage customer segmentation to drive innovation. By understanding the unique requirements of different segments, healthcare players can design new services or facilitate the development of innovative products that cater to specific patient demographics. This proactive approach ensures that healthcare offerings align with evolving consumer expectations.
Customer Segmentation and Healthcare Industry – Application
Healthcare organizations have access to large amounts of data from a variety of sources that can be leveraged to gain customer insights. But what are the benefits of customer segmentation in the healthcare industry, you ask? Here's what.
The application of customer segmentation in the healthcare industry is multifaceted, influencing various aspects of patient care and organizational strategies.
Chronic Disease Management: Customer segmentation aids in tailoring interventions and communication strategies for patients with chronic conditions. Understanding the unique challenges and preferences of specific patient segments allows healthcare providers to implement personalized approaches to manage chronic diseases effectively.
Preventive Healthcare Initiatives: Implementing preventive healthcare measures requires a nuanced understanding of patient behavior. Customer segmentation allows healthcare organizations to target specific segments with tailored preventive programs, encouraging proactive health management and reducing the burden on reactive healthcare services.
Telehealth Adoption: The rise of telehealth presents an opportunity for customer segmentation to shine. Understanding the technological preferences and accessibility of different patient segments enables healthcare providers to customize telehealth solutions, ensuring widespread adoption and effectiveness.
Enter Quantzig:
Quantzig's team of healthcare customer segmentation experts helped a global healthcare industry player to optimize their sales force and marketing activities to improve their overall ROI. Moreover, the customer segmentation study helped the client to identify growth opportunities, tap market potential, prioritize customers, and improve service quality to ensure long-term customer satisfaction. Read the complete case study.
"Without big data analytics, companies are blind and deaf, wandering out onto the web like a deer on a freeway," said a leading data analytics expert from Quantzig.
For more than 14 years, we have assisted our clients across the globe with end-to-end data management and analytics services to leverage their data for prudent decision making. Our firm has worked with 120+ clients, including 55+ Fortune 500 companies. At Quantzig, we firmly believe that the capabilities to harness maximum insights from the influx of continuous information around us is what will drive any organization's competitive readiness and success. Our objective is to bring together the best combination of analysts and consultants to complement our clients with a shared need to discover and build those capabilities and drive continuous business excellence.
In conclusion, healthcare customer segmentation is not just a strategy; it is a transformative approach that can reshape patient engagement, marketing effectiveness, service customization, and innovation. By understanding the diverse needs of patient populations through segmentation strategies, healthcare organizations can elevate their offerings and provide patient-centric care. The application of customer segmentation is a dynamic and ongoing process, ensuring that healthcare providers stay attuned to evolving patient preferences and market dynamics. As the healthcare landscape continues to evolve, the strategic integration of customer segmentation will be a key differentiator in delivering personalized and impactful healthcare services.
Request for a free proposal to learn more about customer segmentation and how it can benefit your business.
To know more about customer segmentation in the healthcare industry
Related Articles: