What you can expect from the Sustainable Supply Chain Article
Introduction
Three-Step Guide for Organizations to Create a Sustainable Supply Chain
Highlights of the Sustainable Supply Chain Article
| | |
| --- | --- |
| S No | Three-Step Guide for Organizations to Create a Sustainable Supply Chain |
| 1. | Step 1: Collect data |
| 2. | Step 2: Optimize supply chain processes |
| 3. | Step 3: Report performance and potential of supply chain operations |
Begin your journey from data to insights today.
Introduction
Sustainability concerns are sprouting up in every industry. A growing population of consumers now prefer eco-friendly and sustainable businesses. Organizations are striving to address this concern, while improving internal systems and processes, by developing supply chain sustainability. One of the biggest challenges facing organizations ready to implement a sustainable supply chain is identifying crucial opportunities that create an impact and align perfectly with the organization's values, ethics, and short-term and long-term strategy. This is a cumbersome task as it involves tackling complex data sets, managing dynamic market demands, and considering sustainable supply chain imperatives unique to every organization.
Big data analytics generates actionable insights that are relevant in fostering environmental sustainability. Organizations are now integrating big data analytics to ensure better ecological regulation through their business practices. Most organizations deploy sensor technology and gain real-time data on environmental quality. Data sets generated by sensor technologies can monitor emissions of non-degradable items and regularize them.
---
Creating a green supply chain starts by understanding your stakeholders' eco-friendly requirements. Request a free pilot to know more about how Quantzig's advanced analytics and big data solutions can help you create and implement a sustainable supply chain strategy.
---
A Three-Step Guide for Organizations to Create a Sustainable Supply Chain
Step 1: Collect
The foremost challenge an organization faces while building a sustainable supply chain is collecting data. An organization must identify the green data and coordinate its collection with various partners and stakeholders across the supply chain network. To enable this, all conventional data elements can have sustainable data elements corresponding to them. For example: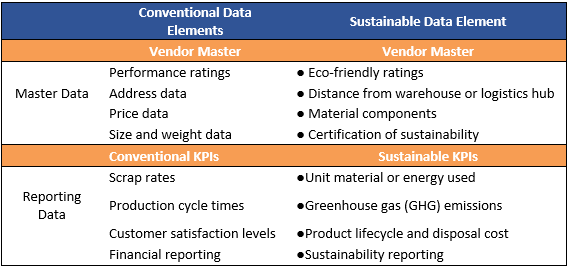 ---
With the massive spread of COVID-19, businesses are struggling with enhancing their supply chain sustainability. Speak to our experts to know more.
---
Step 2: Optimize
The next step for developing a sustainable supply chain network is turning design frameworks into reality. Creating a green supply chain requires an organization to reconsider the drivers of the conventional supply chain. By understanding supply chain sustainability and incorporating those requirements into optimization activity and leveraging clean and sustainable data, an organization can quickly recalibrate its supply chain network. By introducing sustainable data into this initiative, a business is also expected to uncover innovative opportunities to reduce non-biodegradable waste and enhance service quality.
The table below showcases a sample of requirements for sustainable data collection: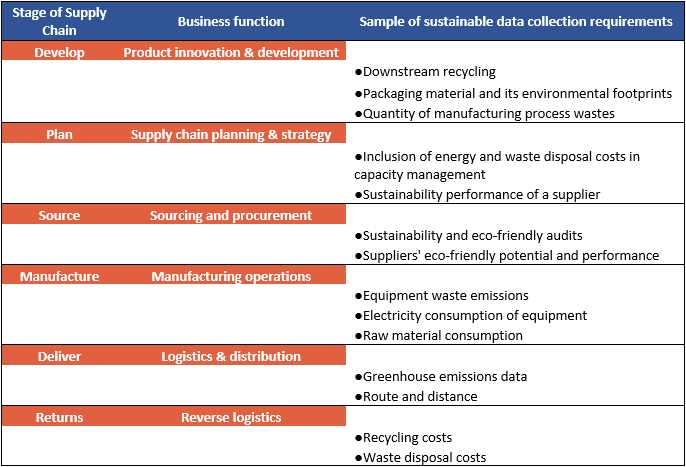 ---
Do you want to make use of your organizational data to gather actionable, intelligent insights that will help you eliminate costly inefficiencies and create a sustainable supply chain organization? Request a free pilot to know how we can help.
---
Step 3: Report
The last step for implementing a sustainable supply chain network is publishing data on the performance and potential of supply chain operations. Reporting is an essential step because of the following reasons:
It sets a standard of expectations with stakeholders
Accelerates the process of responding to stakeholders' feedback
Creates brand value and increases transparency by actively engaging suppliers, partners, customers, and stakeholders
Builds transparency across business functions
Using big data analytics and artificial intelligence as a driver for the success of supply chain sustainability programs is a natural match, but businesses that want to ensure innovation must lay the groundwork for ongoing gains through better data collection. Given the diverse nature of data and information, organizations need to collect, interpret, and analyze every data set created by their supply chain network. There cannot be any free-size approach for addressing these unique requirements to develop a sustainable supply chain. To identify the opportunities and factors that influence supply chain sustainability, an organization needs to examine the heart of its value drivers. With big data analytics offering so much potential in the development of sustainable supply chain networks, organizations that want to stay ahead must begin by improving data management.
---
The most effective effort at sustainability emerges through a 360-degree transformation of the supply chain. Request a free proposal to know how you can start developing supply chain sustainability at your organization.
---