Amid all the mayhem and pandemic-induced disruptions, it's quite clear that 'warehouse location optimization' plays a key role in the success of pharma supply chains. Warehouse location optimization can help pharma companies to leverage real-time insights on warehouse operations to maximize savings and drive productivity. Moreover, moving a part of the last mile operation to a hub near the destination can also help reduce costs and ensure OTIF deliveries. Hence, pharma companies must work towards optimizing warehouse locations and devising effective strategies that support the key business objectives. However, owing to the intense competition and market dynamism, warehouse location optimization can become a balancing act, but when the right balance between supply and demand is achieved, the organization can rest assured that they are one step closer to meeting their long-term objectives.
Today there are several reasons why warehouse location optimization and warehouse operations management are worth your attention. Let's analyze the top two reasons why warehouse location optimization is crucial:
Having escaped the scrutiny applied to other supply chain areas, warehouse location optimization offers several new opportunities for driving supply chain efficiency and productivity.
Being a link between the customer and the company, pharmaceutical warehouse location management is an area where quality and performance have a huge impact on business growth and customer satisfaction.
---
For detailed insights on the business benefits of warehouse optimization, get in touch with an analyics expert.
---
Warehouse Location Optimization: How does it help optimize business outcomes?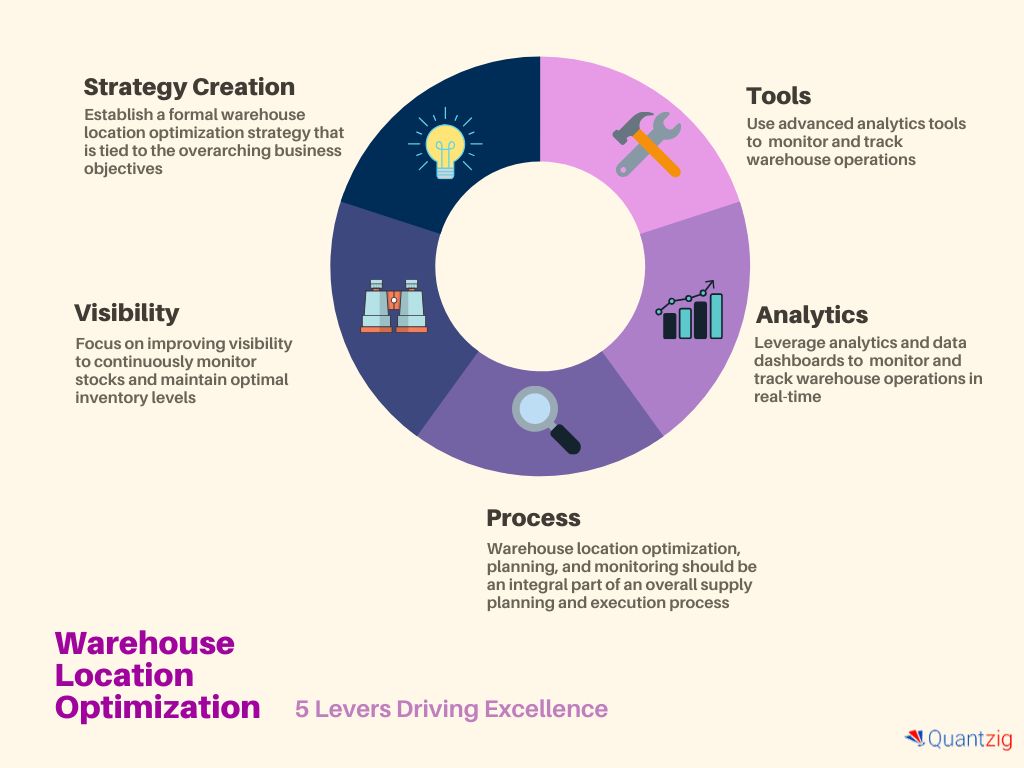 Warehouse location optimization enhances the efficiency of the warehouse and inventory operations, making supply chain management a simple and much easier task. With real-time updates on warehouse processes, pharma companies can gain quick, accurate insights on inventory needs and devise strategies to respond faster to the demands of their customers across geographies. We've listed a few important aspects of warehouse optimization that help drive measurable outcomes.
Feel free to get in touch with our analytics experts to discuss one or more of such potential opportunities for driving warehouse excellence.
Warehouse Consolidation
Consolidation of warehouses and the identification of optimal warehouse locations can help centralize stocking operations and actively cater to the demands from multiple regions.
Data Governance
While data governance is often overlooked, warehouse data governance could be one of the key levers for improving warehouse location management. Hence, when it comes to warehouse data governance, pharma companies must consider setting new guidelines and establishing policies for controlling warehouse operations spread globally.
Considering the current scenario, the choices you make today can make or break the future success of pharma supply chains. Request a Free demo to learn how we can guide you and help make such crucial decisions within a short span.
Location Analytics
Advanced location analytics can play an important role in improving your warehouse location optimization efforts. Leveraging predictive warehouse modeling solutions can also enable the assessment of inventory levels and stocking policies. Warehouse location analytics could also be used to develop an analytical model to forecast demand from various regions. This, in turn, could provide valuable insights that help reduce stock-outs and drive the better use and placement of existing stocks.
As supply chains continue to play an important in the future, it's quite evident that warehouses will evolve and play a crucial role in driving success. In such a scenario, identifying hidden opportunities for reducing costs, enhancing productivity, and improving customer satisfaction by optimizing your warehouse and distribution processes will help drive future success.