What you'll find in this case study:
Pharmaceutical Industry Overview
How Can You Increase Pharma Brand Loyalty
About the Client
The Business Challenge
The Customer Loyalty Analysis Solution
The Customer Loyalty Analysis Business Impact
Customer Loyalty Analysis Predictive Insights
Highlights of the Customer Loyalty Analysis Case Study
| | |
| --- | --- |
| Particulars | Description |
| Client | A Europe-based pharmaceutical company |
| Business Challenge | Improve customer loyalty and maintain a long-term customer relationship |
| Solution Impact | Identified metrics most important for establishing long-term customer loyalty; created loyalty segments to better market offerings to customers |
In the dynamic landscape of the pharmaceutical industry, customer loyalty is a cornerstone for sustained success and market leadership. This case study delves into the meticulous Customer Loyalty Analysis conducted for a prominent pharmaceutical player in Europe. As pharmaceutical companies navigate evolving market demands, understanding and nurturing customer loyalty becomes imperative. This case study unfolds the strategic initiatives, data-driven approaches, and key insights derived from the Customer Loyalty Analysis, shedding light on how the pharmaceutical player fortified relationships with healthcare professionals and stakeholders. The exploration of this case study unveils the transformative impact of loyalty analysis on customer retention, brand perception, and overall market competitiveness for the leading pharmaceutical entity in Europe.
Pharmaceutical Industry Overview
The global pharma industry is witnessing immense growth due to the presence of numerous competitors who are involved in the production, development, and marketing of medications. With the majority of revenues coming from the United States and Europe, the pharma industry is witnessing a high demand for pharmaceuticals such as pain drugs, antihypertensives, and antidiabetics. In the pharma industry, the growing demand among the customers is further triggering the need for research and development in the segment. Although the pharma industry is witnessing relentless demand among the end-user segments, certain factors are responsible for the hindrance of the market's growth. These factors include:
Rising customer expectations: In recent years, with the shift toward a consumption-driven economy, countries across the globe are imposing cost constraints on healthcare service providers. Moreover, with the customers becoming more informed than ever before, they are looking for clinically and economically better alternatives as compared to the existing alternatives.[spacer height="20px"]
Policy reforms: Today, any changes in the healthcare regulations significantly affects the pharma industry. Leading policy reforms are in place to ensure the quality, safety, and efficacy of therapeutic drugs to target audiences. Moreover, overseas manufacturers are expected to operate to the general standards to meet the licensing requirements of the specific region.
To address such issues and meet the relentless demands of the target audience in the pharma industry, leading organizations are utilizing customer loyalty analysis. Customer loyalty analysis ensures better visibility into the customer's tastes and preferences and offers better satisfaction to the customers.
Implement our solutions to solve your complex business challenges at no cost with our 4-week complimentary pilot. This offer bears no hidden clauses and serves as a perfect opportunity to explore our comprehensive portfolio of advanced BI and business analytics solutions.
How Can You Increase Pharma Brand Loyalty:
To increase pharmaceutical brand loyalty, companies should focus on personalized services, transparent communication, and streamlined customer experiences. Leveraging data analytics to understand customer preferences, tailoring product offerings, and optimizing pricing strategies are key elements in building and sustaining brand loyalty in the pharmaceutical industry.
About the Client
The client, a prominent pharmaceutical manufacturer based in Europe, stands as a leading player in the industry. With a rich portfolio of pharmaceutical products, the client sought to strengthen its market position by enhancing customer loyalty and establishing enduring relationships with pharmacies and hospitals. The evolving pharmaceutical landscape, marked by rising costs and the emergence of local competitors, presented challenges in maintaining market share. Limited customer orientation in marketing, sales, and after-sales channels further hindered the client's understanding of individual account needs. The disjointed view of customer data across various touchpoints compounded these challenges.
The Business Challenge
The client wanted to improve customer loyalty and maintain a long-term customer relationship with the pharmacies and hospitals that they were selling to. Also, the rising costs and increased complexity of the pharmaceutical network combined with the emergence of local players had put the client under enormous pressure to maintain their existing market share. Limited customer orientation of marketing, sales, and after-sales channels resulted in the lack of understanding of products and services required by each account. Moreover, due to multiple information systems capturing information about their marketing, sales, and customer data, the organization had a splintered view of their customers across different customer contact points.
After hearing about Quantzig from another industry veteran, the client decided to connect with our experts to understand what they can achieve with us.
To address the customer's requirements and enhance loyalty, the client needed a holistic data management and analytics solution to integrate the data spread across multiple soiled systems and analyze it to achieve the following objectives:
360-degree view of the accounts, account structure, and decision-makers
Value of customer segments
Offer account-specific products and services
Achieve better customer loyalty and centricity
The Customer Loyalty Analysis Solution
To understand the relative preferences of the customers, the customer loyalty experts at Quantzig:
Finalized business scope and consumption use cases after multiple client meetings
Multi-source data integration at various levels (account, channel, product, and DMA) to create a single analyzable data set
Data cleansing and business rule application to create final data set for analysis
Developed clustering and multivariate regression-based models to provide insights for improving customer loyalty and sales
Simulations to analyze the probability of winning a bid based on account-specific parameters
Designed self-generating decision boards in tableau to analyze:

Customers across different segments
Account penetration and marketing response index
Price sensitivity and simulations
The Customer Loyalty Analysis Business Impact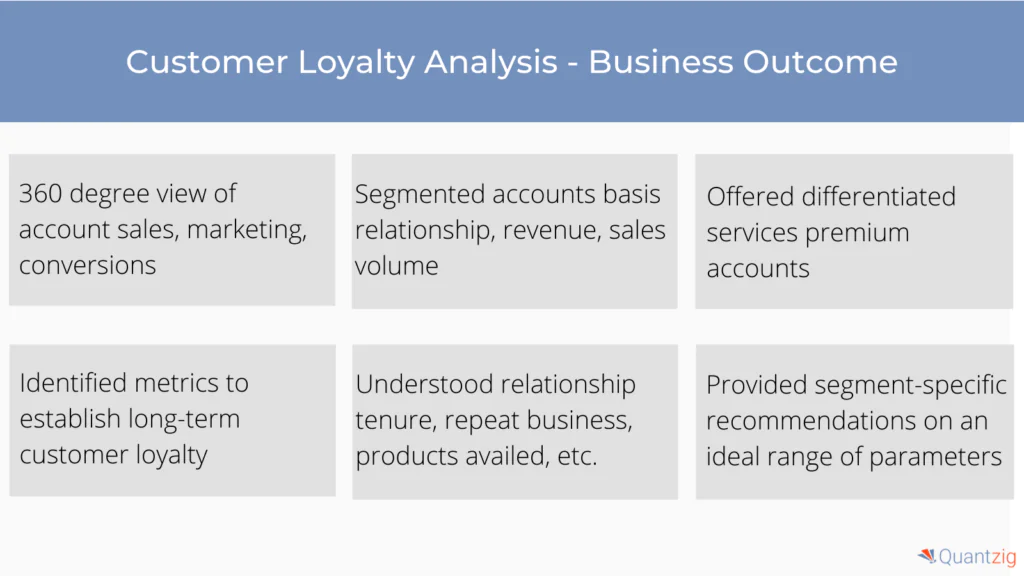 The customer loyalty analysis engagement offered by Quantzig:
Provided a 360-degree view of the account, sales, and marketing information for the client to have complete information on account structure, product penetration, marketing response, and sales
Segmented the accounts into four different segments – Bronze, Silver, Gold, and Platinum based on length of the relationship, revenue generated, the volume of sales, and the number of products purchased
Prioritized key decision-makers and offered differentiated services to Gold and Platinum accounts
Identified metrics that were most important to establish long-term customer loyalty based on the contractual agreements using multivariate regression models
Understood the tenure of relationship, repeat business, products availed, prices quoted, promotions, and the discounts applied
Provided recommendations on an ideal range of parameters based on the account segment
Customer Loyalty Analysis Predictive Insights
Created price elasticity models for multiple products being sold to the individual accounts to recommend prices that would improve the volume of sales as well as maintain profit margins
Allowed the client to adjust prices and discounts for wholesale contracts so as to negotiate based on real-time information
Identified variables that significantly affect the deal win as well as losses to improve sales pipeline velocity by ensuring that the clients' sales activities were focused on value-adding tasks that maximized the probability of sale
Created a Deal/Win-loss simulator to provide real-time insights to the client by ensuring that for each individual account and their sales activities (sales representative, number of face-to-face meetings, samples provided, and calls made) were optimized and the chance of success was maximized.
Conclusion:
In conclusion, Quantzig's customer loyalty analysis significantly enhanced the client's understanding of customer behavior, allowing for precise strategies to improve loyalty and sales. The segmentation of accounts, identification of key decision-makers, and predictive insights have empowered the pharmaceutical player to navigate market challenges with agility. By providing real-time insights, personalized services, and optimized pricing, the client is now well-positioned to foster enduring customer relationships and fortify its market standing in the competitive pharmaceutical landscape.