What You Can Expect from the Customer Behavior Analysis Case Study
Data Governance Best Practices
E-commerce Industry Overview
About the Client
What the Client Wanted
Client's Issue
The Customer Behavior Analysis Outcome
Highlights of the E-commerce Analytics Case Study
| | |
| --- | --- |
| Particulars | Description |
| Client | A leading global e-commerce organization |
| Business Challenge | To increase conversions from marketing campaigns by understanding customer behavior |
| Solution Impact | Understood customer behavior with the help of analytics and optimized their online business strategy to increase conversions |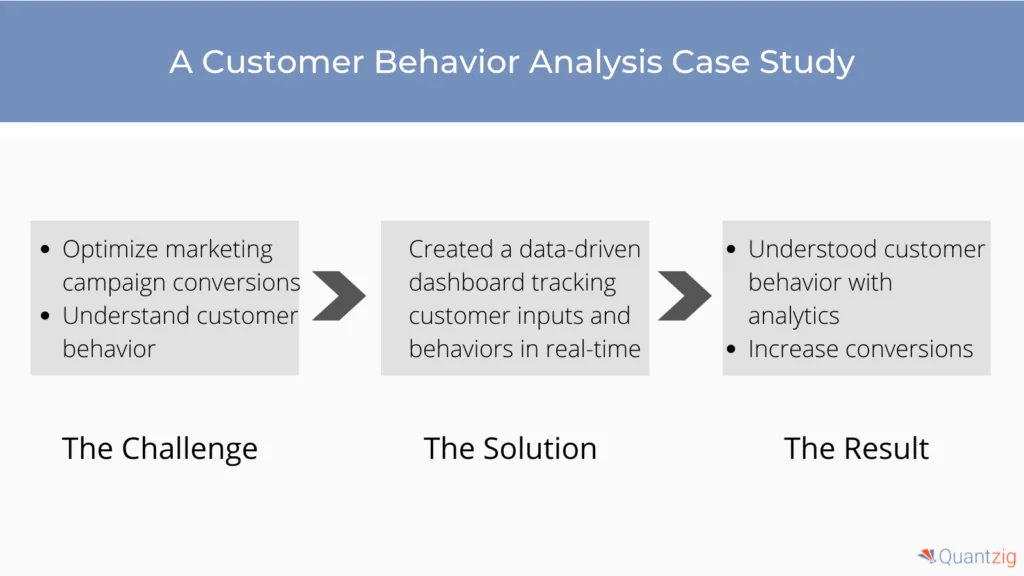 eCommerce Analytics Best Practices
In this digital age, consolidation and protection of sensitive data are some of the most primary concerns of all large, medium, and small-scale enterprises. Companies are subscribing to a sound data governance program, which employs strategies and technologies to facilitate business data compliance with regulations and corporate rules. Such a strategy is built on the podium of some effective data governance best practices, which hold the key to curtail risks as well as to secure data value. The data governance best practices can be classified as:
Creating an efficient operating model: The success of any data governance program is highly dependent on its operating model. It is characterized by activities such as defining enterprise roles and responsibilities across the business. The aim of such an operating model is to facilitate a flexible enterprise-wide governance structure. Such a structure can be remodeled based on the dynamic business needs of the organization.
Determining data domains: Following the creation of the data governance operating model, the focus should be laid on determining the data domains for each line for business such as customer, vendor, and product data domains. These domains should be flexible to befit the different needs of the industry.
Identifying critical data within the data domains: One of the data governance best practices is to identify critical data. Data domains contain a multitude of information from systems and applications that are involved in the business process. Ideally, one of the most important data governance best practices is the requirement of the data governance program to identify and segregate data critical to the company. Data governance best practices include attaining commonality across the industry by establishing a centralized platform to regulate and control changes. It is crucial for each business needs to identify what is crucial for them.
Define control measures: Data governance best practices include creating and maintaining control measures for the data governance program. This is considered important owing to the fact that the data governance program is a continuous process to facilitate data-driven decision-making and create opportunities for business. Some of the data governance control measures include defining automated workflow processes, capturing feedback through automated workflow processes, and applying workflow processes to the governance structure.
To know more about data governance best practices for ecommerce business, speak to our analytics experts.
E-commerce Industry Overview
The retail market has shifted from its brick-and-mortar form to a digital domain dubbed as the e-commerce business. This has also commanded a major change of course in online retail business management. Functionally, the e-commerce business is largely dependent on the data collected from multiple information systems, which are later analyzed to make market decisions. However, the major challenge in this respect is identifying and segregating the business-critical data. It becomes a mammoth task to capture key data from the enormous pile of information. Hence, in such a data-driven e-commerce business field, an effective data management program aligned to data governance, best practices become indispensable. The key benefits in adopting data governance best practices in the business are as follow;
Aid a data-driven enterprise in cost-savings as it offers a better grip on the core business metrics in terms of product and campaign performance
An effectively done data management can offer reliable and consistent data on essential factors in an e-commerce business such as conversion rates and unique visitors
The data governance reports essentially guide the analytics team in the e-commerce business to structure their activities, which include information on risk management, statistical models, metrics and key attributes, and performance dashboard and report design
About the Client
A major player in the e-commerce business field.
What the Client Wanted
Primarily, the client wanted to establish hierarchical master data, which would bring all the performance and other business aspects related data under one roof. The client wanted to analyze the master data on a continuous basis to track the shopping behavior and customer affinity for the e-commerce business sites to outline their business plan. The client also wanted to leverage Quantzig's eCommerce analytics to identify pointers to enhance traffic and campaign performance.
eCommerce Analytics Challenge
The client was not able to identify factors that were resulting in low campaign performance and conversions when compared to investments done on the online brand campaign.
---
To leverage in-depth insights from Quantzig's analytics experts, and learn more about data governance in your industry, request a FREE proposal.
---
The eCommerce Analytics Solutions Outcome
Quantzig's eCommerce analytics experts adopted an effective data-driven approach to create a centralized data inventory, which categorized data related to every enterprise aspect. It fostered data integrity and was considered essential for the e-commerce business. The data was analyzed by Quantzig's data governance experts to determine performance pointers for the e-commerce retailer and tracked customers' online shopping frequency. It enabled the client to determine traffic flow and, thereby, outline their online business strategy accordingly.