In the dynamic landscape of the food industry, maintaining a competitive edge requires strategic pricing methodologies. Quantzig, a leading analytics and advisory firm, has recently collaborated with a prominent Frozen Food Manufacturer to revolutionize their pricing and food marketing analysis strategy. This partnership aims to enhance profitability by implementing advanced pricing analytics techniques. By leveraging predictive pricing strategies, Quantzig empowers the client to navigate the complexities of the market and make data-driven decisions.
In the ever-evolving frozen food sector, where consumer preferences and market dynamics fluctuate, a robust pricing strategy becomes paramount. Quantzig's expertise in pricing analytics equips the manufacturer with insights to optimize pricing structures, identify market trends, and tailor strategies that resonate with consumer demands. This engagement is not merely a transactional process; it is a transformative journey towards boosting profit margins through food marketing analysis and ensuring sustained success in a competitive marketplace. Stay tuned to witness how this collaboration reshapes the pricing landscape for the frozen food industry, setting new benchmarks for profitability and strategic pricing excellence.
What the Client Wanted
The frozen food manufacturer approached Quantzig to conduct a robust pricing analytics study to identify price management initiatives which will facilitate optimal pricing of products, customer retention, and ensure long-term profitability in the aggressively competitive frozen food market.
The Outcome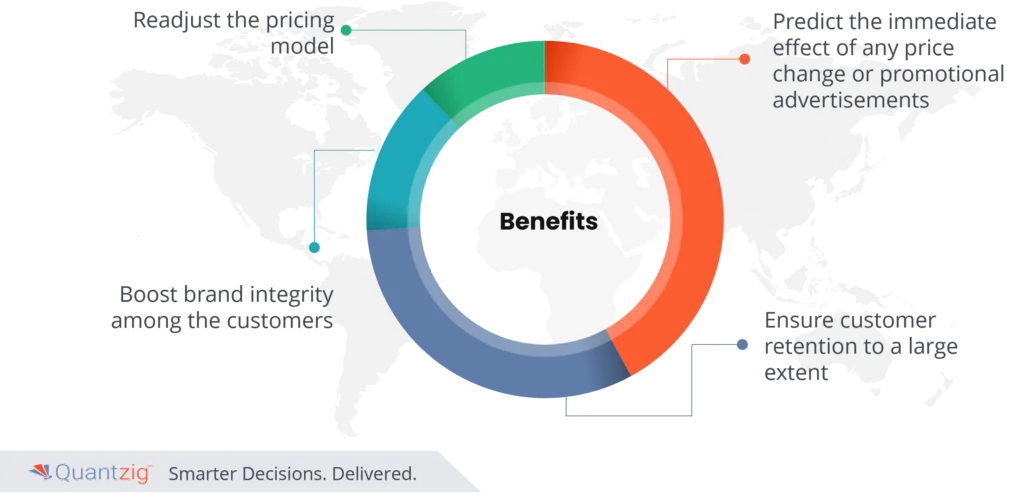 The pricing analytics study conducted by the experts revealed pricing misalignments which helped the frozen food manufacturer readjust their pricing model. In addition to augmenting the client's profit margin, the new strategy also predicted the immediate effect of any price change or promotional advertisements. The optimized pricing strategy and food marketing analysis boosted brand integrity among the customers thereby ensuring customer retention to a large extent.
Leveraging historical price data can help you adjust the price of a product in order to maximize profits. Contact us to learn how we can help you analyze price data.
Global Frozen Food Market
In a fast-paced life, consumers are exhibiting an increasing preference for frozen food market products which comprise of deep-frozen food products which can be stored and consumed over a long period of time. Other factors like a boost in the buying power, changing food habits, and the growing number of large retail chains have also accelerated the demand drivers of the frozen food market. This exponential growth has prompted prominent frozen food companies to expand their product portfolio in the market. However, growth in this otherwise thriving frozen food market is not bereft of challenges.
Industry Challenges
Preference towards fresh and organic food – It is a common belief among most of the consumers that in order to increases the shelf-life of the product, the frozen food companies utilize preservatives and harmful packaging materials. Such apprehension deters health-conscious consumers from exploring products of the frozen food market and has consequently increased scopes for competitors who bring the promise of food products that are organic and fresh.
Competitive pricing – In a crowded frozen food market ecosystem, one of the biggest challenges for the frozen food companies is to devise a strategic pricing model aligning to the competitive market pricing while ensuring a steady profit margin and retain customers. The companies find it difficult to stick to a steady price strategy while allocating resources for product innovation and campaigns.
Request a Free proposal to understand how the extensive use of data, statistical and quantitative food marketing analysis can help you improve pricing decisions.
About the Client
A reputed frozen food manufacturer based out of the US.
Client's Challenge
The client lacked a functional perspective of the diversifying frozen food market which was why they were unable to plan an optimized price strategy for their products. It caused the frozen food companies to suffer a setback in beating their competitor's price on a contract to supply to leading food retailers.
To know more about how our pricing analytics solution helped the frozen food market client, request more information.
Business Impact
A careful pricing analytics solution done by Quantzig's pricing analytics experts helped the frozen food manufacturer in determining factors for an accurate pricing performance measurement. The solution aided the client in devising a predictive pricing model which allowed them visibility of the actual profitability of the products in a competitive frozen food market. This helped in their critical decision- making process in adjusting their product portfolio with respect to price, state or local tax and production and supply chain costs. It boosted profit for the frozen food manufacturer and gave an edge over the frozen food companies.
Pricing Analytics Solution Insights
Quantzig's pricing analytics solution benefits the frozen food market by offering real-time updates on the product demand and purchase behavior of the customers. This helps the frozen food companies is shaping an elastic pricing strategy which can be adjusted according to product performance against price. The pricing analytics solution also helps adopting a structured approach to brand campaigning which can facilitate significant cost-savings.