In the fiercely competitive realm of the Food and Beverage (F&B) industry, staying ahead requires more than just quality products—it demands a strategic and data-driven approach. This blog delves into the pivotal role of advanced F&B industry analysis in helping a food and beverage company optimize customer reach. In an era where consumer preferences evolve rapidly and global competition intensifies, leveraging industry insights becomes a cornerstone for success.
The challenges faced by F&B companies, such as pricing pressures, revenue stagnation, and the presence of numerous competitors, underscore the need for sophisticated analysis. By unraveling market dynamics, identifying niche segments, and implementing a robust business model, companies can not only survive but thrive in this dynamic landscape. Let's explore how advanced analysis becomes a linchpin in optimizing customer reach and achieving a competitive edge.
Role of Food Marketing Analytics in the Industry
First, let's understand how food marketing analysis helps the players in the F&B industry. Lately, the food and beverage companies have started increasing their focus on innovations to move towards a more consumer-centric environment. With the increasing focus on consumer preference, food and beverage firms have started leveraging the use of food marketing analysis to optimize customer expectations and reach. In the food and beverage industry landscape, food and beverage market analysis helps firms measure, manage, and analyze marketing performance, subsequently maximizing effectiveness and enhancing ROI. Food marketing analysis also offer strategic insights into customer preferences; apart from analyzing marketing performance; thereby, helping firms make better-informed business decisions. Moreover, marketing analytics can help food and beverage firms measure key business metrics in terms of market effectiveness and market attribution.
Quantzig's market analytics solution helps the client gather data across all marketing channels and create a one-stop-shop to scale the information and drive marketing efforts. Furthermore, Quantzig's marketing analytics also assists the food and beverage companies to identify the technologies in the market space and subsequently allocate resources for the long run across channels.
Challenges of the F&B Client
In a highly competitive Food and Beverage (F&B) industry, a global company faced formidable challenges that necessitated a strategic overhaul. The industry's intense competition, coupled with a global presence, posed hurdles in effectively targeting potential customers and optimizing customer reach. The client recognized the need for an efficient market analytics study to surmount these challenges and improve its market positioning.
1. Numerous Competitors and Global Presence:
The F&B industry's competitive landscape, marked by the presence of numerous players, created a challenge for the client. With offices spread across the globe, the client grappled with the complexity of targeting potential customers effectively. The sheer volume of competitors demanded a nuanced approach to market analytics, ensuring precise identification of niche market segments for targeted strategies.
2. Pricing Pressures and Revenue Stagnation:
The client encountered pricing pressures, a common challenge in the F&B sector where consumers are sensitive to price changes. Revenue stagnation added to the complexity, signaling a need for a comprehensive reassessment of the client's business model. The client sought a strategic shift to overcome these challenges and position itself more competitively in a dynamic market.
3. Efficient Market Analytics Study for Niche Segments:
To address the challenges, the client sought to devise an efficient market analytics study. This study aimed to provide deep insights into niche market segments, enabling the client to tailor its strategies to specific consumer preferences and behaviors. By understanding the unique demands of different segments, the client aimed to optimize its offerings and enhance customer engagement.
4. Robust Business Model Implementation:
Recognizing the need for a robust business model, the client aimed to devise a strategic framework that would withstand pricing pressures and drive revenue growth. The implementation of such a model required a meticulous understanding of market dynamics, consumer trends, and competitive forces. The client aspired to create a business model that would not only navigate existing challenges but also position the company for sustained success.
5. Strengthening Foothold in the F&B Landscape:
The overarching goal for the client was to gain a stronger foothold in the dynamic F&B landscape. This involved a comprehensive approach that encompassed industry analysis, targeted marketing strategies, and the implementation of a resilient business model. By addressing these challenges head-on, the client sought not only to survive in a competitive environment but to thrive and emerge as a leader in the F&B sector.
The challenges faced by the F&B client underscored the need for a strategic and data-driven approach. Through efficient food and beverage market analysis, targeted segmentation, and the implementation of a robust business model, the client aimed to transform challenges into opportunities, ensuring a competitive edge in the ever-evolving F&B industry.
F&B Market Analysis Solution Benefits
A robust go-to-market research evaluation and an extensive research from multiple sources helped the food and beverage client gain a comprehensive understanding of customers and their preferences across channels and predicted the market behavior. The client also identified the features the customers were looking for and accordingly tailored the offerings. This market analytics study also helped them engage with customers in real-time and predict trends in customer behavior.
Predictive Insights with advanced F&B industry analysis
In the dynamic and competitive Food and Beverage (F&B) industry, leveraging predictive insights through advanced food and beverage market analysis is essential for staying ahead. This involves a multifaceted approach that encompasses marketing performance measurement, trend identification, price and promotion analytics, regression analysis, and outcome prediction. Let's delve into each aspect in detail: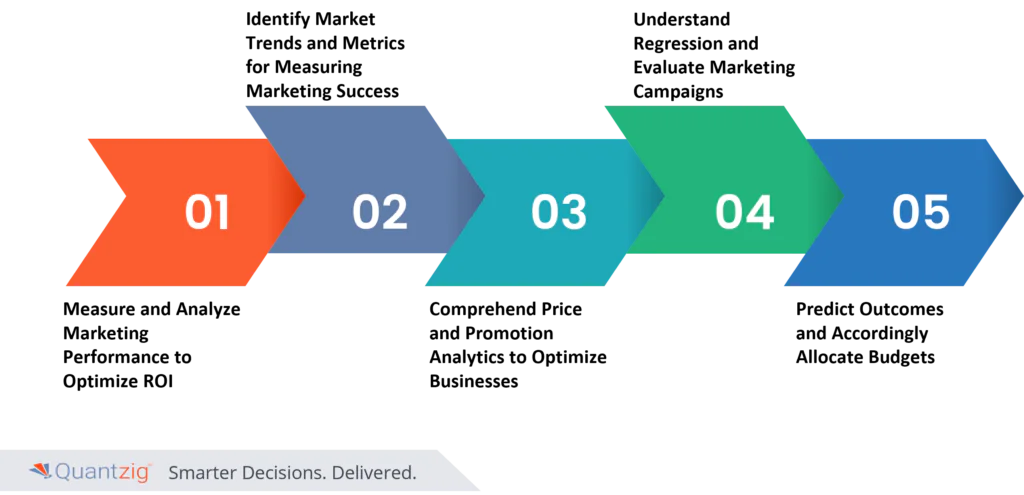 1. Measure and Analyze Marketing Performance to Optimize ROI:
In the F&B sector, understanding marketing performance is crucial for optimizing Return on Investment (ROI). Advanced analytics allows businesses to measure the effectiveness of various marketing channels, campaigns, and strategies. Through key performance indicators (KPIs) such as customer acquisition cost, conversion rates, and customer retention, businesses can gain insights into which marketing efforts yield the highest ROI. This knowledge enables informed decision-making, directing resources towards the most impactful strategies.
2. Identify Market Trends and Metrics for Measuring Marketing Success:
Analyzing market trends is fundamental for success in the F&B industry. Advanced food and beverage market analysis helps businesses identify emerging trends, changing consumer preferences, and market dynamics. By monitoring metrics such as customer satisfaction, brand perception, and social media engagement, F&B businesses can gauge the success of their marketing initiatives. This data-driven approach ensures that marketing strategies align with evolving market trends, enhancing overall competitiveness.
3. Comprehend Price and Promotion Analytics to Optimize Businesses:
Price and promotion analytics play a pivotal role in optimizing F&B businesses. Advanced analysis allows for a comprehensive understanding of pricing strategies and promotional effectiveness. By assessing the impact of discounts, promotions, and pricing changes on sales and customer behavior, businesses can refine their approach. This insight enables businesses to strike the right balance between offering competitive prices and maintaining profitability, ultimately enhancing overall business optimization.
4. Understand Regression and Evaluate Marketing Campaigns:
Regression analysis is a powerful tool for evaluating the effectiveness of marketing campaigns in the F&B industry. It helps businesses understand the relationships between various marketing variables and their impact on outcomes. By employing regression models, businesses can assess the contribution of different marketing channels, advertising mediums, and promotional activities to overall success. This understanding facilitates data-driven decision-making and enhances f & b marketing strategy, allowing businesses to allocate resources efficiently based on the identified drivers of campaign effectiveness.
5. Predict Outcomes and Accordingly Allocate Budgets:
Predictive analytics enables F&B businesses to forecast outcomes and allocate budgets strategically. By leveraging historical data, market trends, and performance metrics, businesses can use predictive models to anticipate future results. This forecasting capability empowers businesses to allocate budgets more effectively, focusing resources on initiatives with the highest predicted impact. It minimizes risks and enhances the likelihood of achieving desired outcomes in a dynamic F&B landscape.
In conclusion, the journey to optimizing customer reach in the F&B industry is an art and a science—an art in understanding consumer nuances and a science in leveraging advanced food and beverage market analysis to transform challenges into opportunities. With every strategic insight gleaned, the path to sustained success in customer-centric F&B markets becomes clearer, ensuring companies not only meet but exceed the expectations of an ever-discerning consumer base.