What You Can Expect from the Marketing Mix Optimization Case Study
About The Client
The Business Challenge
Marketing Mix Optimization Solution Offered and Value Delivered
Highlights of the Food and Beverage Marketing Mix Optimization Case Study
Particulars
Description
Client
A leading food industry player
Business Challenge
To optimize marketing budgets and identify new channels for growth
Solution Impact
Mapped customer journeys across the sales funnel
Reduced marketing spends by over 14% while consistently increasing sales
Quantifed the value and impact of new marketing channels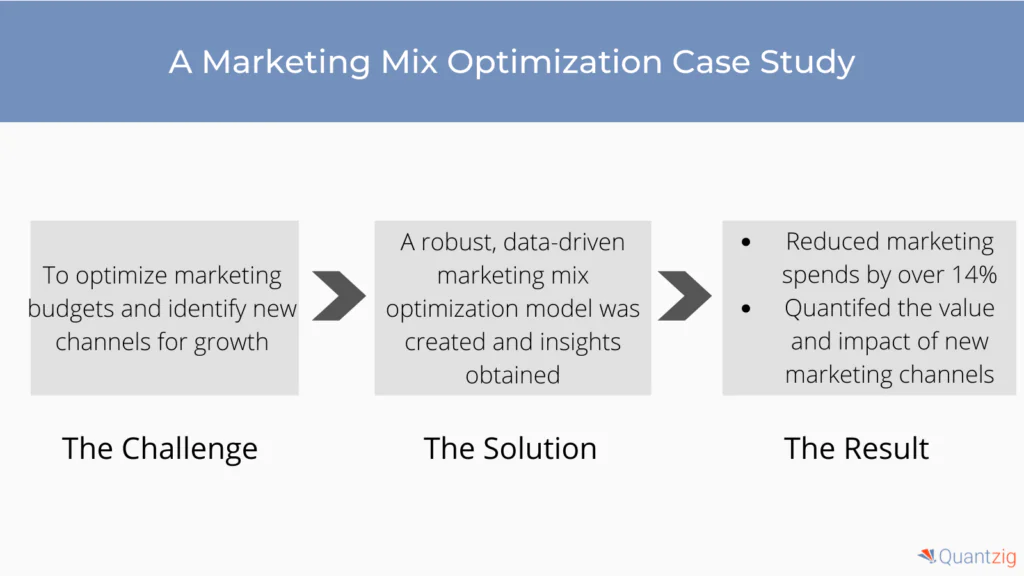 About the Client
A leading food industry player was looking at investing significant marketing dollars across multiple marketing channels to enhance visibility. The use of a log-linear marketing mix model did not help the client to achieve the desired business outcome. This is when they decided to leverage Quantzig's marketing mix optimization solutions to devise an innovative way to modernize and diversify their marketing mix to generate revenue.
Marketing Challenge
The dynamic market landscape and technological developments have paved the way for food industry players to expand their marketing channels to drive ROI. Though businesses today have access to troves of customer datasets, they lack the expertise and tools to extract meaningful insights from the datasets. Analyzing customer datasets can help businesses to make informed decisions, the ones that help drive sales and ROI. One way to make this happen is by leveraging Quantzig's advanced analytics solutions that focus on marketing mix optimization.
Request a free proposal to learn how we can help you forecast integrated marketing campaign effectiveness and conversion rates.
The client was looking at developing an innovative cross-channel marketing strategy to optimize their marketing budgets and identify new channels for growth. To help them address this challenge, we adopted a two-tiered approach to marketing mix optimization. The initial phase revolved around the development of a statistical model, whereas the second phase focuses on the analysis of the results to ensure the best possible allocation of resources.
F&B Marketing Mix Optimization Solution Offered and Value Delivered
The food and beverage industry player had the required datasets but lacked the analytics expertise and appropriate tools to integrate and optimize the datasets. Our marketing analytics experts leveraged advanced data fetching and ingestion tools to help them assess the datasets. Our marketing mix optimization solutions also enabled the client to determine and capitalize on cost-effective media vehicles and campaigns that helped them drive significant improvements in revenue. Moreover, evaluating the cost per acquisition rate also empowered them to analyze and categorize marketing efforts based on sales.
A combination of advanced marketing mix modeling solutions and market data enabled the client to:
• Generate insights from disparate datasets
• Integrate sales and customer data into a single unified machine-learning model
• Map customer journeys across the sales funnel using both top-down and bottom-up approach
• Reduce marketing spend by over 14% while consistently increasing sales across regions
• Quantify the value and impact of new marketing channels