Highlights of the Case Study:
| | |
| --- | --- |
| Particulars | Description |
| Client | A leading manufacturer in the food and beverage industry |
| Business Challenge | To ensure accurate demand forecasts and better handling of raw materials and logistics |
| Impact | The unique features of Quantzig's Material Requirement Planning system helped optimize the client's inventory and output to align with demand forecasts. |
Game-Changing Material Requirement Planning Solutions for Food & Beverage Manufacturers
Raw materials used by F&B players are generally perishable and have a short life span. Thus, it is imperative to account for the freshness of the ingredients and better manage inventories. The (MRP) aids F&B players in planning for the forecasted demand and tuning their raw material purchases and production levels as per these forecasts. It helps them place accurate raw material orders at the right time.
Quantzig offers industry-specific MRP solutions that can enable players in the F&B industry to develop and execute an optimized plan for raw material procurement. Our high-level, real-time analytics provide our F&B clients with insights that aid in better decision-making.
The Challenges of the F&B Client
Our client, a major F&B player, faced severe demand fluctuations for its products due to several factors, such as adverse weather events and rapidly changing consumer trends, which led to volatile consumption patterns. The unpredictability of these factors meant that our client was either experiencing a shortage or a surplus of raw materials. Our client approached Quantzig to implement precise purchasing of raw materials based on accurate demand forecasts. It also sought to optimize its logistic infrastructure to ensure timely delivery of raw materials and finished products. In addition, it wanted us to track and trace the utilization of raw materials to safeguard use before expiration. Adequate visualization of inventory usage is critical in the F&B industry to minimize wastage, promote food safety, and thus adhere to stringent regulations.
Food & Beverage MRP Solutions
Our MRP software solutions are equipped with built-in forecasting tools that combine historical sales patterns and ongoing demand fluctuations, enabling our clients to estimate raw material requirements. Our MRP solutions represented an advance over the reorder point (ROP) process that our client previously utilized to restore inventory.
Our MRP is integrated with handheld barcode scanners that record and track raw materials' expiration dates. We helped our client implement a first-expiry, first-out (FEFO) picking method through our solutions. Moreover, our client used our MRP system's vendor modules and traceability features to compare anticipated lead times and actual delivery dates. In addition, it could flag anomalies such as incomplete and incorrect orders, which helped our client switch to better raw material suppliers.
Impact Analysis of Quantzig MRP system
Our client used the unique features of our MRP system, such as the time-phased manufacturing and purchasing plans, which helped optimize its inventory and output. The alignment of the entire manufacturing process with demand forecasts helped our client avoid shortages, which would have otherwise adversely impacted sales, revenues, and customer relationships.
Our solutions also provided our client with a complete view of the supply and demand for raw materials in the manufacturing process. It could create production instructions for its workforce and purchase an adequate number of raw materials based on inputs from the MRP interface.
The key impacts of our Material Requirements Planning solutions included the following: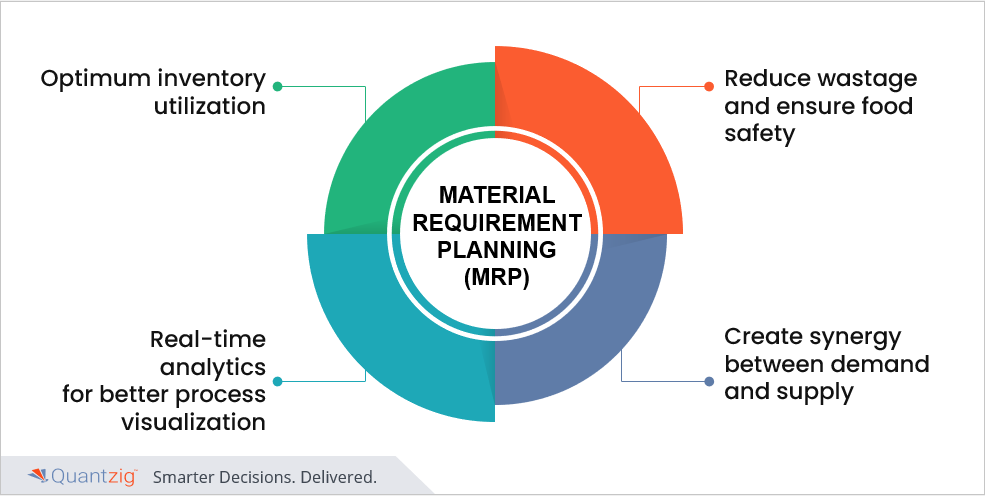 Reduced lead time required to procure raw materials from 30 days to 5-10 days
Improved cash flow due to accurate planning of raw material purchasing
Used historical sales data to forecast demand accurately throughout the year
Key Outcomes
The adoption of Quantzig's MRP interface helped the client optimize its manufacturing process. Our system helped implement precise purchasing of raw materials based on accurate demand forecasts. It also streamlined the logistics base to ensure timely delivery of raw materials and finished products. The ability to track and trace the utilization of raw materials facilitated a reduction in wastage and adherence to food safety compliance regulations.
Broad Perspective on the role of Materials Requirement Planning in the F&B Industry:
The food and beverage industry are highly competitive, making it necessary for key players to leverage tools and resources to optimize the manufacturing process. Only a handful of solutions can handle businesses' unique inventory management needs in the F&B industry, and even fewer partners can deliver the correct answers. Quantzig focuses on providing our clients in the F&B industry with new ways to improve their material planning, considering the fast-changing megatrends observed in the industry. Some of the significant trends in MRP technology include the following:
Self-reporting inventory: MRP systems can now leverage the Internet-of-things (IoT), including smart devices and connected sensors, to deliver automation and self-reporting for materials resource planning.
Mobile MRP solutions: Mobile-ready MRP solutions have become a norm as they offer inventory managers on-the-go access to data.
Key Takeaways
Material requirements planning (MRP) tools are essential for optimum inventory utilization
Tracking and tracing of raw materials to help to reduce wastage and maintain food safety
MRP tools leverage business intelligence to forecast demand, analyze trends, and review order patterns
Real-time analytics provide better visibility of the process
Production planning tools create a synergy between demand and supply, which is essential in driving sales and revenues
Request a Demo of this Case Study.
Related articles:
Using Predictive Analytics in Supply Chain Management Helped a German OEM Manufacturer Increase Accuracy of their Demand Forecast by 37%
Quantzig's Supply Chain Analytics Solutions Helped a Renowned Medical Device Manufacturer to Curtail Risks Associated with the Supply of Products and Improve Supply Chain Visibility
Food and Beverage Digital Marketing Formulated Content Optimization Plan for a Leading Client from North America