Pricing Analytics Solutions for Manufacturing Industry includes
Entertainment Industry Overview
About the Client
Business Challenge
Pricing Analytics Solution and Business Impact
Pricing Analytics Predictive Insights
Highlights of the Predictive Pricing Analytics Case Study
| | |
| --- | --- |
| Particulars | Description |
| Client | An M&E player with operations across the globe |
| Business Challenge | To improve their pricing and profitability |
| Business Impact | 8% increase in profitability, better use of investment budgets |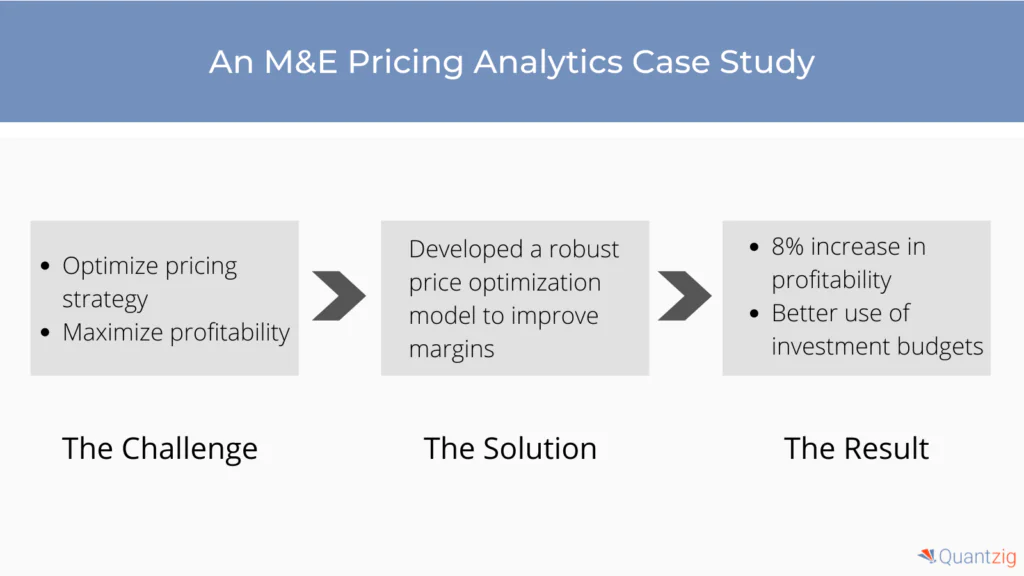 Entertainment Industry Overview
Over the years, the media and entertainment industry has grown steadily due to the increase in the number of tech-savvy audiences. To stay on top of the price fluctuations and rapid technological changes, media and entertainment industry players have started leveraging pricing analytics. Moreover, pricing analytics solutions help firms understand customers' buying decisions and integrating the information to meet the pricing needs of their consumers.
To gain actionable insights, the media and entertainment client approached Quantzig's pricing analytics experts. Quantzig's pricing analytics solution help clients gain actionable insights on the type of customers to focus on the products to rationalize, and leverage automation tools to make informed business decisions.
About the Client
The client is a leading media and entertainment industry player headquartered in Europe.
Make use of Quantzig's tailor-made pricing analytics solutions to create a data-driven, winning pricing strategy. Speak with our experts to understand market dynamics and customer sentiments to increase revenue, fight churn, and reduce acquisition costs.
The Business Challenge
In the current global scenario, the media and entertainment industry is a fast-developing sector due to its extensive adaptability in various other industry segments. Price optimization is another factor that has become increasingly important. It is mainly because the sales of personal lines of business have become very competitive. The media and entertainment industry clients are also looking at launching new services, some of which are in new and niche customer segments. In this context, getting the pricing strategy right is all the more imperative else the media and entertainment industry firm may lose valuable clientele to its competitors.
The client was looking to employ pricing analytics to improve the pricing and profitability of its organization. Hence, they approached Quantzig with an aim to develop effective pricing analytics-based solutions to improvise on their current spending patterns.
To accurately forecast the demand for products, leading businesses in the media and entertainment industry are approaching organizations such as Quantzig. The pricing analytics experts provide solutions that help organizations to develop a robust price optimization model to control inventory costs and further improve customer satisfaction. Also, the solution helps business organizations leverage the use of adequate tools to develop an effective pricing strategy and improve their profit margins.
Want to learn more about our pricing analytics solution portfolio? Get in touch with our experts right away!
Pricing Analytics Solution and Business Impact
The media and entertainment industry client was looking at enhancing their pricing strategies to get better outcomes and improve their overall profitability. The solutions provided by our pricing analytics experts helped improve the revenue and profitability of the media and entertainment industry client by 8%, surpassing their highest profit margin. It helped in developing an effective price optimization model, which included competitive management analysis, cost models, optimization techniques, and customer elasticity models. Thereby, bringing about huge changes in profit margins. The pricing analytics solution also helped the client reduce maverick spending and develop better investment budgets.
Pricing Analytics Predictive Insights
Helps improve revenue by a considerable percentage
Develop effective pricing strategies
Helps minimize maverick purchasing
Pricing analytics solutions assist clients in identifying price arbitrages
Helps to identify the sensitivity of price changes
Improves retention levels by maintaining the same level of profitability using an optimized pricing strategy