What You'll Find in this Case Study:
Industry Overview
Patient Journey Analysis Business Challenge
Patient Journey Analysis Solution Benefits
Patient Journey Analysis Predictive Insights
Industry Overview
In today's world, launching products to help cancer patients cope with their treatment and lifestyle is given utmost importance by oncology drug manufacturers. And to come up with practical solutions, detailed knowledge of the patient's pain points is necessary. In addition to providing emotional support, it is most important to identify and find ways to address their difficulties. Both qualitative and quantitative methods need to be implemented in a patient journey analysis based approach to provide better solutions to the end-users.
Many leading oncology drug manufacturers from the health care sector, are now approaching companies like Quantzig to understand the patient's requirements and the issues faced by them. Patient journey analysis helps keep track of the patient's journey throughout the patient's disease lifecycle. A leading oncology drug manufacturing client approached Quantzig's team of experts to provide them patient analysis based solutions that would help build relevant patient journey models.
Contact us to learn how we can help you develop advanced analytics models based on patient journey analysis methodologies.
Patient Journey Analysis Business Challenge
The client, a leading oncology drug manufacturer, was facing predicaments in understanding and addressing the pain point of cancer patients throughout the patient's lifecycle. The oncology drugs manufacturer was unable to predict what they could expect from their clients. They were also facing difficulties in identifying the easy to market oncology drugs. The client wanted to develop specific models based on the patient analysis methodologies. Also, the client wanted to improvise their brand and identify new market opportunities in different geographical regions.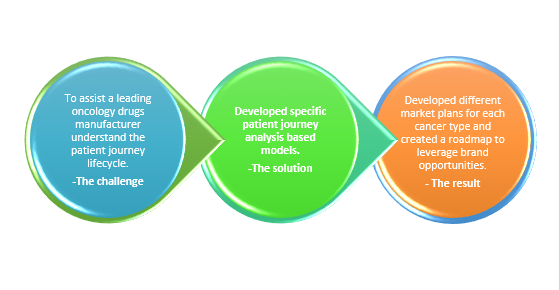 Request a free solution demo to see how Quantzig's solutions can help you.
Patient Journey Analysis Solution Benefits
Quantzig's patient analysis based solution helped the client understand how the patients used digital resources and how they would use it in the future. It enabled them to get a detailed insight into the patient's disease lifecycle. It also helped them classify the various types of cancer and develop different marketing plans accordingly. Patient journey analysis also provided actionable insights and measures to gauge patient's needs. It also helped the client create a watchlist of bloggers and activists to avoid associating with their brand. Furthermore, it provided a detailed insight into the patient's awareness levels and the most effective ways to overcome their problems.
Want to know more about the benefits of patient analysis? Request more information from our experts.
Patient Analysis Predictive Insights
Helped understand and address the patients concerns across their journey
Assisted in creating differentiated market plans for each cancer type
Identified several organizations and initiatives for each cancer type, which had high potential
Provided strategic recommendations at each stage of clients tactical planning
Identification of new opportunities for brand intervention
Mapped out patient's journey to keep track of their experiences throughout the patient journey lifecycle
Detailed analysis of patients behavior to understand the everyday concerns of the patients
Helped build various patient journey models based on disease types
Provided a more holistic approach to track patient journey
Created a roadmap to leverage brand opportunities
Helped decrease patient abandonment among specific patient populations