What You Can Expect from the Market Customer Segmentation Case Study
Pharmaceutical Industry Overview
The Client
The Business Challenge
Our Market Customer Segmentation Approach
Market Customer Segmentation Solution Delivered
Highlights of the Market Customer Segmentation Case Study
| | |
| --- | --- |
| Particulars | Description |
| Client | A global pharmaceutical company |
| Business Challenge | To identify the most receptive and valuable customers in the pharma market |
| Solution Impact | Assessed customer needs and preferences and effectively allocated resources to maximize growth, ROI, and develop a competitive advantage |
Implement our solutions to solve your complex business challenges at no cost with our 4-week complimentary pilot. This offer bears no hidden clauses and serves as a perfect opportunity to explore our comprehensive portfolio of advanced BI and business analytics solutions.
Pharmaceutical Industry Overview
The pharmaceutical industry is very dynamic and vibrant due to the presence of customers who are more informed and want to get the best products at reasonable prices. To improve sales performance and assess the growth potential of new market segments, key players in the pharmaceutical industry rely on effective customer segmentation. Customer segmentation helps companies in the pharmaceutical industry space to understand customers' needs, buying processes, and preferences to devise an effective brand strategy. With the aid of customer segmentation solutions, pharmaceutical industry players can effectively allocate resources and tailor marketing strategies to enhance the brand's performance.
To effectively bridge the barriers to enter new markets, Quantzig's customer segmentation experts helped the pharmaceutical industry client to optimize the marketing mix and sales force resource levels to allocate resources and ensure better returns on investment. In addition, customer segmentation can help the client devise a value-based approach to enhance customer lifetime value, improve customer service, and maintain long-term customer satisfaction. The pharmaceutical industry client can further leverage the use of customer segmentation to connect with the customers and improve sales performance.
Begin your journey from data to insights today.
The Business Challenge
With the shift toward a customer-centric environment, manufacturers are leveraging effective customer segmentation services to better understand their customers, buying preferences, and value perceptions. Like all other manufacturers in the pharma landscape, a leading pharmaceutical industry player wanted to identify the most receptive and valuable customers in the pharma market. Assessing the most valuable customers will help the client to develop a competitive advantage over their competitors. Furthermore, the leading market client also wanted to tailor effective marketing strategies and tactics to meet the needs of the customers.
Gaining a winning edge in the pharmaceutical industry is quite challenging, isn't it? Request a free demo today.
Our Market Customer Segmentation Approach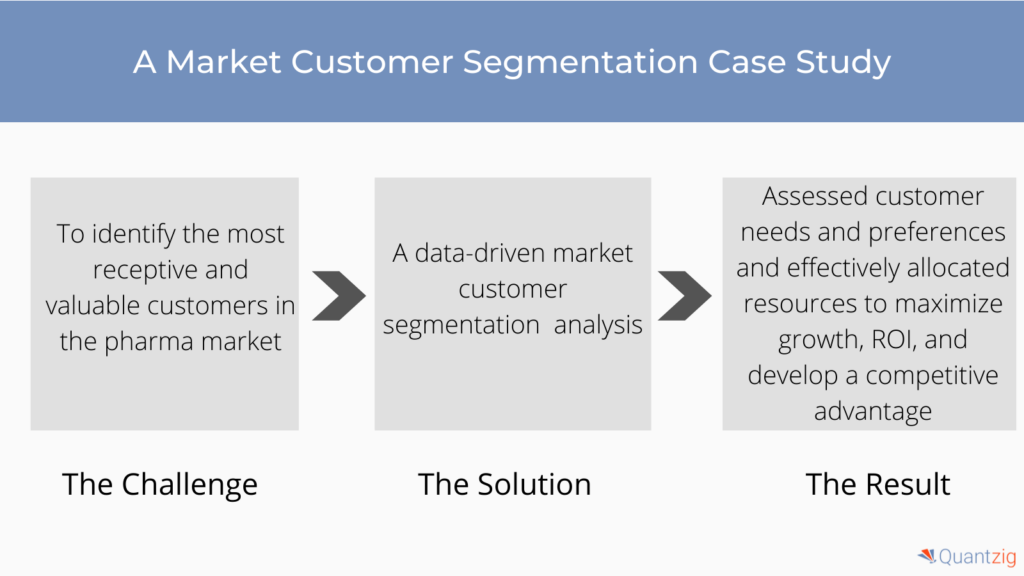 After a complete analysis of the obtained information, the pharmaceutical industry client was able to arrange customers into smaller segments and effectively gain a deep understanding of the customers. The engagement further helped the client gauge the buying characteristics of customers to uncover customer needs. Also, effectively implementing a customer segmentation solution helped the client develop better marketing campaigns and pricing strategies to reach out to an ideal target audience. The client was further able to effectively prioritize customers and improve conversion rate, thereby retaining long-lasting customer relationships.
Request a free proposal to know more about Quantzig's advanced customer analytics solutions and how they help in understanding customer behavior, identifying friction points, enabling organizations to prioritize key drivers of customer satisfaction and loyalty.
Market Customer Segmentation Solution Delivered
By gaining easy access to all the data segregated from different sources, the pharmaceutical industry client was able to devise an effective customer-focused marketing strategy for their products. Also, to penetrate through different markets, the client was able to assess customer needs and preferences and effectively allocate resources to maximize growth, ensure better ROI, and develop a competitive advantage.
Want to know more about our solutions? Get in touch with our advanced analytics experts today.