What You Can Expect from This Case Study
Why is Demand Forecasting Needed in the Pharmaceutical Industry
The Client
How the Client Found Quantzig
Business Challenge
Solution Offered
Business Outcome
Why Choose Quantzig's Supply Chain Analytics Solutions?
Highlights of the Demand Forecasting Case Study
Client: A research-based biopharmaceutical company headquartered in the USA
Need: To devise reliable market forecasts and enhance customer service levels.
Impact of Quantzig's supply chain analytics solution: Accurate, data-driven demand forecasts, 11% increase in operational efficiency, 15% reduction in inventory holding costs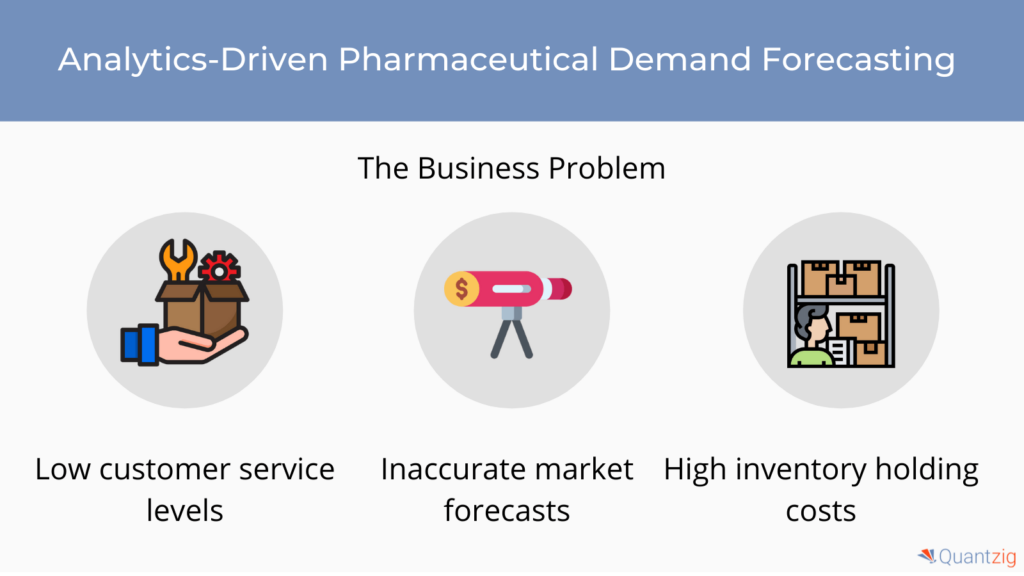 Leveraging our solutions can help you gain timely and valuable insights to create accurate demand forecasts and improve overall operational efficiency. Request a free proposal to learn how we can help you.
Why is Demand Forecasting Needed in the Pharmaceutical Industry
Typically, the pharmaceutical industry comprises businesses involved in the research, development, manufacturing, and distribution of drugs. The drugs offered by these pharmaceutical industry firms play a fundamental role in improving health, preventing health complications, and increasing the lifespan of individuals. The pharmaceutical industry also includes biologically-derived, over-the-counter (OTC), prescription-based products. Although the pharmaceutical industry is capital intensive and highly regulated, the industry is witnessing a high demand for innovations that would help reduce life-threatening conditions and diseases and further revolutionize patient treatment patterns in the coming years. Additionally, the increase in the number of middle-class populations in both developed and emerging countries and higher disposable income and expectation of better healthcare solutions are driving the growth of the industry.
However, recent studies indicate that several factors are expected to influence the growth prospects of the pharmaceutical industry over the next couple of years. These factors include:
Impact of globalization: Adhering to government regulations around taxation, trade, approvals, market access, and pricing continues to be a struggle for firms within the pharmaceutical industry space.
Strict government regulations: The compliance requirements vary according to the countries, and firms are expected to ensure that these protocols are met before launching the products into the market. These variations in the compliance regulations are expected to pose problems for firms looking to invest in product innovations.
These factors are compelling pharmaceutical industry players to leverage the use of demand forecasting solutions. Demand forecasting solutions help firms identify the types of products and the quantity to be purchased. These solutions also assist companies in streamlining and optimizing supply chain management activities.
---
Continually achieve synchronization and alignment among different functions of the organization and make better demand and supply decisions. Request a complimentary pilot and test out our supply chain analytics capabilities today.
---
The Client
The client is a research-based biopharmaceutical company headquartered in the USA. The client's main focus is the discovery, development, and commercialization of innovative medicines. Aiming to eliminate some of the world's most challenging health problems and enable mass access to medicines, the client is also working with organizations across the world to eliminate healthcare inequities while continuing their exhaustive drug R&D.
How the Client Found Quantzig
The client contacted Quantzig after attending a webinar conducted by Quantzig's analytics experts on the optimization of the end-to-end supply value chain with supply chain analytics.
The Business Challenge
The client, a leading pharmaceutical industry client, wanted to seek ways to devise reliable market forecasts and enhance customer service levels. As a result, they wanted to predict and forecast the demand for healthcare products accurately and match the supply to demand. They also wanted to ensure that the goods are produced at the right time and delivered seamlessly to reduce inventory holding costs and inconsistencies in the supply chain.
---
Bring data-driven intelligence to your end-to-end supply value chain—planning, sourcing, manufacturing, delivering—to eliminate inefficiencies, pre-empt bottlenecks, improve customer satisfaction, and drive innovation, growth, and market excellence.
---
Solution Offered
Accurate demand forecasting is difficult in the best circumstances. Swift changes in customer demand, as being caused by the global pandemic, make demand forecasting challenging. The experts at Quantzig first analyzed the existing data, basis which market forecasts were made. They then created a five-step demand forecasting plan:
Step 1 – Defining the Market
Quantzig's supply chain analytics experts defined the total market of the client's products that included all potential end-users, competitors, and probable substitute products.
Step 2 – Dividing Demand into Component
The experts then divided the total product demand into its main components for conducting individual analysis.
Step 3 – Forecasting Demand Drivers
The drivers of demand for each component category were then understood. After listing the factors influencing the component/category demand, Quantzig's experts made use of regression models and statistical techniques to come up with accurate demand forecasts for each of them.
Step 4 – Conducting Sensitivity Analysis
The experts then conducted a sensitivity analysis to understand the impact of various demand drivers on each forecast by varying assumptions and quantifying their impact on demand.
Step 5 – Creation of the Demand Forecast
Once the impact and importance of all demand drivers became known, the experts then created the combined, data-driven demand forecast for the client's products.
Gain unparalleled insights with supply chain analytics and reinvent your supply chain to combat challenges like market volatility, dynamic demands, global regulations, supplier management, increasing spends. Speak with our analytics experts today to find out how.
Business Impact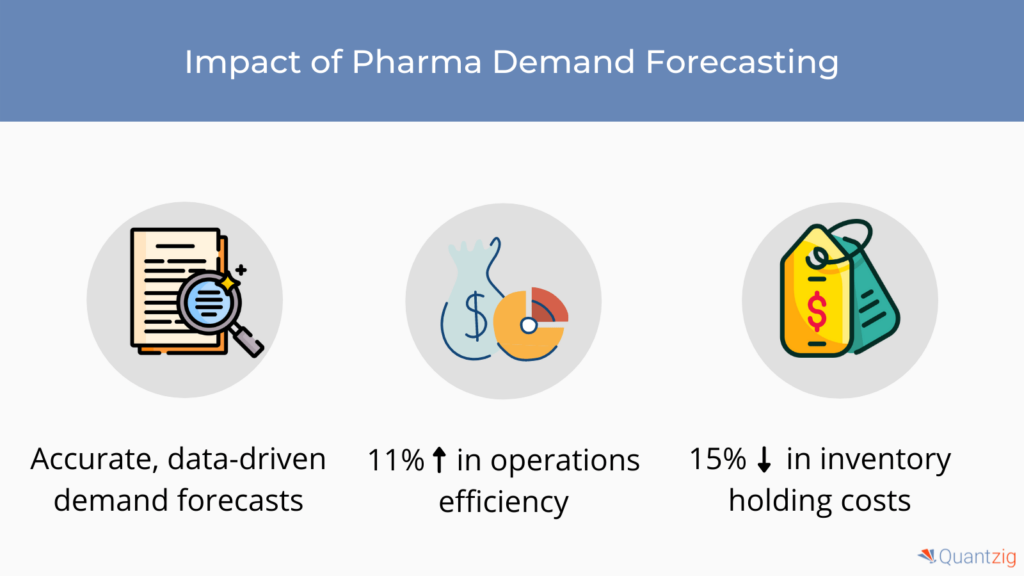 As a result of this engagement, the client was able to achieve –
Accurate, data-driven demand forecasts that reduced product lead times
11% increase in operational efficiency
15% reduction in inventory holding costs
Why Choose Quantzig's Supply Chain Analytics Solutions?
Quantzig is the world's foremost full-service advanced analytics and business intelligence solution provider, turning clients' complex, unstructured data into intelligent, actionable insights that enable them to solve complex business problems and inspire innovation, change, and growth. Over the past 16 years, our insights have helped over 120 clients spanning across industries and sectors like Pharmaceutical and Life Sciences, Retail and CPG, Food and Beverage, and more. We have successfully delivered 1500 in-depth solutions in areas like Marketing Analytics, Customer Analytics, Supply Chain Analytics, and more.
At Quantzig, we firmly believe that the competencies to harness maximum insights from the influx of continuous information around us will drive any organization's competitive eagerness and success. Our objective is to bring together the best combination of analysts and consultants to complement food and beverage organizations with a shared need to discover and build those capabilities and drive continuous business excellence through advanced supply chain analytics.