Highlights of the Case Study:
| | |
| --- | --- |
| Particulars | Description |
| Client | A leading pharma retailer with operations spread across geographies. |
| Business Challenge | The client needed visibility on its MROI and sought to quantify the effectiveness of its marketing channel. |
| Impact | The pharmaceutical marketing analytics solution helped the client's marketing team understand the buying behavior of segment customers and then allocate the budget for marketing activities accordingly. |
Game-Changing Solutions for Pharmaceutical Retailers:
The pharmaceutical industry thrives on trust and brand loyalty. Marketing is essential in creating brand awareness and product visibility. Effective marketing helps create a competitive edge and aids in expansion into new markets, thus acquiring new customers.
To increase marketing return on investment (MROI), pharma retailers must project future marketing productivity, secure and justify marketing budgets, allocate marketing budgets across segments, and gain approval for campaign launches. The rising competition and volatile customer base in the pharmaceutical industry have prompted pharma retailers to look for opportunities to allocate marketing budgets effectively.
The Challenges of the Pharma Client:
Our client, a leading pharma retailer, had operations spread across geographies. Hence, the client could not collate data and analyze the impact of the spending on marketing activities. As the client lacked visibility on its MROI, it could not quantify its marketing channels' effectiveness. Thus, the client approached Quantzig to devise a strategy that would provide a comprehensive understanding of their marketing efforts. The pharma client wanted Quantzig to optimize its marketing strategy to gain maximum return on investment and increase the conversion rate.
Quantzig's Three-Phase Approach to Pharmaceutical Marketing Analytics:
Quantzig's team designed an innovative three-phase approach to marketing analytics to tackle the challenges faced by the client.
In the first phase, Quantzig's team created a real-time dashboard by analyzing a vast amount of customer data and marketing data to provide consolidated marketing information to the client.
In the second phase, the Quantzig team used marketing analytics throughout the commercial life cycle of the client' products and services to glean insights that could enable better targeting and understanding of its consumers.
In the third phase, Quantzig's team implemented a marketing mix solution based on machine learning techniques and advanced algorithms that focused primarily on bridging data gaps and were used to estimate individual channel spending at a granular level.
Quantzig used integrated AI and statistical techniques in the marketing mix model to analyze and quantify the effectiveness of all marketing channels and campaigns used by the client.
Impact Analysis of Quantzig Pharma Analytics:
The marketing analytics solutions helped the client's marketing team understand their customer's buying behavior and segment performance. It could then effectively allocate the budget for marketing activities. The client determined the investment slabs for its market segments with actionable market insights and adopted an analytics-driven marketing mix modeling strategy to improve its brand value globally.
Below is a list of the critical areas of impact as a result of the above solutions:
Reduced marketing costs by 45%
Improved market share by an increase in sales
A boost in sales led to a 15% increase in MROI owing to the implementation of the new marketing strategy
Increase in profit margins by 9%
Increased conversion rate by 30%
Devised robust marketing strategies for specific customer segments
Optimized allocation of marketing budget across different segments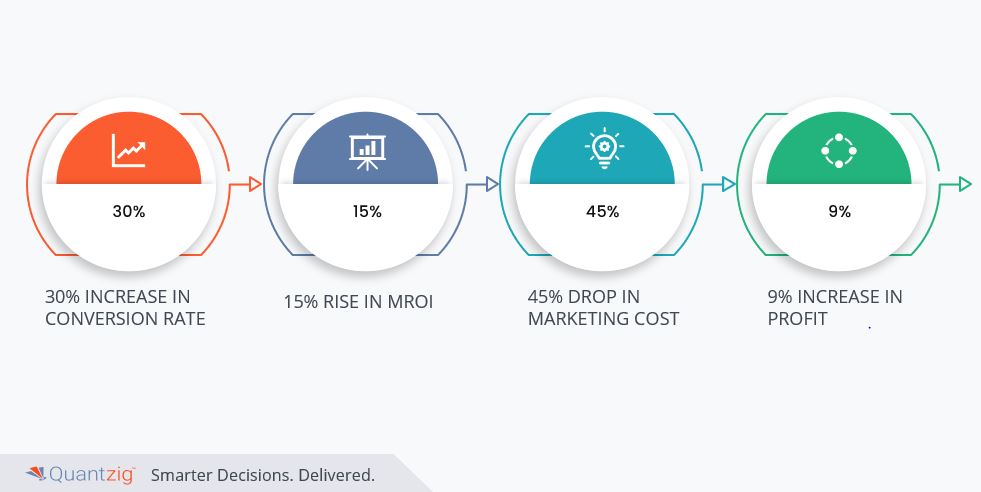 Key Outcomes:
The overall result of these interventions translated into a 9% increase in profit margins. The company managed to reduce its marketing costs by 45% and, at the same time, was able to increase the impact of its new marketing strategy on sales, leading to an increase in MROI by 15%. Marketing has a crucial role in creating awareness, positioning, and sharing information about product performance. Every pharmaceutical product goes through these processes. Hence, at each stage, a different marketing strategy needs to be implemented to impact the company's bottom line positively. Pharmaceutical Marketing analytics thus plays a key role in carving out the right approach for the evolution of each product segment. 
Broad Perspective on Marketing Analytics in the Pharmaceutical Industry:
Promoting company values and products/services across several marketing channels has become one of the most common marketing trends in the pharmaceutical industry since 2021. As pharma retailers try to minimize marketing spending and optimize the budget allocation among multiple segments, they need to rely on data-backed insights to maximize their MROI. Marketing analytics solutions provided by Quantzig enable clients from the pharmaceutical industry to analyze the data obtained from multiple marketing channels and campaigns and target potential customers effectively. 
Key Takeaways:
Reduced marketing cost by 45%
Increased the impact of the new marketing strategy on sales and led to an increase in MROI by 15%
Increase in profit margins by 9%
Increased conversion rate by 30%
Request a Demo of this Case Study.
Related Articles: