In the dynamic landscape of the telecom industry, staying ahead requires a deep understanding of market dynamics, pricing strategies, and customer expectations. Our client, a renowned global telecommunication service provider, faced the challenge of optimizing operational costs, maximizing revenue, and navigating intense competition. To address these concerns, they sought a comprehensive pricing analysis solution to compare their pricing structure with competitors, enhance services, and boost profitability.
What You Can Expect from The Price Structure Analysis Case Study
Industry Overview
About the Client
Business Challenge
Price Structure Analysis Solution Benefits
Price Structure Analysis Solution Predictive Insights
Highlights of the Marketing Mix Analytics Case Study
| | |
| --- | --- |
| Particulars | Description |
| Client | A global telecommunication service provider |
| Business Challenge | Difficulty understanding pricing structures of competitors |
| Solution Impact | Identified price points, maximized sales and profits |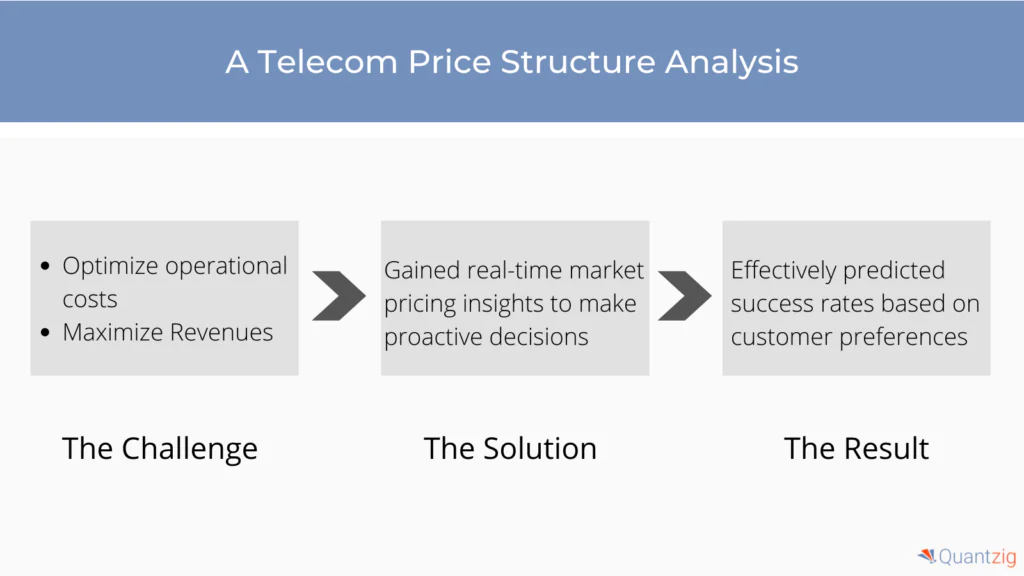 Industry Overview
Today, the telecom industry is more concerned about increasing profitability by maximizing acquisition, enhancing customer loyalty, and minimizing customer churn rates. Also, leading service providers in the telecom industry are relying on price analysis to optimize price and minimize default rates to improve customer service and satisfaction. Also, telecom companies are advocating the need for price analysis to identify the most profitable customers and target the right audience through effective customer segmentation. Furthermore, with the help of pricing analytics, renowned companies in the telecom space can enhance their salesforce effectiveness and enhance marketing spends to optimize their ROI.
To further improve customer experience and maximize profitability, leading companies in the telecom industry are approaching companies like Quantzig. Quantzig's price analysis solution helps companies estimate the impact of pricing on sales volume and enhance the customer experience. Moreover, the client was able to optimize service pricing based on revenues and profitability.
Get in touch with us to learn how we can help you optimize the trade-off between price, volume, and profit margins to maximize productivity and drive growth.
About the Client
The client is a renowned telecommunication service provider with a considerable number of services spread across the globe.
The Business Challenge
Competitive Pricing Complexity:

Grappling with the complexities of understanding and dissecting the pricing structures adopted by industry competitors.
Navigating through diverse pricing models prevalent in the highly competitive telecom market.

Service Portfolio Enhancement:

Identifying avenues for the introduction of innovative services aligned with emerging market demands.
Streamlining and optimizing customer service operations to ensure heightened customer satisfaction and sustained revenue growth.

Harnessing Internal Data:

Exploring the untapped potential of leveraging internal data for comprehensive network optimization.
Deploying data-driven insights to perform precise customer segmentation, ensuring targeted strategies for revenue maximization.

Operational Efficiency Challenges:

Addressing operational inefficiencies within the telecom network to streamline processes and reduce costs.
Identifying opportunities for resource optimization and overall operational enhancement.
Want more insights? Request a free brochure of our pricing analytics solutions to learn more.
Price Structure Analysis Solution Benefits
Thorough Price Structure Analysis:

Conducting a comprehensive analysis of the client's pricing structure in correlation with those of key competitors.
Recommending adjustments and optimizations to enhance competitiveness in the dynamic telecom market.

Strategic Service Expansion:

Proposing and implementing new services based on a thorough understanding of market trends and customer preferences.
Developing strategies to optimize customer service operations, ensuring increased efficiency and satisfaction.

Unlocking Data-Driven Insights:

Employing advanced analytics to extract actionable insights from internal data reservoirs.
Utilizing data-driven strategies for effective network optimization, customer segmentation, and revenue maximization.

Operational Optimization Framework:

Implementing a comprehensive framework to address operational inefficiencies within the telecom network.
Identifying and executing strategies for resource optimization, leading to enhanced operational efficiency.
Price Structure Analysis Solution Predictive Insights
Effectively predict the approximate success rate based on customers preferences
Estimate the impact of pricing on sales volume
Gain a clear and precise understanding of the customer base and their expectations
Segment the customers and deliver personalized offerings
Assess the impact of price differentials on the market share
Results:
Real-time Pricing Dynamics Insight:

Acquired real-time insights into the dynamic pricing landscape of the telecom market.
Enabled proactive decision-making to adjust pricing strategies and maintain competitiveness.

Revenue and Profit Maximization:

Identified optimal price points to simultaneously maximize both sales and profits.
Capitalized on cross-selling opportunities to further augment revenue streams.

Customer-Centric Approach:

Evaluated customer behavior to predict potential churn, allowing for strategic marketing efforts.
Implemented personalized offerings to enhance customer satisfaction and overall return on investment.

Operational Excellence:

Addressed operational inefficiencies, leading to streamlined processes and reduced costs.
Successfully optimized resources for enhanced overall operational efficiency.
Embracing a holistic approach, the telecommunication service provider not only navigated the intricacies of competitive pricing but also diversified services, improved customer satisfaction, and optimized operations. The strategic utilization of internal data propelled the company towards efficient network management, targeted customer engagement, and ultimately, improved profitability in the dynamic telecom sector.