What You Can Expect from The Price Structure Analysis Case Study
Industry Overview
About the Client
Business Challenge
Price Structure Analysis Solution Benefits
Price Structure Analysis Solution Predictive Insights
Highlights of the Marketing Mix Analytics Case Study
| | |
| --- | --- |
| Particulars | Description |
| Client | A global telecommunication service provider |
| Business Challenge | Difficulty understanding pricing structures of competitors |
| Solution Impact | Identified price points, maximized sales and profits |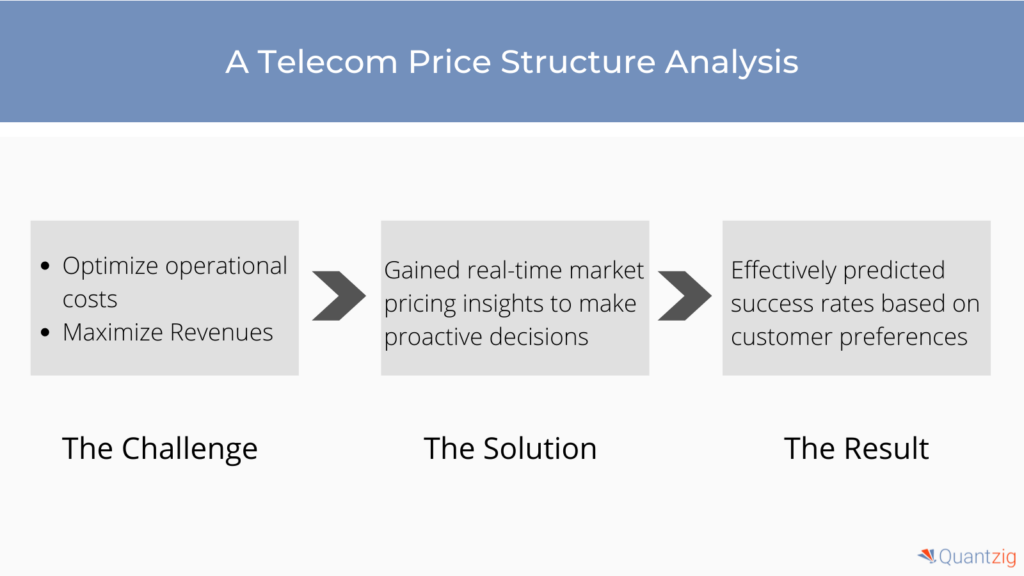 Industry Overview
Today, the telecom industry is more concerned about increasing profitability by maximizing acquisition, enhancing customer loyalty, and minimizing customer churn rates. Also, leading service providers in the telecom industry are relying on price analysis to optimize price and minimize default rates to improve customer service and satisfaction. Also, telecom companies are advocating the need for price analysis to identify the most profitable customers and target the right audience through effective customer segmentation. Furthermore, with the help of pricing analytics, renowned companies in the telecom space can enhance their salesforce effectiveness and enhance marketing spends to optimize their ROI.
To further improve customer experience and maximize profitability, leading companies in the telecom industry are approaching companies like Quantzig. Quantzig's price analysis solution helps companies estimate the impact of pricing on sales volume and enhance the customer experience. Moreover, the client was able to optimize service pricing based on revenues and profitability.
Get in touch with us to learn how we can help you optimize the trade-off between price, volume, and profit margins to maximize productivity and drive growth.
About the Client
The client is a renowned telecommunication service provider with a considerable number of services spread across the globe.
The Business Challenge
In the current market scenario, the telecom industry is witnessing relentless pressure to optimize operational costs and maximize revenue. The client was facing similar predicaments in understanding the pricing structure of their competitors. The client wanted to compare the pricing structure of their company with that of their competitors. Furthermore, the telecommunication service provider also wanted to offer new services, optimize customer service, and increase revenues and profits. Also, the telecommunication service provider wanted to leverage the use of their internal data to boost the efficiency of their networks, segment customers, and drive profitability.
Want more insights? Request a free brochure of our pricing analytics solutions to learn more.
Price Structure Analysis Solution Benefits
With the help of the price structure analysis solution, the telecommunication service provider was able to gain real-time insights into the pricing scenario and was able to make proactive decisions. The engagement also helped the client effectively identify the price points and maximize sales and profits. Also, with the increasing neck-to-neck competition, the price analysis solution helped the client identify cross-selling opportunities and take informed business decisions to retain profitable customers. Moreover, the client can further assess customer behavior to predict customer churn and better channelize marketing efforts to enhance their ROI.
Price Structure Analysis Solution Predictive Insights
Effectively predict the approximate success rate based on customers preferences
Estimate the impact of pricing on sales volume
Gain a clear and precise understanding of the customer base and their expectations
Segment the customers and deliver personalized offerings
Assess the impact of price differentials on the market share
Related Articles