What you'll find in this case study:
What is a Sales Process?
Steps to the Sales Process
Tips for Optimizing FMCG Sales Processes
Strategies to Increase Sales in FMCG
Client's Profile
The Business Challenge
Solution Offered
Value Delivered to the Client
Optimize ROI with Quantzig's Sales Analytics Solutions
Highlights of This Case Study
Client: One of the world's leading FMCG brands headquartered in the midwestern US
Need: The client faced challenges in optimizing their ROI by converting potential sales leads to closed sales
Impact of Quantzig's Sales Analytics Solution: By increasing the alignment between the sales process and potential leads, the client was able to improve sales efficiency, customer acquisition and retention, marketing effectiveness, and accurately estimate their growth potential.
In the dynamic world of Fast-Moving Consumer Goods (FMCG), optimizing the sales process is imperative for sustained success. Quantzig's expertise in fine-tuning FMCG sales processes has enabled a leading brand to achieve remarkable improvements in sales performance.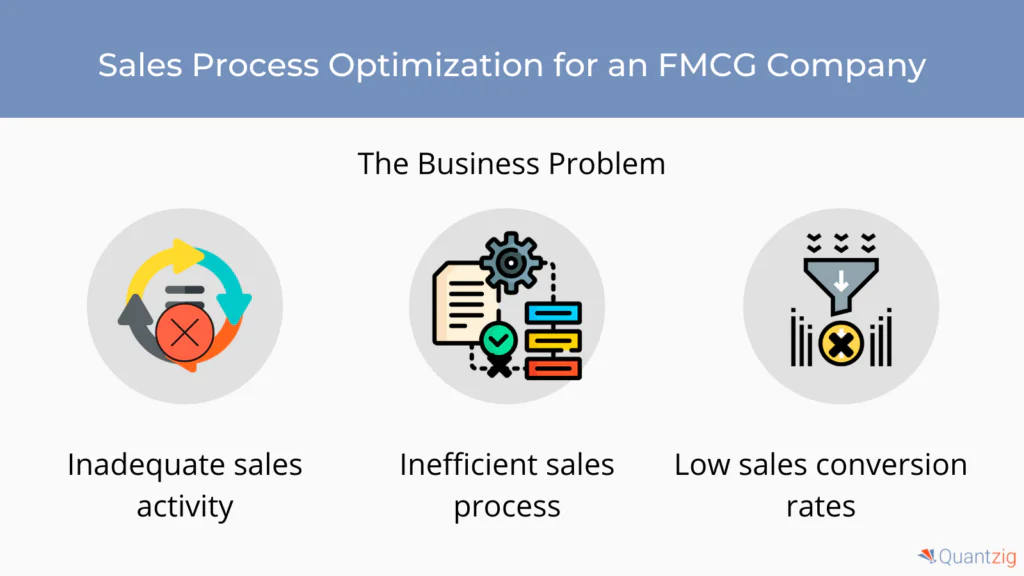 Gain visibility into sales activities, identify high performing salespeople, products, or communications and forecast future sales with Quantzig's sales analytics solutions. Request for a complimentary 4-week pilot to test our capabilities by solving your strategic challenges.
What is a Sales Process?
A sales process consists of a series of tasks a salesperson will follow that aid the customer's journey towards the purchase of the organization's products or services.
Tips for Optimizing FMCG Sales Processes:
Customer-Centric Approach: Prioritize understanding customer needs and preferences to tailor your sales process accordingly.
Data-Driven Insights: Leverage data analytics to gain insights into customer behaviors, market trends, and sales performance.
Agile Strategies: Stay adaptable by regularly reviewing and adjusting sales strategies to align with evolving market dynamics.
Technology Integration: Implement sales technologies such as sales process template that enhance efficiency, such as Customer Relationship Management (CRM) systems.
Cross-Functional Collaboration: Foster collaboration between sales, marketing, and other departments to ensure a holistic approach.
Strategies to Increase Sales in FMCG:
Effective Brand Positioning: Clearly communicate the value proposition of your products to stand out in a crowded market.
Strategic Pricing: Implement dynamic pricing strategies that consider market demand, competitor pricing, and consumer perceptions.
Robust Distribution Channels: Optimize the distribution network to ensure products are readily available to consumers.
Promotional Campaigns: Engage in impactful marketing campaigns to create awareness and drive sales.
Product Innovation: Introduce new and innovative products such as sales process template to captivate consumer interest and drive repeat purchases.
Steps to the Sales Process
The process of converting leads to customers is an uphill task for salespeople from all industries. The sales process for any industry can be divided into repeatable steps which can serve as a roadmap for salespeople. The steps to the sales process which convert a potential customer to one who makes the actual purchase are:
Step 1: Prospecting – Prospecting is the generation of prospects or leads and ensures that the sales pipeline is full of good quality prospective customers. The more high-quality prospects generated, the higher are chances of conversion.
Step 2: Connect and Qualify – This is the step wherein sales representatives initiate contact with leads to gather important information that helps to segregate them into good/bad leads.
Step 3: Research – Once the sales representatives know who the good leads are, they start learning more about the leads and their organizations.
Step 4: Pitch – This is the most crucial step in the sales process and involves the salesperson running leads through their product/service and what customizations they offer. Each presentation must be tailored as per a lead's unique challenges and pain points.
Step 5: Handling Objections – It is not uncommon for the prospective customer to have objections/questions about the organization's products/services. The sales representatives should be able to anticipate any crucial objections and help the leads get all the answers to make their decision.
Step 6: Close the Sale – Everything that needs to be done to close the sale – negotiation, signing of the agreement, passing the account to an account manager – is a part of this step.
Move beyond basic CRM reports and build a unified view of sales data with our advanced sales analytics solutions. Speak with our analytics experts to know more.
Client's Profile
The client is one of the world's leading FMCG brands. With its headquarters in the midwestern US, the FMCG player has several products under its portfolio including products such as cookies, cereals, crackers, fruit-flavored snacks, and cooking oils.
After attending one of our webinars, the client decided to connect with us and understand what they can achieve with a superior sales process.
The Business Challenge
The client, a leading FMCG industry player was facing several challenges in optimizing their ROI by converting potential sales leads to closed sales. The client wanted to identify an effective sales process and replicate them across the organization to substantially increase sales and optimize the sales process. The FMCG industry player wanted to launch an advanced sales analytics-based initiative aimed at optimizing the local sales processes.
Solution Offered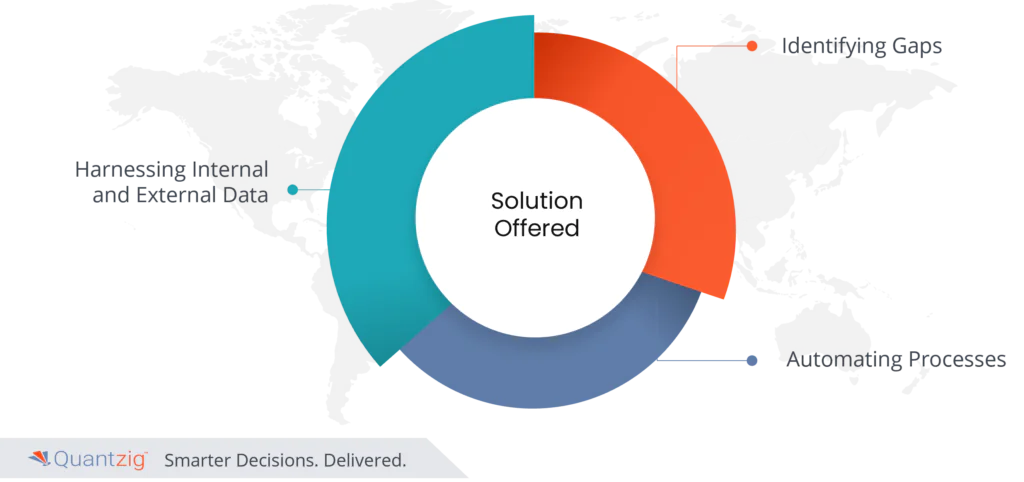 In order to solve the client's problem and create a data-driven, intelligent sales process template, our analytics experts created a three-step solution.
Harnessing Internal and External Data – Our experts made use of the internal organization data such as marketing performance, trade promotions, pricing strategies, as well as external data on the client's market, leads, customers, and competitors. Analyze these datasets enabled them to recognize the correct triggers that move customers from one step in the sales process to another and optimize it. The data analysis process also enabled the client to identify gaps in their existing system, missed opportunities, and ways to optimize their current sales process.
Identifying Gaps – Our experts then made use of artificial intelligence and predictive analytics to predict future activities by analyzing past data and identify patterns with minimal human intervention. The use of these technologies enabled our experts to identify exact steps in the sales process that were insufficient or led to the loss of prospects.
Automating Processes – Our experts also set up automated alerts that notified the sales representatives when their prospects reached a certain lead score or completed a series of pre-defined actions indicating their movement across the sales process and their propensity to buy. This not only enabled the sales team to follow up with prospects easily but also helped them identify potential churn.
With the help of these steps, our experts were able to offer actionable insights on the adequate sales process steps along with a value proposition into how the client could optimize their sales performance for the future.
In conclusion, Quantzig's success story with a leading FMCG brand exemplifies the significance of a well-optimized sales process. By adhering to key tips, implementing effective sales strategies, and navigating through each stage of the sales process, FMCG companies can overcome challenges and achieve sustained growth in a competitive landscape. The use of sales process templates and flowcharts further ensures clarity and consistency in executing successful sales strategies.
---
Use existing data to reveal insights that enable you to improve sales strategies and implement a more accurate, predictable sales model. Request for a free proposal now.
---
Value Delivered to the Client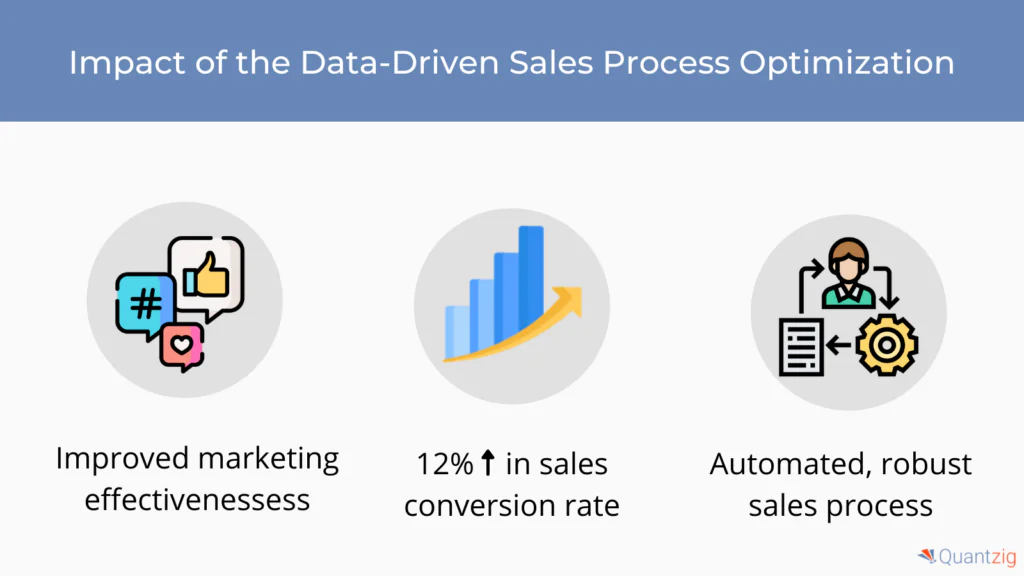 The sales process template offered a holistic approach to sales optimization without resorting to the use of fragile spreadsheets and complex CRM systems. By increasing the alignment between the sales process and potential leads, the FMCG company was able to improve efficiency in many spheres including national portfolio and customer retention strategies down to the execution level. The adoption of appropriate sales process steps also enabled the client to identify FMCG industry trends, sales trends, estimate growth potential as well as optimize sales and marketing effectiveness.
As a result of this engagement, the client enjoyed a 12% increase in sales conversion rates over a period of 6 months.
Optimize ROI with Quantzig's Sales Analytics Solutions
Quantzig is the world's foremost full-service advanced analytics and business intelligence solution provider, turning clients' complex, unstructured data into intelligent, actionable insights that enable them to solve complex business problems and inspire innovation, change, and growth. Over the past 16 years, our insights have helped over 120 clients spanning across industries and sectors like Pharmaceutical and Life Sciences, Retail and CPG, Food and Beverage, and more. We have successfully delivered 1500 in-depth solutions in areas like Marketing Analytics, Customer Analytics, Supply Chain Analytics, and more.
At Quantzig, we firmly believe that the competencies to harness maximum insights from the influx of continuous information around us will drive any organization's competitive eagerness and success. Our objective is to bring together the best combination of analysts and consultants to complement food and beverage organizations with a shared need to discover and build those capabilities and drive continuous business excellence through advanced analytics. To gain access to our sales analytics solution portfolio and create a winning sales strategy for your organization, request a 4-week complimentary pilot here.