What You'll Find in this Case Study:
Engagement Overview
Transportation Analytics Business Challenge
Transportation Analytics Solution Offered and Value Delivered
Benefits of Transportation Analytics
Engagement Overview
Headquartered in Denmark, the client is a leading consumer packaged goods manufacturer whose private label products are distributed to several retail outlets across the globe. To sustain a competitive edge, the client wanted to deploy the right logistics management systems and efficient processes to transport their products to the end-users. Though they had an extensive delivery team spread across geographies to connect their warehouses and partner outlets, they faced major roadblocks in transporting their goods in a timely manner.
Ensure the efficient transportation of people and goods using advanced strategies built from the insights of transportation analytics. Speak with our analytics experts today.
Transportation Data Analytics Business Challenge
Data obtained from every source can help you unearth actionable insights if analyzed accurately, and transportation data is no exception. Having said that, it's crucial to note that transportation data analytics has the potential to improve logistics management, as well as enables businesses to optimize transit routes and services. Leveraging transportation analytics to develop route maps can help businesses to optimize the logistic workflow, which in turn, will result in a drastic reduction in congestion levels and time spent in transit.
Request a free proposal to learn how you can create advanced logistics workflows using our transportation data analytics solutions.
The manufacturer's delivery team was complex and comprised of hundreds of employees and partners. The use of outmoded logistics tracking systems made it difficult to track, update, monitor, and deliver products in a timely manner. Also, the outdated legacy systems were difficult to maintain and proved to be of no use in logistics management. Such factors along with the ongoing loss made it crucial for the client to replace the legacy system with a more efficient logistics workflow.
Transportation Analytics Solution Offered and Value Delivered
The CPG manufacturer approached Quantzig to leverage its expertise in transportation data analytics and drive significant improvements in the logistics workflow. Our transportation analytics solutions helped the client to gain in-depth insights into their logistics routes through an advanced backend dashboard that provided real-time insights based on transportation data.
Through our transportation analytics solutions we helped the client to revamp their current logistics workflow and achieve the desired level of efficiency. In addition, it's essential to note that transportation analytics improved their logistics and route planning capability and helped them achieve huge savings on maintenance and renewal.
Benefits of Transportation Data Analytics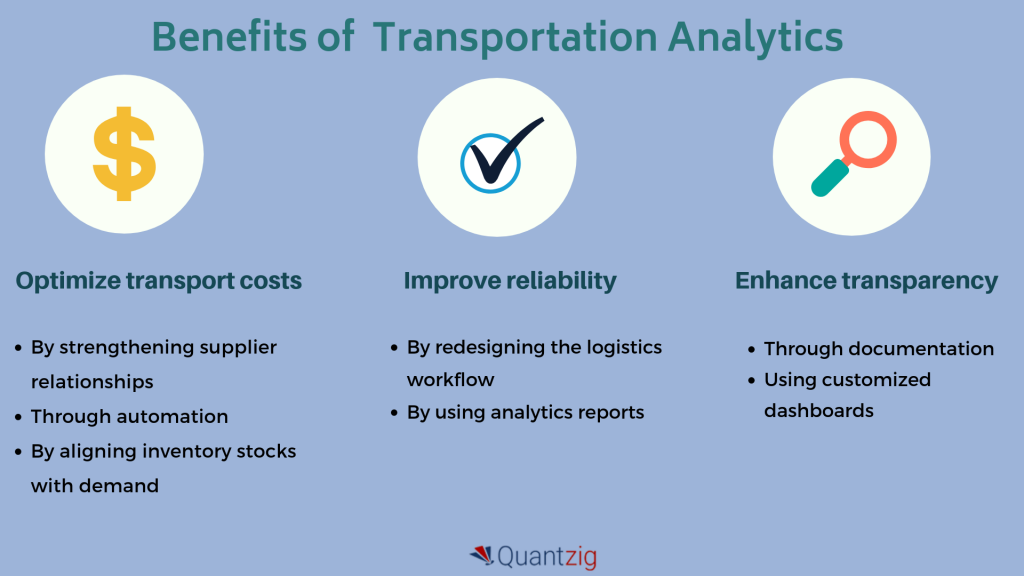 Request a demo to learn more about transportation analytics.