Introduction
In the ever-evolving landscape of healthcare, the intersection of technology and supply chain management has emerged as a pivotal arena for transformation. In this era of unprecedented challenges and opportunities, the utilization of supply chain analytics has become the linchpin for maximizing innovation in healthcare delivery. This article delves into the dynamic realm where data-driven insights and strategic logistics converge to enhance patient care, optimize resource allocation, and drive cost efficiencies. Join us on a journey through the corridors of healthcare innovation, where the power of supply chain analytics is poised to revolutionize the way, we heal and care for our communities.
Importance of Healthcare Innovation Through Supply Chain Analytics:
Ensuring that all the required elements are available at the end consumption node with clinicians is paramount for delivering effective patient care. This process involves a delicate balance between inventory management and timely distribution. Any missing element can disrupt the entire care delivery chain, adversely affecting patient experience and outcomes.
Inventory excess poses a significant challenge, as overstocking can lead to obsolescence-related losses. Maintaining the right balance between supply and demand is therefore essential. It requires sophisticated supply chain analytics and management strategies to optimize the inventory levels while ensuring that the end care is delivered to the right stakeholders in the right quantity and at the right time.
Challenges while implementing healthcare innovation through supply chain analytics: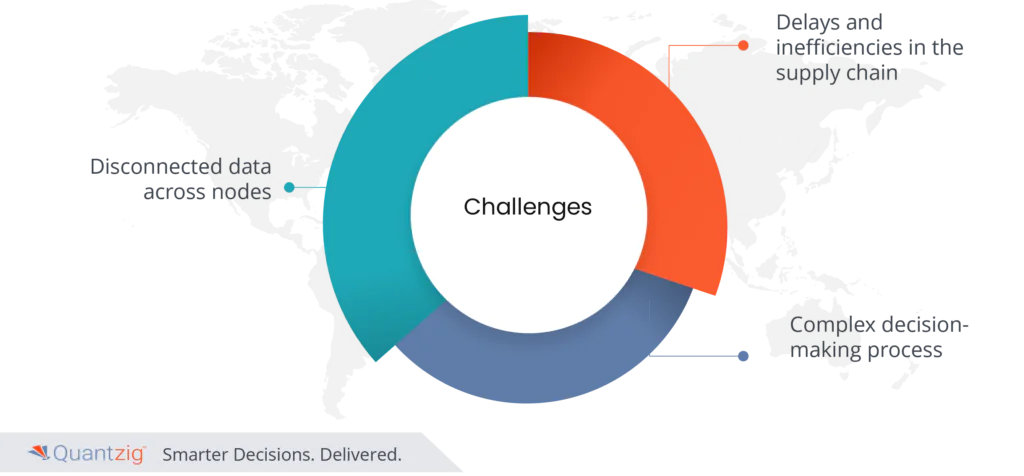 Disconnected data across nodes difficult to connect and identify insights:
Disconnected data across various nodes in a supply chain presents a substantial challenge in today's complex healthcare landscape. When data is siloed and not seamlessly integrated, it becomes difficult to connect and extract valuable insights. This fragmentation hinders the ability to make informed decisions that optimize the supply chain.
Multiple business stakeholders lead to complex decision-making processes often impacting the agility of the supply chain:
Furthermore, the involvement of multiple business stakeholders can exacerbate this issue. With various departments and teams having their data and decision-making processes, coordination becomes intricate. This complexity often leads to delays and inefficiencies in the supply chain, impacting its overall agility.
Benefits of healthcare innovation through supply chain analytics:
An agile supply chain, characterized by seamless coordination and optimal performance across its various nodes, yields a twofold benefit in healthcare. Firstly, it leads to higher profit margins by minimizing waste, reducing costs, and enhancing resource utilization. Secondly, it significantly improves the experiences of both patients and clinicians. Timely access to essential supplies ensures uninterrupted patient care, elevating the overall healthcare experience. For clinicians, streamlined operations enable them to focus on patient care rather than supply issues. In essence, an agile supply chain serves as a catalyst for financial success and enhanced healthcare delivery, fostering a win-win scenario for all stakeholders involved.
Conclusion
In the dynamic world of healthcare, the integration of supply chain analytics emerges as a beacon of progress and possibility. The journey through this article has illuminated the transformative power of data-driven insights and strategic logistics in redefining patient care. It is evident that, in the pursuit of healthcare innovation, the role of supply chain analytics cannot be overstated. As we navigate the ever-evolving healthcare landscape, the imperative remains clear: harnessing the potential of supply chain analytics will not only revolutionize the way we deliver care but also usher in an era of heightened efficiency, improved outcomes, and ultimately a healthier world for all.
Success Story
Revolutionizing Healthcare Delivery: A Quantzig Success Story in Maximizing Innovation Through Supply Chain Analytics
Client Details:
A leading healthcare company located in the USA.
The challenges faced by the Client:
The client had disconnected data across nodes and frequently ended in scenarios of overstocking or understocking of inventory. This led to revenue leakage and reduced margins. Business leaders, however, were struggling to make the right decisions owing to a lack of visibility and identification of bottlenecks/inefficiencies in the supply chain network.
Solutions offered by QZ:
Quantzig helped build the digital twin of the overall global supply chain network. Using the digital twin, the client could simulate future scenarios and plan the manufacturing, logistics, and inventory management strategies ahead of time thus avoiding last-minute panic situations and incremental costs owing to ad hoc arrangements to meet customer demands/needs.
Impact Delivered: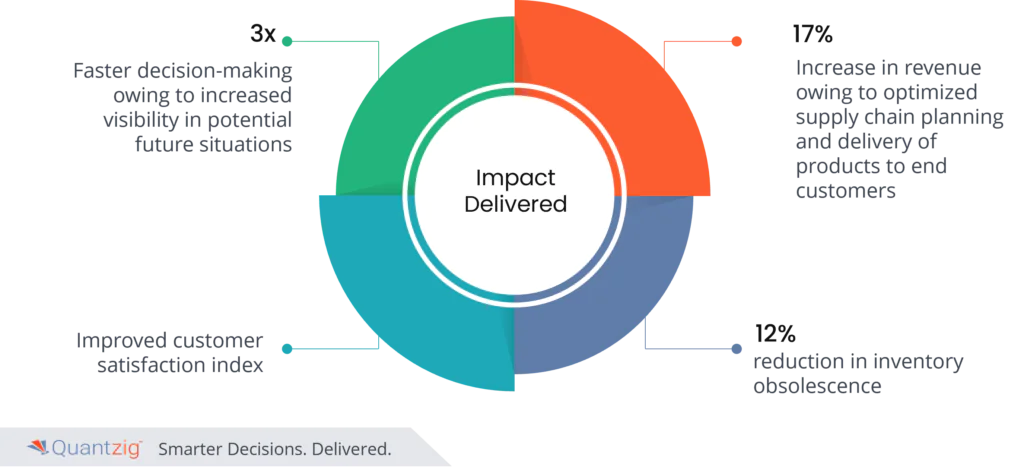 3x faster decision-making owing to increased visibility in potential future situations,
17% increase in revenue owing to optimized supply chain planning and delivery of products to end customers,
Improved customer satisfaction index,
12% reduction in inventory obsolescence
Discover how Quantzig's expertise in supply chain analytics transformed our client's healthcare operations, leading to improved patient care and cost efficiencies. Read the full case study now to unlock the secrets of healthcare innovation.