Data mining and business intelligence go hand in hand and are often used together by businesses. Right from crime prevention agencies, mobile service providers, to major players in the e-commerce and retail industry, data mining has been adopted to build better business strategies and boost profit margins. In the case of supply chain management (SCM), data mining has emerged as a vital tool as it enables seamless integration of complex networks like inventory, production costs, and customer needs to accelerate core competencies.
Introduction
Data Mining: Making Sense Out of Chaotic Data
A multi-disciplinary field, data mining employs tools like machine learning, artificial intelligence, and pattern repository system. All these tools together aid in deciphering the hidden patterns and relationships between the different points in the supply chain.
Want more insights? Get in touch with our supply chain management experts right away.
One crucial point which data mining puts into perspective is that it is not the quantity of the data, and rather the quality which holds the key to the success of your enterprise. The standard way in which data mining works is:
Assessing large sets of data and databases
Using algorithms to discover clear patterns in the data
Forecasting probable outcomes
Building a reserve of actionable information
By allowing early detection of problems in the supply chain, anticipating wear and tear of the assets, and taking consumer demands into consideration, this technology facilitates manufacturers to have their production line on schedule.
Request for a FREE proposal to Learn how our data mining supply chain management solutions can help you drive supply chain efficiency.
Benefits of Data Mining to SCM's Rescue
In the intricate realm of supply chain management (SCM), the formidable challenge faced by managers is efficiently interpreting the technological and logistical implications of the vast reservoir of information. The integration of various business verticals within the supply chain further compounds this challenge. In an industry where swift turnaround time is paramount for gaining a competitive market share, making informed decisions in a timely manner becomes crucial. Here, we delve into the data mining technique, examples of data mining, benefits of data mining in supply chain management, a potent tool that not only helps avoid the 'bullwhip effect' but also facilitates seamless integration across various supply chain verticals.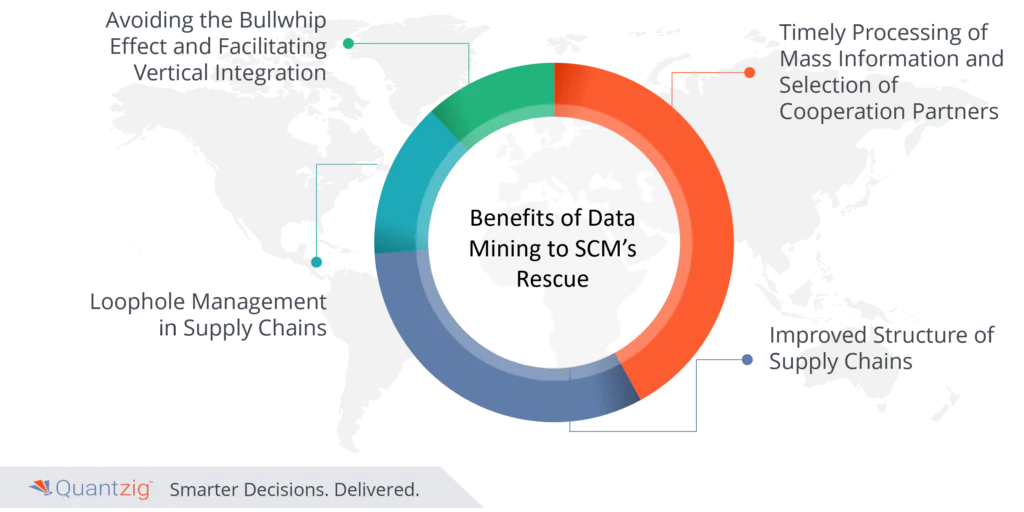 1. Avoiding the Bullwhip Effect:
The bullwhip effect, characterized by the amplification of demand fluctuations as they move up the supply chain, is a common challenge in SCM. Data mining plays a pivotal role in mitigating this effect by providing accurate insights into demand patterns, allowing for well-informed demand forecasting. By understanding and predicting demand fluctuations accurately, supply chain managers can optimize inventory levels, prevent overstock or stockouts, and ensure a smoother flow of products through the supply chain.
2. Facilitating Vertical Integration:
Vertical integration across different business segments within the supply chain is essential for seamless operations. Data mining supply chain management acts as a catalyst in this integration process by analyzing data from various verticals and identifying synergies and dependencies. This enables supply chain managers to make strategic decisions regarding supplier relationships, production processes, and distribution channels. By fostering collaboration and coordination across different stages of the supply chain, data mining enhances overall efficiency and responsiveness.
3. Timely Processing of Mass Information:
The sheer volume of data generated within the supply chain can be overwhelming. Data mining tools excel in processing massive amounts of information in real-time, allowing supply chain managers to extract actionable insights promptly. Timely processing of data is critical for making informed decisions, addressing potential issues before they escalate, and capitalizing on emerging opportunities. This agility in information processing enhances the overall responsiveness of the supply chain.
4. Selection of Cooperation Partners:
Collaboration is a cornerstone of successful supply chain management. Data mining aids in the selection of optimal cooperation partners by evaluating performance metrics, reliability, and compatibility. By identifying partners that align with the strategic goals of the supply chain, managers can foster stronger relationships, enhance trust, and create a more resilient and adaptable supply chain network.
5. Loophole Management in Supply Chains:
No supply chain is immune to challenges or loopholes. Data mining serves as a detective, uncovering inefficiencies, bottlenecks, and vulnerabilities in the supply chain. Through comprehensive data analysis, managers can identify areas that require improvement, implement targeted strategies to address vulnerabilities, and fortify the supply chain against potential disruptions.
6. Improved Structure of Supply Chains:
Data mining supply chain management contributes to the continuous improvement and optimization of supply chain structures. By analyzing historical performance data, market trends, and consumer behavior, managers can refine the structure of their supply chains. This includes optimizing the distribution network, enhancing warehouse management, and improving transportation routes to streamline operations and reduce costs.
In conclusion, as supply chains continue to evolve at a rapid pace, the adoption of data mining supply chain management techniques becomes imperative for improved decision-making processes. From averting the bullwhip effect to fostering vertical integration and enhancing overall structure, data mining emerges as a strategic asset in the arsenal of supply chain managers. As the industry embraces the power of data-driven insights, it paves the way for more agile, resilient, and responsive supply chains, poised for success in the dynamic global market.