Over the last 25 years, the Indian telecom sector has emerged as one of the leading potential markets globally and has witnessed rapid growth. There have been dramatic changes in the telecom industry in India in the last few years. The two major factors behind setting the stage right for the evolution of this sector are technological innovations and regulatory changes. The telecom industry in India was liberalized in 1994 with the advent of the National Telecommunications Policy or NTP. The deregulation and liberalization of the telecom industry in India have led to its spectacular success. But with success comes responsibilities and with responsibilities come challenges. There are many challenges which the telecom industry in India is facing, especially with the advent of trends like digitization. A few noteworthy ones include:
Key Challenges Faced by the Telecom Industry in India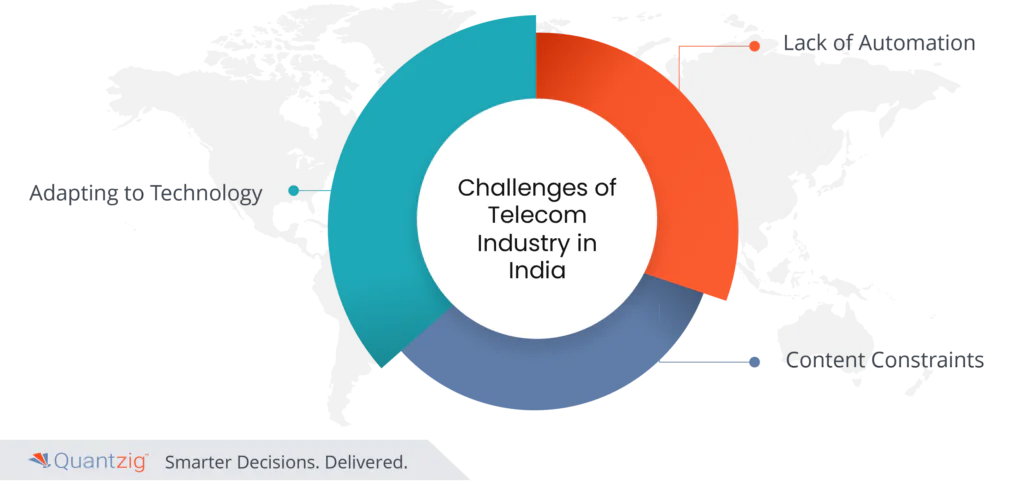 1. Adapting to Technology
Mobile operators need a spectrum to provide access to enhance performance but it is a scarce resource. As compared to other countries, in India, the amount of spectrum available for commercial use is quite low. The practice of the government to auction spectrum at an exorbitant cost makes it difficult for mobile operators to provide services at a lower price and at reasonable speeds. This discourages adoption and usage. However, the launch of Jio has helped overcome this challenge to a certain extent. There is still a long way to go.
Want to know how you can overcome these challenges and get ahead of the competition? Contact Quantzig's analytics experts today.
2. Lack of Automation
Sales teams in the telecom industry in India continue to rely largely on manual processes to collect intelligence on prospects. This process needs automation since it will enable companies to obtain intelligence in real-time. Without this information, teams may expand sales and resources in competitive markets where termination would not be effective, locations where serviceability is not aligned, or may not participate in the market until it is too late.
3. Content Constraints
There is a growing need in the telecom industry to make more and more content available in all the regional languages. Additionally, the content should be focused on addressing local problems. Today, the content that is most readily available on the Internet is in English, which is still spoken by a small fraction of the people in India. The experience of using the internet or browsing is not a pleasant one on the small screens of a mobile phone. The usage is, thus, mostly restricted to chatting on applications such as WhatsApp and playing games. However, reading documents on mobile phones is still difficult. Therefore, it is highly unlikely that mobile phones will completely be able to replace laptops, desktops, and tablets. This is one of the major challenges in Indian telecom industry.
How can the Telecom Industry in India overcome the challenges?
The Indian Telecom Industry can address its challenges through several strategic approaches:
1. Infrastructure Investment and Technological Advancement:
To overcome the challenges in telecom industry of intense competition and digital divide, Indian telecom operators need to continue investing in expanding and upgrading their network infrastructure. Embracing advanced technologies like 4G and 5G is critical to improving data speeds, reliability, and overall service quality. The focus should be on building a robust and scalable infrastructure that can support the increasing data demands of consumers and businesses. Additionally, the development of fiber-optic networks and wireless backhaul systems is essential to ensure seamless connectivity, especially in rural and underserved areas.
2. Diversification of Services and Revenue Streams:
Telecom operators in India should look beyond traditional voice and data services and diversify their offerings. This includes expanding into broadband services, content streaming, Internet of Things (IoT) solutions, and enterprise services. By offering a broader range of services, telecom companies can tap into new revenue streams and reduce their dependence on price-driven competition. Collaborating with content providers and creating compelling value-added services can also help attract and retain customers.
3. Advocating for Regulatory Clarity and Collaboration:
The industry must actively engage with regulatory authorities to provide input on challenges and work collaboratively to shape favorable regulations. Regulatory clarity is crucial for long-term planning and investments. Telecom companies should also explore partnerships and collaborations with the government, especially in rural expansion efforts. Initiatives like BharatNet, which aims to provide high-speed broadband connectivity to rural India, offer opportunities for public-private partnerships to bridge the digital divide.
In conclusion, the Indian telecom industry faces formidable challenges, including intense competition, high spectrum costs, and regulatory complexities. The industry's success hinges on its ability to navigate these hurdles strategically. By investing in advanced infrastructure and diversifying services, telecom companies can enhance their competitiveness. Additionally, active engagement with regulatory authorities and collaborations with the government are vital for creating a conducive environment for growth and expanding connectivity, particularly in underserved regions. Overcoming these problems faced by telecom industry is imperative to not only endure but thrive in an increasingly digital and interconnected world.
Get more information on how you can decode data to drive customer satisfaction and improve market share using innovative telecom analytics solutions.