Irrespective of the location across the globe, you've been a part of the food and beverage industry, often as a consumer. As we're all aware, the food and beverage industry is divided into multiple sub-sections, ranging from—fine dining to fast food. First, let's talk about the latter.
Though often criticized for its nutritional value, fast food is here to stay. The increasing prevalence of fast-food restaurants is offering a greater number of people with affordable and varied meal options, as well as treats, beverages, baked goods, and more. The fast-paced nature of service and sizeable menus of these restaurants requires them to run smoothly and efficiently in order to keep customers happy and profits rolling in, a task that can seem difficult to anyone who has been in a crowded fast-food restaurant trying to get a chicken nugget meal at 2 am.
Luckily, big data and food and beverage data analysis are here to save the day. Using data analytics, every French fry, late-night chicken nugget, and ice cream sundae sold generates data for fast-food chains to analyze and act on, improving quality across the board.
Here are a few big data analytics in food industry that changes the food and beverage business practices to make better informed decisions:
Applications of Big Data Analytics in the Food Industry:
1. New Product Development:
Understanding Consumer Preferences: Big data analytics allows food businesses to analyze consumer behavior, preferences, and trends. This insight aids in the development of new products tailored to meet evolving consumer demands.
Market Testing: Prior to launching a new product, businesses can utilize big data analytics to conduct virtual market tests. By assessing the financial impact and popularity of potential products, they can make informed decisions on product development.
2. Operational Efficiency and Delivery Services:
Optimizing Delivery Services: As food establishments increasingly offer delivery services, big data analytics becomes instrumental in optimizing the speed and quality of these services. Analyzing data from delivery orders provides insights into customer locations, preferences, and spending habits.
In-Store Operations: Analytics helps streamline in-store operations by analyzing data on wait times, allowing businesses to improve service and reduce customer waiting times. Staffing schedules can also be adjusted based on data, aligning with peak periods.
3. Catering to Customer Preferences:
Menu Optimization: Leveraging food and beverage analytics, businesses can optimize their menus by identifying popular and unpopular items. This data-driven approach allows for cost-saving measures by eliminating less popular menu items without significant customer impact.
Allergen Considerations: Big data analytics aids in understanding the prevalence of food allergies. This information enables businesses to make informed decisions about ingredient alterations, ensuring a broader customer base can safely access their products.
To gain comprehensive insights into the trends impacting food safety, request a free proposal. 
Our comprehensive portfolio of analytics solutions leverages machine learning algorithms and NLP to help businesses identify and capitalize on new market trends. Contact us to know more.
Benefits of Big Data Analytics in the Food Industry: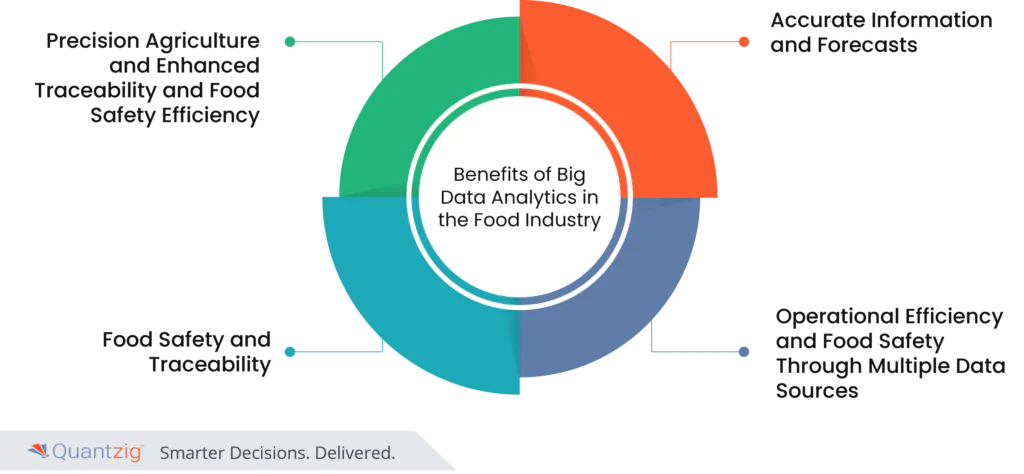 1. Precision Agriculture:
Effective Resource Management: GPS and GNSS technology enable precise tracking of field maps, measuring variables such as crop yield, terrain topography, and moisture levels. Big data analytics helps farmers optimize water management, minimize waste, and increase crop yield by providing real-time insights.
2. Accurate Information and Forecasts:
Optimizing Agricultural Inputs: Integration of soil, weather, and market price information with granular data allows businesses to optimize agricultural input factors. This optimization leads to increased crop yield, resource efficiency, and cost reduction.
3. Food Safety and Traceability:
Proactive Monitoring: Big data, combined with the Internet of Things (IoT), proactively monitors the condition of food from farm to fork. Alerts are sent out when discrepancies are detected, ensuring consumers of food quality and minimizing wastage.
Enhanced Traceability: IoT enhances traceability by incorporating barcodes and RFID within the interconnected IoT. This facilitates traceability from the point of origin to subsequent destinations across the supply chain, enhancing food safety.
4.Operational Efficiency and Food Safety Through Multiple Data Sources:
Real-time Monitoring: Big data analytics, coupled with IoT, enables real-time monitoring of food safety data points such as temperature and humidity. Automatic alerts notify users to take action, and with big data, it is possible to analyze bacterial genomes in food samples, detecting harmful bacteria.
Predictive Models: Big data allows for predictive models using various data sources, including temperature, humidity, regulatory inspection reports, 311 service data, community and crime information, and weather data. Predictive models help identify potential breaches of food safety regulations.
5. Enhanced Traceability and Food Safety Efficiency:
IoT Integration: Companies have evolved from manual barcode and RFID usage to incorporating them within the IoT. This interconnectivity enhances food traceability, enabling companies to track and identify potential sources of contamination and take corrective action.
Real-time Alerts: IoT facilitates real-time alerts for food safety data points like temperature and humidity. The integration of big data allows the analysis of bacterial genomes, enabling the detection of anomalies in food samples.
Examples of Big Data Analytics Transforming the Food Industry:
1. McDonald's:
McDonald's uses big data analytics to optimize its menu offerings. By analyzing customer preferences, purchasing patterns, and seasonal trends, McDonald's continuously adapts its menu to meet changing consumer demands.
2. Walmart:
Walmart leverages big data analytics for supply chain optimization in the food industry. By analyzing data on inventory levels, demand patterns, and transportation efficiency, Walmart ensures timely delivery of fresh produce to its stores.
3. Nestlé:
Nestlé utilizes big data analytics for product development. By analyzing consumer feedback, social media interactions, and market trends, Nestlé identifies opportunities for new product launches and improvements to existing products.
Click here to request a FREE proposal for expert insights. 
Key Takeaways of Big Data Analytics in Food Industry:
Analyzed new sources of data and made agile and better decisions to realize an increase in ROI by 34%
Effectively gauged customer needs and created new products to meet the customer requirements
Get timely insights into healthcare and uncover new growth opportunities
Effectively manage patient records, health plans, and insurance information
Provided diagnoses and treatment options within a very short time