Highlights of the Case Study:
| | |
| --- | --- |
| Particulars | Description |
| Client | A leading fashion designer in Spain was struggling with high competition and increased marketing expenditure. |
| Business Challenge | Our client wanted to launch a new design using a powerful algorithm that analyzes past designs and future trends, improves its understanding of rivals' pricing strategies, and adopts a suitable pricing analytics model. |
| Impact | Quantzig offered the client an AI pricing analytics solution that extracted competitors' data. These insights were used to sell the product at the best price and time while optimizing profitability. |
Game-Changing Solutions for the Fashion Industry
AI Pricing Analytics has become the next big thing for the ever-expanding fashion industry. How? It's because the fashion industry is highly volatile, which makes it necessary for players in this domain to have a strong hold over pricing and trade promotions to remain competitive by introducing cost-based pricing or dynamic pricing models. By understanding their competitors' pricing strategies, most retailers provide huge discounts to get into the customers' hearts and shopping baskets. However, this results in negative marketing spending and pricing issues as discount pricing is counterproductive. In such a scenario, superior pricing analytics through AI solutions help retailers tackle high competition and stay afloat in the digital world where shoppers can compare prices and deals. The adoption of AI in the fashion industry and the prediction of fashion trends with machine learning are a couple of technological innovations gaining prominence.
The Challenges of the Client
Our client is a leading fashion designer from Spain and has a successful line of trendy products. However, the client wanted to launch a new design using a powerful algorithm that analyzed past designs and future trends. The client was also struggling with other issues such as transportation bottlenecks, inaccurate apparel pricing, tracking of unessential competitors, and a lack of insight into the competitors' prices and discounts. 
After attending one of our webinars on unlocking the power of algorithm, the client approached Quantzig for tailor-made pricing analytics solutions capable of optimizing price, performing competitive benchmarking, and monitoring the price gaps in real-time. The client also wanted to understand the pricing strategies of their rivals to help them adopt suitable pricing analytics models.
Quantzig's Pricing Analytics Solution for Designers
Quantzig's experts deployed an AI-driven pricing analytics solution that extracted competitors' data, with a 360° view of competitors' assortments, promotions, and pricing methods. Additionally, the algorithm created by our experts examined the client pricing and combined it with marketing and sales data to recommend consumer preferences based on specific demographics. By understanding the marketing expenditure, we also introduced a suitable pricing analytics model. The client used the pricing analytics solution to sell its products at the best prices and at the right time while also optimizing profitability. Highlighting the benefits of competitive benchmarking, we introduced actionable insights into their competitors' pricing and brought out the importance of trade promotions as well.
Impact Analysis of Quantzig's Pricing Analytics in the Fashion Industry
The solution offered by Quantzig helped the client develop effective fashion design, merchandising, and marketing plans. In addition, our pricing analytics solutions enabled our client to get a holistic 360-degree view of competitors' assortment, promotion, and pricing methods. The client was also able to able to reap the following benefits: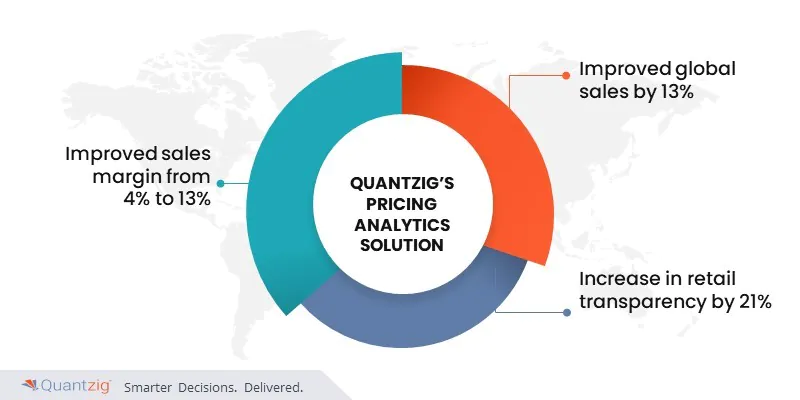 Improved sales margins from 4% to 13%
Standardized discounts and improved global sales by 37% and 13.0%
Created new opportunities with competitive product pricing
Enhanced the development of new fashion designs
Developed a robust marketing plan
Increased retail pricing transparency by 21%
Key Outcomes
Quantzig's price analytics solution leveraged the client's expansive customer database to derive an in-depth understanding of the customers. We offered pricing analytics solutions that helped the client examine several competitors' pricing and promotion methods. Our solution enabled pricing adjustments in response to the clients' demand without impacting the organizational profitability. We were able to help the client in the development of effective fashion design, merchandising, and marketing plans.
A Broad Perspective on the role of Pricing Analytics Solutions in the Fashion Industry:
Over the last five years, the use of pricing analytics has grown significantly in the fashion industry due to the rise in the number of retailers struggling with counterproductive discount pricing. Accurate product pricing is essential to increase sales in the fashion industry as several designers offer similar products. Shoppers tend to choose low pricing over quality and tend to gravitate toward products on discount as they seem to provide more value. Therefore, designers have started implementing pricing analysis solutions to reduce marketing expenditure, increase sales, increase their margins, and thus stay ahead of the competition. Quantzig's pricing analysis solutions also effectively track competitor pricing, increasing the chances of consumer preferences based on discount pricing.
Key Takeaways
Evaluated client's pricing, marketing, and sales data to derive consumer preferences
Devised a roadmap for value-based product categorization
Improved the understanding of rivals' pricing strategies
Determined the optimal selling prices for products
Improved standardized discounts by 37%
Helped in reducing marketing costs