What you'll find in this case study:
Highlights of the Customer Segmentation Case Study
Client: A leading fast food restaurant with retail units spread across 17 countries
Need: To optimize their marketing efforts by creating data-driven buyer personas for accurate segmentation
Impact of Quantzig's customer segmentation solution: decreased marketing spend by 11% and drove MROI by 10%.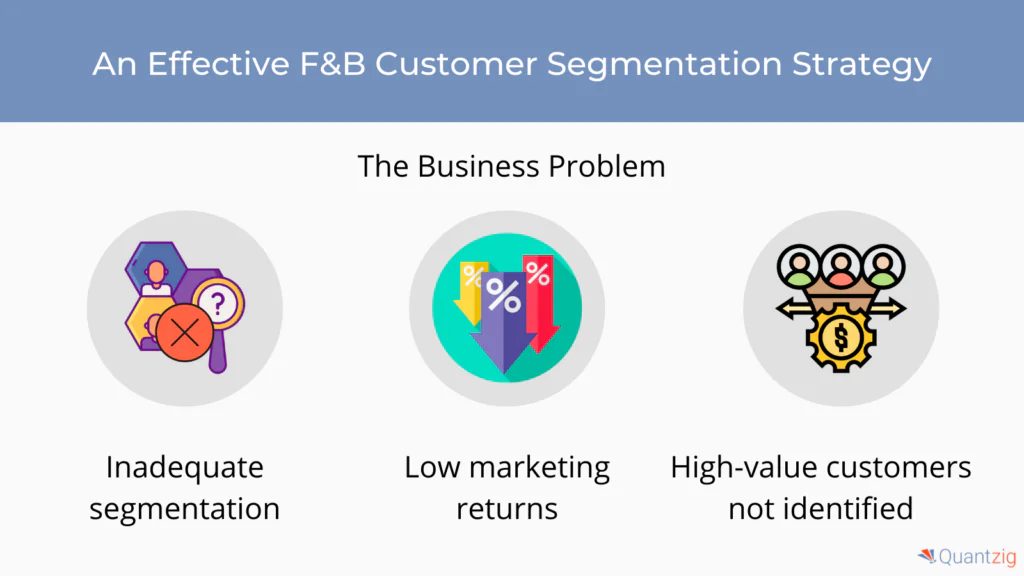 ---
Speak with our analytics experts to learn how you can leverage customer segmentation to generate actionable customer insights that increase MROI, optimize customer engagement and satisfaction, and optimize MROI.
---
The Importance of Customer Segmentation
A powerful customer segmentation strategy is a fundamental aspect that helps build strong marketing initiatives for products and services. It is defined as the process of segmenting customers into homogenous groups based on their choices; thus, helping in addressing issues through specific marketing strategies. The importance of customer segmentation lies in the fact that it allows businesses to reach out to end-users with specific requirements.
A well-done data-driven customer segmentation also allows organizations to create better brand strategies, determine new market opportunities, optimize production planning, reduce unnecessary expenses, increase customer retention and loyalty, and reduce churn.
Types of Customer Segmentation
In order to enhance personalization across all channels and achieve a better customer understanding, you need to assure that you're incorporating these three types of customer segmentation into every marketing campaign.
A Priori Segmentation
Needs-based Segmentation
Value-based Segmentation
Demographic Segmentation
Geographic Segmentation
Technographic Segmentation
Behavioral Segmentation
Psychographic Segmentation
Customer Journey Segmentation
Customer Lifecycle Segmentation
Overview of Fast Food Restaurants in the US
Despite the weakening global economy and growing awareness of health risks, the fast food industry has managed to flourish. The rise in globalization and urbanization has hugely impacted the lifestyle of the consumers as they are heavily reliant on healthy fast food restaurants for quick and easy meal options. Additionally, individuals today are seeking inexpensive and fast breakfasts from healthy fast food restaurants. An upsurge in population and subsequent urbanization is important in terms of market growth as it would give fast food restaurants the scope for growth and market expansion.
Request a free proposal to gain in-depth insights into the scope of customer segmentation for the fast food industry.
About the Client
The client is a leading fast food restaurant with retail units spread across 17 countries. The healthy fast food restaurant client is based out of the United States.
Client's Challenges
The client, a leading player in the fast food industry in the U.S, was looking to gain a detailed understanding of the different consumer personas so as to ramp up their marketing initiatives.
The client wanted to achieve the following goals:
Identify market segments with the greatest profit potential
Distinguish market segments based on their interest in value-added services
Understand different customer personas.
As a result, the client approached Quantzig to better understand the importance of customer segmentation in analyzing consumer behavior and preferences with regard to their product portfolio.
Want to know more about the importance of customer segmentation for fast food restaurants? Speak with our analytics experts today.
Solution Delivered
The customer analytics experts at Quantzig first analyzed the client's existing customer segmentation strategy and gauged the gaps. In order to create an in-depth, data-driven customer segmentation, the experts first defined the segmentation variables clearly (needs-based, value-based, demographic, behavioral, etc.). Once the variables are in place, the existing customer data was then divided into various segments basis the variables, and a long-term strategy was created for the adoption of these segments in different business units while making important decisions.
After the creation of a data-driven customer segmentation strategy, the experts conducted a comprehensive market survey to analyze the underlying factors influencing the client's market growth. By doing so, the client was able to prioritize their product development initiatives with the corresponding roadmaps that were produced based on the new customer segments.
Understanding customer behavior also presented them with an edge while generating personalized marketing initiatives for each target market.
---
Request a 4-week no-cost pilot to leverage customer segmentation analytics to drive marketing outcomes through targeted promotions.
---
Business Impact
The critical business outcomes observed over six months were –
13% increase in MROI
17% reduction in marketing spends
8% reduction in customer churn
Accurate customer lifetime value analysis