Highlights of the Case Study:
| | |
| --- | --- |
| Particulars | Description |
| Client | A leading manufacturer in the food and beverage industry located at North America, sought to improve its marketing reach and implement better digital marketing strategies. |
| Business Challenge | To ensure better communication with the customer to strengthen the sales funnel. |
| Impact | A detailed audit of existing marketing strategies led to creating a content optimization action plan. |
Game-changing Solutions for Food & Beverage Retailing:
Let's understand the role of digital marketing in the food and beverage industry first. The recent COVID-19 pandemic propelled the growth of e-commerce within the food and beverage industry. As consumers remained confined to their homes, they relied on online channels to cater to the need for essentials and premium products within the realm of the food and beverage business. Over the past two years, e-commerce has witnessed phenomenal growth. This has remained a constant as the world recovers from the impact of the pandemic and consumers begin to venture out for shopping. E-commerce continues to hold its place as a distribution channel for the F&B industry at par with the physical one. 
The prosperity of the food and beverage market has encouraged the arrival of numerous players, which is heightening the competition. In this scenario of multiple players and high stakes, it has become essential to reign supreme over the digital channels to stay in the game. Companies without an effective digital presence are most likely to dwindle into oblivion in today's world.
The Challenges of the F&B Client:
Our client, a leading F&B player, was facing issues concerning driving conversions despite having a significant amount of high-quality content on their website. This client chose to partner with Quantzig to improve its customer journey through the sales funnel by providing optimized pieces of content targeting potential customers. Though they had curated content, the lack of an appropriate content optimization strategy and intense competition in the industry led to decreasing content impressions, organic search rankings, and traffic.
The client sought to identify the underlying issues affecting its marketing strategy and implement better digital marketing approaches to increase its marketing response. Additionally, the client wanted to improve its SEO ranking, maximize its organic search exposure, and increase its content impressions driven towards generating leads and increasing sales.
Food & Beverage Digital Marketing- Content Optimization Approach:
Quantzig used a content optimization strategy which enabled us to create SEO-optimized content for our client. Our approach helped us organize, understand and summarize a large amount of content and textual information available on our client's website. We also set about to create a well-defined content optimization strategy involving in-depth keyword research.
The first step in our approach involved conducting a series of audits and creating a detailed, prioritized content optimization action plan. We evaluated our client's content with our analysis tools to determine the base-level optimization rate, checking for various aspects such as the density of keywords used and the length of elements such as the text, title, and meta description. Our analysts then performed advanced keyword research to create a strategic keyword theme document used as a foundation for our content optimization process.
Our content optimization process consisted of the following steps:
Step 1: Project initiation
Study and understand existing digital marketing strategies
Identify the target audience of the client
Step 2: Cross-analyze content data
Conduct a content audit
Content gap analysis
Competitor audit and analysis
Create a content optimization action plan
Step 3: Research keywords
Research within Google Search Console (GSC)
Evaluate targeted keywords and key phrases
Establish benchmark metrics for the keywords
Step 4: Create the content
Implement the keywords across the website
Optimize title tag
Build backlinks
Create attention-grabbing meta descriptions and infographics
Write SEO-friendly headlines
Step 5: Implement technical SEO
No indexing and deleting duplicate content
Address redirects
Technically optimizing content
Make use of internal and external links
Step 6: Update and track content
Continuously update, revise, and improve the content
Deliver a content optimization summary report
Repeat these steps at least once per quarter
Impact Analysis of Quantzig Content Optimization
Our digital marketing team focused its efforts on content optimization by creating the right content for the target audience to generate positive results for our client. In addition, we improved keyword usage, including both targeted keywords and related phrases. We formatted the content to make it more engaging and ensured the linguistics were in place.
Our client achieved the following benefits by using our content optimization services:
Unique product names and services appeared in search results.
Searches generated increased click-through rates
Metadata performed well during search results
The content resonated with the target audience as impressions increased.
Enhanced the target audience's interest in our client's products.
In addition, we surpassed our client's goal of increasing leads by 29% of the original figure by curating relevant content and adding various contact forms and CTAs to our client's website. The overall result of this intervention by Quantzig was an 87% increase in clicks and a 48% boost in impressions.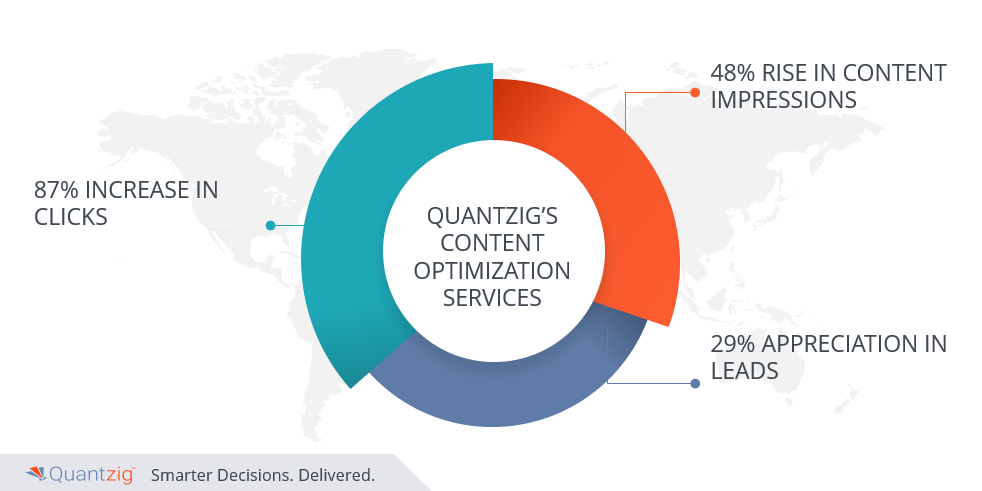 Key Outcomes:
The interventions of Quantzig's digital marketing team helped curate and deliver highly relevant content that matched the target audience's search intent. The optimization of title tags and meta-data and implementation of FAQ schema ensured that the client's content ranked in search engines. This process also enabled the client to identify gaps in their existing digital marketing system, helped them to plug in missed opportunities, and formulate efficient ways to optimize their sales funnel.
Broad Perspective on Digital Analytics in the F&B Industry: 
The food and beverage industry is highly competitive, making it necessary for critical players to adopt a dynamic business strategy that is in tune with the times. As internet users exceed 5.3 billion, it makes sense to rely on digital marketing channels to target conversions and boost sales. Digital Marketing is a relatively cost-effective medium specially for the food and beverage industry that ensures visibility that translates into increased sales and higher revenue.
Key Takeaways:
Increased sales, leading to higher revenue
Identified the key events and causal factors that impact sales
Improved decision making through structured scenario analysis
Increased leads by 29% of the original figure
87% increase in clicks.
48% boost in content impressions.
Request a Demo of this Case Study.
Related Articles: