Highlights of the Case Study:
| | |
| --- | --- |
| Particulars | Description |
| Client | A leading retailer with a diverse product portfolio and multiple stores across the globe, our client was facing issues resulting from inaccurate retail demand forecasting models.  |
| Business Challenge | The implications of its inaccurate demand forecasting methods resulted in either overstocking or understocking of the inventory, which led to reduced margins. |
| Impact | Quantzig helped the client revamp its demand and supply forecasting strategy using machine learning models. This solution provided by Quantzig helped the client forecast the demand for the next five years. |
Game-Changing Solutions for the Retail Industry
In the retail industry, demand forecasting inventory stock levels is challenging as they are volatile, subjective, and primarily dependent on customer demand. Ensuring stock availability is crucial for a retailer to ensure on-time order fulfillment of the customers. Therefore, optimum forecasting of need is one of the most critical components that companies in the manufacturing industry use to optimize inventory budgeting and distribution. Accurate demand forecasting also provides retailers with valuable information about their potential in the current market to make informed decisions on the following:
Pricing
Market potential
Business growth strategies
The Challenges of the Retail Client
A leading retailer approached Quantzig with a diverse product portfolio and multiple stores across the globe. The client faced several challenges due to inaccurate demand forecasting models. The implications of their incorrect demand forecasting methods resulted in either overstocking or understocking of the inventory, which led to reduced margins. The client could not anticipate when the demand would be high and was having difficulty establishing a long-term model that could help in business growth. This also affected its margins. The client approached Quantzig to leverage its data-driven demand forecasting solutions to improve forecast accuracy and achieve a better order fulfillment ratio.
Retail Demand Forecasting Solutions
Quantzig's experts identified that the client's demand forecasting approach's inefficiency resulted in inventory pile-ups and frequent stockouts for some SKUs, resulting in a net revenue loss. To help the client address this issue, Quantzig's production planning and forecasting analytics team revamped its demand and supply forecasting strategy. Quantzig used machine learning models to build an advanced manufacturing demand forecasting tool that would forecast demand by week and over a month for the client's most significant and volatile product lines. The Quantzig team came up with the "Ensemble Machine Learning" solution, which has combined predictions from multiple predictive models. Each method has some prerequisites, advantages, assumptions, and characteristics. This solution provided by Quantzig helped the company forecast the demand for the next five years.
Impact Analysis of Quantzig's Ensemble Machine Learning Solution
The demand forecasting helped the company optimize the overall process (downstream) as the company was now able to make more precise sales decisions. The other advantages of this solution, Ensemble, were as follows: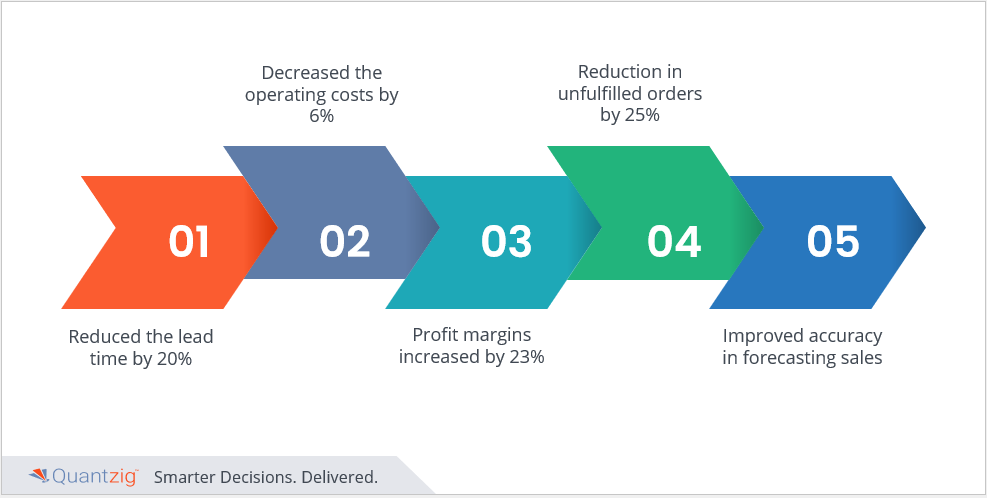 Reduced the lead time by 20%
Decreased operating costs by 6%
Profit margins increased by 23%
Achieved a 25% reduction in unfulfilled orders
Improved accuracy for weekly and monthly sales demand by 7% and 9%, respectively
Key Outcomes
Accurate demand projection is essential for retailers to ensure customer product availability while ensuring minimal inventory accumulation. However, maintaining this precarious balance is a tall order, which may vary for each store location and channel on any given day. Retail demand planners struggle to consider many variables such as seasonal demand, promotions, in-store displays, and external factors, such as local competition, changes in the neighborhood, and even the climate.
The sheer number of variables makes it necessary for modern retailers to rely on machine learning to evaluate the impact of these variables on demand and, consequently, product inventory. Thus, most retailers are transitioning their technology strategies toward machine learning-based demand forecasting.
A Broad Perspective on the role of Retail Demand Forecasting Solutions:
Retailers have aggressive performance goals related to delivery time reliability, inventory optimization, demand management, order fulfillment rate, order cycle time, and inventory turnover; however, they cannot forecast demand and the factors affecting it accurately. Quantzig offers demand forecasting solutions that enable the supply chain, sales, product, and finance teams to collaborate and create accurate demand and capacity plans that could smoothen an organization's inventory management and supply chain operation and increase its margins.
Key Takeaways
Developed an analytics-based demand-supply forecasting plan
Increased margins
Improved supply chain operations
Optimized operations
Improved cashflows
Improved inventory management
Request a Demo of this Case Study.
Related articles:
How Inventory Management Solutions Helped a Pharma Retailer To Improve Overall Supply Chain Agility?
Quantzig's Digital Analytics Solution Boosts Website Performance and Conversions for a Leading Retail Partner
Supply Chain Optimization Helped a F&B Brand to Reduce Overhead Costs by 14%