Introduction
In the ever-evolving landscape of the Travel and Hospitality industry, success hinges on the ability to adapt, optimize, and deliver exceptional customer experiences. Enter Operational Analytics and Optimization, the dynamic force driving change and innovation in this sector. In an era where customer demands are continually reshaping the competitive landscape, harnessing data-driven insights and streamlining operations has become paramount. This powerful convergence of technology and strategy empowers businesses to navigate the complexities of supply chains, pricing dynamics, and customer preferences, all while ensuring efficiency and sustainability. Operational Analytics and Optimization represent a revolution, offering the Travel and Hospitality industry a transformative approach to not only meet but exceed customer expectations, manage costs, and unlock new revenue streams. In this journey of exploration, we delve into the compelling solutions that are reshaping the industry's destiny, and hospitality industry trend, ensuring it remains at the forefront of innovation and customer-centric excellence.
Importance of Operational Analytics and Optimization in the Travel & Hospitality Industry:
The Travel and Hospitality industry, characterized by its seasonality, competitive nature, technological dynamism, and growing sustainability concerns, presents a complex and challenging landscape for businesses to navigate. Seasonal demand fluctuations create hurdles in effective planning and budgeting, requiring adaptable strategies to manage revenue variations throughout the year. Fierce competition further amplifies the need for differentiation, pushing businesses to innovate in service offerings, guest experiences, and marketing approaches to capture and retain customers in a crowded market.
Technology's relentless evolution is a double-edged sword, offering opportunities for efficiency and customer engagement, but posing difficulties for smaller businesses to keep pace with the latest trends. Staying technologically relevant is pivotal for sustaining competitiveness.
Sustainability, now a global imperative, imposes additional pressure on businesses to reduce their environmental footprint. This involves adopting eco-friendly practices, from energy efficiency to waste reduction, in order to meet consumer expectations and regulatory requirements.
In this multifaceted environment, businesses in the Travel and Hospitality sector must find equilibrium, leveraging data analytics in travel industry to not only survive but thrive by addressing these challenges strategically and sustainably.
Challenges/Problems faced while implementing Operational Analytics and Optimization in the Travel & Hospitality Industry:
The Travel and Hospitality industry is navigating a challenging crossroads, with two distinct and opposing forces shaping its future. On one side, there is the optimistic prospect of a post-COVID market resurgence, promising increased travel and tourism activity. However, this potential uptick is counterbalanced by recessionary concerns, which can constrain disposable incomes and consumer spending.
In this complex landscape, crafting a unified strategy becomes paramount. The key to success lies in the agile execution of strategies that adapt to real-time dynamics. Meeting customer expectations today necessitates a highly personalized and responsive approach, one that tailors experiences and services to individual preferences, in the realms of travel, stay, or leisure activities. However, achieving this level of personalization entails substantial investments, extended implementation timelines, and a heightened need for continuous, near-real-time oversight.
Striking a balance between the contrasting market dynamics, while delivering on personalized experiences, is the intricate road map that the Travel and Hospitality industry must chart to thrive in this challenging environment. It requires flexibility, innovation, and a keen eye on ever-evolving consumer sentiment.
Benefits of implementing Operational Analytics and Optimization in the Travel & Hospitality Industry: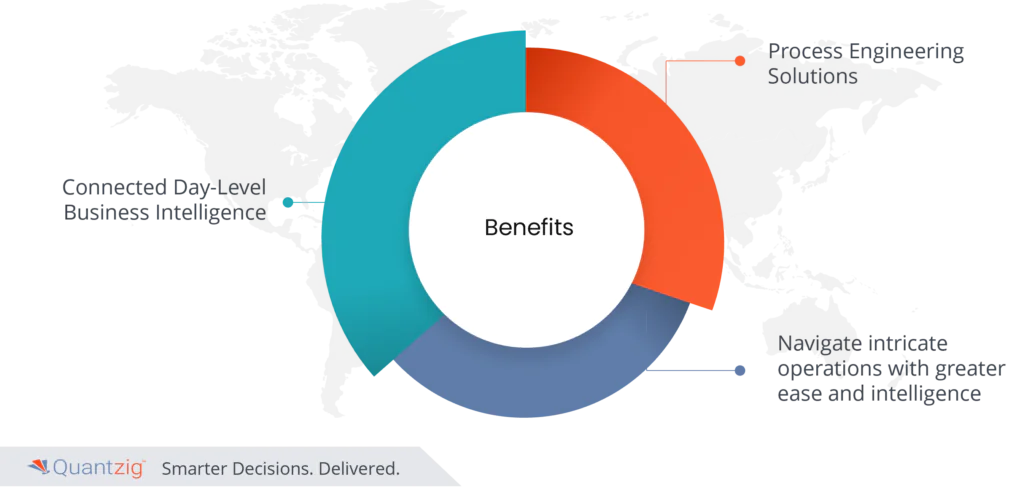 The Travel and Hospitality industries are multifaceted, characterized by intricate business processes and a multitude of ancillary service activities that need efficient management. In this intricate landscape, businesses seek solutions that simplify and enhance their workflows, aiming to streamline operations, improve decision-making, and ensure a seamless customer experience.
Our specialized business process automation and process engineering solutions are tailored to address two key focal points:
Connected Day-Level Business Intelligence:
We recognize the need for comprehensive, real-time insights across various functions, such as Supply, Demand, Operations, Risk, and Compliance. Our solutions offer a holistic perspective by creating "control towers" that provides a unified view of these critical aspects. This facilitates faster insights consumption, empowering business stakeholders with intuitive three-click visualizations. Simultaneously, we equip broader hospitality data analytics and analyst stakeholders with DIY hotel data analytics toolkits, ensuring that data-driven decision-making is accessible and efficient.
Process Engineering Solutions:
To enhance efficiency, intelligence, scalability, and consistency in day-to-day operations, our solutions cover a broad spectrum of areas including planning, marketing automation, dynamic pricing and promotions, customer personalization, capacity management, and service streamlining. These process engineering solutions facilitate the automation of business workflows, support informed decision-making, and seamlessly integrate with systems. This not only optimizes operational efficiency but also ensures a high level of service quality and customer satisfaction.
In sum, our specialized solutions empower Travel and Hospitality businesses to navigate their intricate operations with greater ease and intelligence, driving growth and competitiveness in this dynamic and highly competitive industry.
Conclusion
In conclusion, Operational Analytics and Optimization stand as the beacon of hope in the transformative journey of the Travel and Hospitality industry. Amidst seasonal fluctuations, intense competition, technological evolution, and mounting sustainability demands, this dynamic synergy offers a pathway to success. It empowers businesses to adapt, innovate, and provide unparalleled customer experiences. In a world where data-driven insights are paramount, it provides the compass for efficiency, cost management, and revenue growth. As this industry strides forward, Operational hotel business analytics and optimization remain the guiding light, illuminating a future where resilience and excellence merge to create a sustainable, customer-centric, and prosperous landscape for all.
Success Story:
"Navigating Excellence: Transforming Travel & Hospitality with Operational Analytics"
Client Details:
The client is a hotel chain headquartered in Europe and operating globally.
Challenges faced by the client:
The client faced significant challenges due to suboptimal data management practices and a lack of streamlined, data-driven strategies and process workflows. This deficiency hindered their ability to make informed decisions and respond swiftly to market dynamics. Specifically, their e-commerce team recognized the pressing need for a solution that could address these issues.
To meet these challenges head-on, the e-commerce team sought a robust solution that could empower them to construct demand and supply control towers. These control towers would serve as centralized hubs, offering rapid access to real-time intelligence. They would facilitate both strategic planning and swift tactical decision-making. By implementing such a system, the organization aimed to gain a comprehensive view of market demands and supply dynamics, enabling it to make data-driven decisions with greater agility. This solution would not only optimize their operations but also enhance their competitiveness in a dynamic and rapidly evolving business landscape.
Solutions offered:
Quantzig's team orchestrated a transformative solution by constructing Supply and Demand control towers, effectively revolutionizing the way businesses manage their data operations. Through a holistic approach, the team aggregated key performance indicators and streamlined data operations, consolidating them into a singular, user-friendly cockpit. This centralized hub equips businesses with the tools and insights they need to efficiently plan for diverse scenarios and their corresponding contingencies, offering a dynamic edge in an ever-fluctuating market.
Furthermore, our team executed an end-to-end data modernization initiative and hotel data analytics, covering the full spectrum of data management. This comprehensive transformation journey encompasses data pipelining and the automation of data operations. By embracing modernization, the organization achieved a granular level of data accessibility, with week-level precision on the demand side and day-level precision on the supply side.
The final piece of this data transformation puzzle involves the creation of end consumption layers. These layers, powered by Microsoft Power BI, enable stakeholders to glean actionable insights from the data. Meanwhile, ETL (Extract, Transform, Load) workflows have been seamlessly automated through Microsoft PowerApps in Azure Data Lake, ensuring data processes are not only efficient but also future-ready.
In essence, Quantzig's comprehensive data transformation initiative not only optimizes data accessibility and analytics but also empowers businesses to make data-driven decisions with agility and precision, enhancing their competitiveness and strategic planning capabilities.
Impact delivered: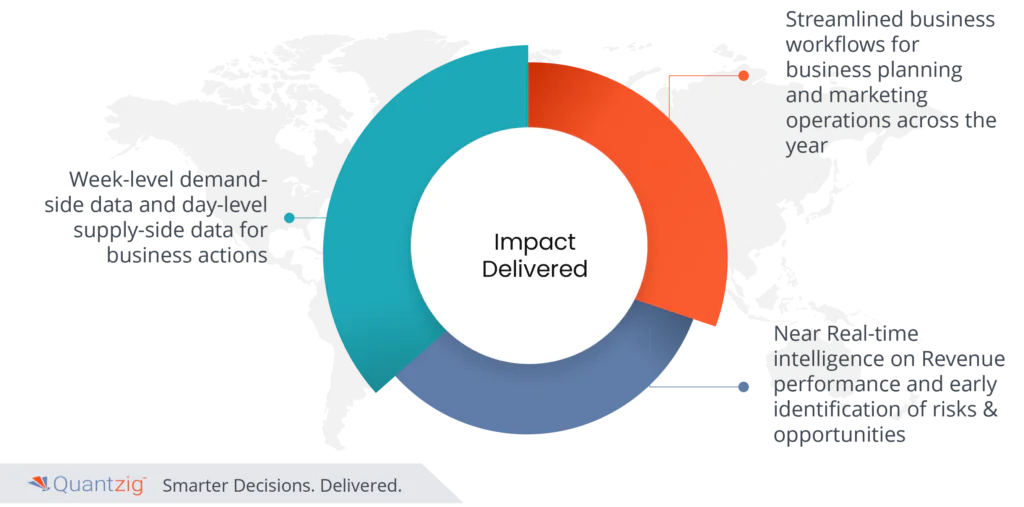 The client was able to get to week-level demand-side data and day-level supply-side data for business actions.
Successfully streamlined business workflows for business planning and marketing operations across the year.
"Unlock Your Success Story! Learn How Quantzig Transformed a Travel & Hospitality Business – Read Now!"