The development of new technology in healthcare is growing at a rapid rate. The healthcare industry revolves around thousands of daily tasks. Numerous patients get admitted every hour who require constant supervision. In the effort to provide superior service and, healthcare companies often ignore keeping track of their inventories. Healthcare companies possess inventories that comprise of perishable goods as well as medical instruments which need to be stocked correctly. The same is the case of miscellaneous hospital equipment which tends to go missing if unsupervised. Often, hospitals lack the capability to accurately estimate the quantity of hospital equipment required at a specific time. Meanwhile, having an excess of rental equipment like stretchers and X-ray machines take up space and add to costs. To streamline inventory management techniques and automate supply and medication distribution, hospital executives need to implement best practices such as investing in a hospital supply management system and streamlining inventory management tasks. One of the most critical aspects of any hospital inventory management system is the maximization of technological resources.
Get in touch to learn more about our inventory management capabilities.
Here are five tips for healthcare companies to improve inventory management techniques and reduce their overall costs:
Collect data from the Supply Chain
Using supply chain data can save healthcare companies billions of dollars. The data can be used to determine if the inventory management techniques used are as cost-effective as they could be. According to a recent survey, supply data has been siloed in the past. However, more healthcare companies are looking to build IT systems that use value-based reimbursement models. Using these value-based models, organizations can more accurately link supplies needed and patient outcomes.
Make Responsibilities Clear
Employees involved in inventory management must have a strong understanding of his or her role in the function. Be it cleaning the rooms, ordering the supplies, or checking the purchase orders for accuracy; it is essential that the staff in healthcare companies understand what their role is and how it contributes to the success of inventory management techniques.
Quantzig's advanced supply chain analytics solutions not just help you to optimize inventories but empower you with real-time insights to make appropriate decisions and gain better control over the inventory. Request for more information to know more about the business benefits of supply chain analytics.
Better Organize Supply Room
A hospital supply area that is not well maintained can pose a serious hindrance to healthcare inventory management. Disorganization is a bad situation for any supply room of healthcare companies leading to problems ranging from lost revenue caused due to misplaced supplies to not having an ability to tell how much of a particular item is available. It is advisable to organize the supplies in a linear fashion, which makes the frequently used tools easy to find. In order to reduce the number of wasted materials, try placing products that will expire the soonest towards the front when organizing the supplies.
Adopt a Lean Strategy
The inventory management techniques used by healthcare companies have costs outside of the supplies purchasing. There are several factors to be considered in the price. For instance, movement and management costs expired products, excess supplies, and purchase price variance. A better understanding of the expenses can, in turn, save healthcare companies more money. Implementing a lean supply chain will ensure that healthcare companies have the right number of supplies at the right place when and where they are required.
Standardization and Product Rationalization:
Reducing the number of different products in inventory can lead to significant cost savings. Standardizing on certain products or suppliers can simplify procurement, reduce training needs, and enhance volume discounts. Product rationalization evaluates the necessity of various items in the inventory, eliminating redundant or obsolete products.
By implementing these techniques, healthcare providers can streamline their inventory management processes, reduce costs, and ensure that resources are used efficiently. These strategies not only help in cost reduction but also contribute to better patient care by ensuring that necessary medical supplies are consistently available. Additionally, technology solutions and inventory management software can play a pivotal role in automating and optimizing these techniques, allowing for more precise control and visibility over inventory levels, further enhancing cost-saving efforts in the healthcare sector.
Types of Inventory Management Techniques:
Inventory management in healthcare is a critical aspect of ensuring that medical facilities have the right supplies and medications available when needed. Several inventory management techniques are used in healthcare to optimize the procurement and distribution of medical products. Here are three key types: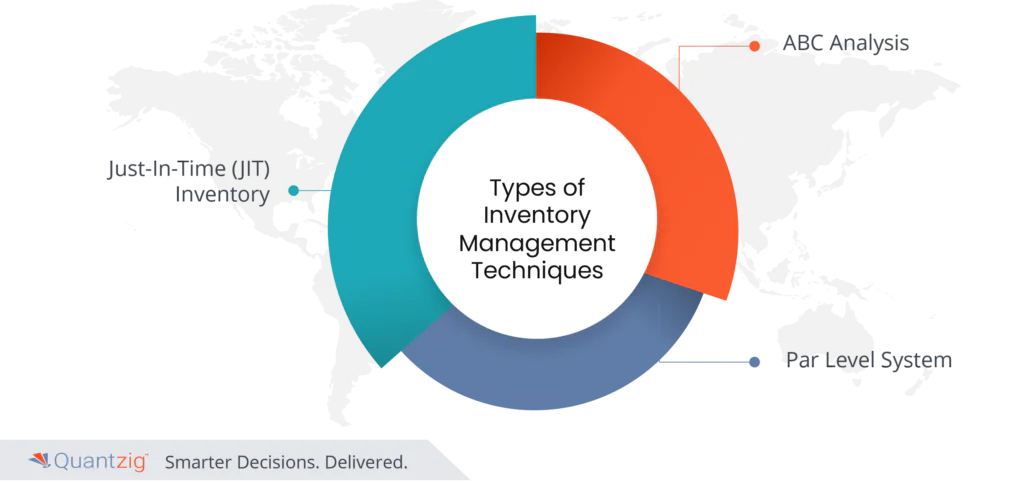 Just-In-Time (JIT) Inventory:
JIT inventory management focuses on maintaining minimal inventory levels by ordering supplies only as they are needed. This technique reduces storage costs, minimizes the risk of product expiration, and enhances cost-efficiency. However, it requires accurate demand forecasting and reliable suppliers to ensure a continuous supply of essential items.
ABC Analysis:
The ABC analysis categorizes inventory items into three groups based on their value and usage. Group A includes high-value, low-usage items, Group B consists of moderate-value, moderate-usage items, and Group C comprises low-value, high-usage items. This technique enables healthcare facilities to prioritize their focus and resources on the most critical inventory items, ensuring they are always available.
Par Level System:
The par level system establishes predefined minimum and maximum inventory levels for each item. When stock falls to the minimum level, orders are placed to bring it back to the maximum level. This approach ensures that healthcare facilities always have a certain quantity of essential supplies on hand, preventing stockouts and overstocking.
Tools Used to Improve Inventory Management:
Inventory management in healthcare relies on advanced tools and technologies to ensure optimal control over medical supplies and medications. Here are four key tools used to improve inventory management in healthcare:
Inventory Management Software:
Specialized inventory management software allows healthcare facilities to track inventory levels in real-time, automate reorder processes, and generate comprehensive reports. It provides insights into usage patterns, expiry dates, and demand forecasting, reducing manual errors and ensuring efficient supply chain operations.
Barcode and RFID Technology:
Barcoding and Radio-Frequency Identification (RFID) technology enable precise tracking of items. Barcodes are cost-effective and widely used, while RFID offers real-time tracking and can be particularly useful for high-value or critical items. Both technologies enhance visibility and accuracy in managing inventory.
Automated Dispensing Systems:
These systems automate the dispensing of medications and supplies, ensuring accurate and secure distribution. They reduce the risk of human error, enhance medication safety, and provide detailed usage data for tracking and reporting.
Demand Forecasting Tools:
Predictive analytics and demand forecasting tools use historical data to anticipate inventory needs. They help healthcare facilities maintain appropriate stock levels, prevent shortages, and optimize resource allocation, ultimately improving patient care and cost efficiency.
These tools collectively support healthcare providers in maintaining effective inventory management practices, enhancing patient care, and controlling costs.
Benefits of Cost control:
Cost control in healthcare offers several critical benefits. It helps healthcare organizations manage expenses, ensuring financial sustainability and affordability for patients. By optimizing resource allocation, cost control allows for investments in state-of-the-art equipment, staff training, and patient care improvement. This leads to enhanced quality of care, increased patient satisfaction, and positive health outcomes. Moreover, effective cost control reduces the financial burden on patients, making healthcare more accessible and affordable. It also supports the long-term viability of healthcare institutions, enabling them to continue serving their communities and invest in research, innovation, and the adoption of advanced medical technologies.
In conclusion, effective healthcare inventory management techniques serve as a linchpin in achieving cost reduction while upholding the highest standards of patient care. By implementing strategies such as demand forecasting, just-in-time inventory, ABC analysis, supplier collaboration, and standardization, healthcare facilities can optimize resource utilization, minimize waste, and reduce the financial burden of excessive inventory. In doing so, they not only streamline operational efficiency but also ensure that essential medical supplies and medications are consistently available when needed. These practices not only contribute to cost savings but also uphold the core mission of healthcare institutions by providing quality care and accessibility to patients. Ultimately, well-executed inventory management is a vital component in the sustainability and success of healthcare organizations.