Companies in the media and entertainment industry are facing challenges of digital reality. In today's competitive media and entertainment industry, offering a better experience to customers is the most daunting task. But offering a better customer experience than competitors is crucial to stay ahead of the curve. This is where data science can help the media and entertainment industry players bring in innovation to improve customer engagement. Data science, which leverages advanced scientific methods, processes, algorithms, and systems to extract knowledge and insights from structured and unstructured data, can help companies to better understand consumer interests and preferences to create content that appeals to the masses. In this article, we have discussed a few interesting data science media use cases in the media and entertainment industry that can help companies to determine how to optimize content to reach their maximum potential.
Request a FREE proposal of our data science in media analytics solutions to know how it can help you deliver a personalized user experience and reduce churn rates among streaming site audiences.
Data Science Use Cases in Media and Entertainment Industry
In the digital age, where data is the new currency, the media and entertainment industry are undergoing a profound transformation fueled by the adoption of data science. From content creation to audience engagement, data science in media industry is playing a pivotal role in reshaping how companies in this sector operate and innovate. Let's delve into three compelling use cases that showcase the transformative power of data science in the media and entertainment landscape.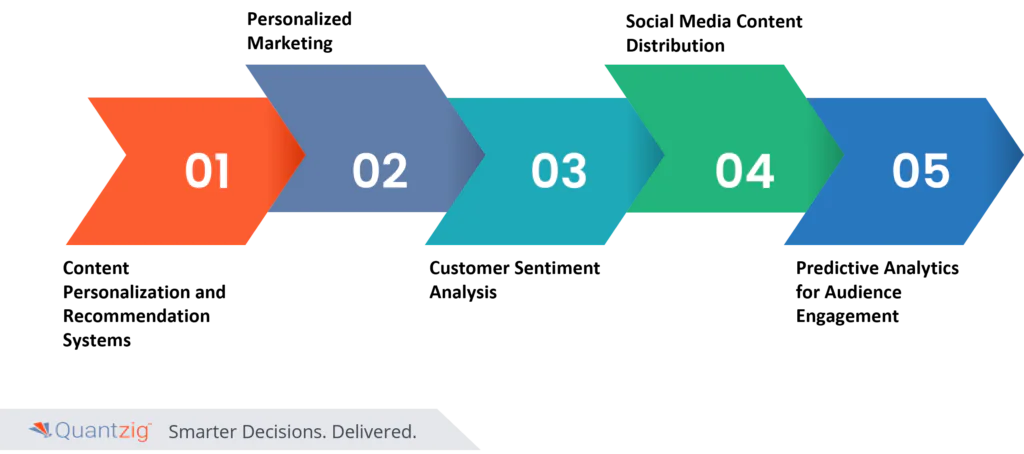 1. Content Personalization and Recommendation Systems
One of the most prominent applications of data science in the media and entertainment industry is the creation of advanced content personalization and recommendation systems. With vast amounts of data generated by user interactions, viewing preferences, and engagement patterns, media companies can leverage sophisticated algorithms to tailor content recommendations to individual users.
For instance, streaming platforms analyze user behavior, such as the genres they frequently explore, watch history, and time spent on specific content. Advanced machine learning models process this data to predict user preferences accurately. The result is a personalized content recommendation engine that not only enhances user satisfaction but also maximizes content consumption, ultimately driving revenue through increased subscriptions and ad views.
2. Personalized Marketing
For media and entertainment companies, attracting customers' attention becomes an important prerogative, especially when consumers expect quick and impressive online experiences. This is where personalized marketing algorithms come to the rescue. Such algorithms can recognize existing and new customers and extract out valuable information in real-time. Also, these algorithms can help companies to perform cross-channel tracking and tailoring personalized offers and messages based on behavioral insights. This can further help in influencing and retaining a potential group of customers.
3. Customer Sentiment Analysis
Media and entertainment companies must analyze the sentiments of their customer groups. Customer sentiment analysis uses advanced algorithms and machine learning techniques to analyze textual conversations and classifying posts, and messages based on the emotions hidden behind the context. This can help data science media and entertainment companies to increase positive mentions of their names and improve brand image.
Talk to our analytics experts to learn how they can help you in strategic decision-making, predicting trends, and understanding viewer habits.
4. Social Media Content Distribution
Social media content distribution plays a key role in enforcing suitable marketing strategies today. Content distribution mostly depends on the analysis of social media statistics that comprises data of user behavior, experience, and interests. With the application of algorithms, companies can identify the target readers and relevant marketing channels to drive growth. Content distribution on social media platforms can be successful only when it is well organized, prepared, targeted, relevant, flexible, and gradual.
5. Predictive Analytics for Audience Engagement:
Data science empowers media and entertainment companies to anticipate audience behavior and tailor engagement strategies accordingly. Predictive analytics models analyze historical data, social media trends, and viewer interactions to forecast audience preferences, content demand, and even potential market trends.
By understanding what audiences are likely to engage with in the future, companies can optimize their content creation strategies, marketing campaigns, and scheduling. This proactive approach not only enhances the quality of content but also enables effective resource allocation and marketing budget optimization. For example, predicting the popularity of specific genres or themes allows content creators to focus efforts on producing content with a higher probability of success.
In conclusion, in the dynamic landscape of the media and entertainment industry, data science emerges as a game-changer, offering unparalleled opportunities for innovation and audience engagement. The use cases mentioned—content personalization, predictive analytics for audience engagement, and sentiment analysis—underscore how leveraging data science media can not only drive operational efficiency but also fundamentally reshape the way content is created, distributed, and consumed.
As data science media continues to evolve, media and entertainment companies that embrace its capabilities will gain a competitive edge. The ability to harness data-driven insights not only enhances the bottom line but also positions these companies at the forefront of an industry where understanding and meeting audience expectations is paramount.
Request for more information to learn more about the use cases of data science in media and entertainment industry.