Here's what you'll find in this case study:
The Importance of a Robust Marketing Mix Strategy
Vegan Foods – Industry Outlook
Client Profile
Business Challenges
Solution Delivered
Business Impact
Why Choose Quantzig's Marketing Analytics Solutions?
Highlights of the Marketing Mix Strategy Case Study
| | |
| --- | --- |
| Particulars | Description |
| Client | A leading vegan foods manufacturing organization based out of the US |
| Challenge | To devise a reliable data-driven marketing mix strategy that improves conversions and MROI |
| Increase in customer acquisition | 15% increase in customer acquisition |
| Increase in MROI | 9% increase in MROI |
| Competition Intel | Data-driven insights on competition, forecast, and strategy |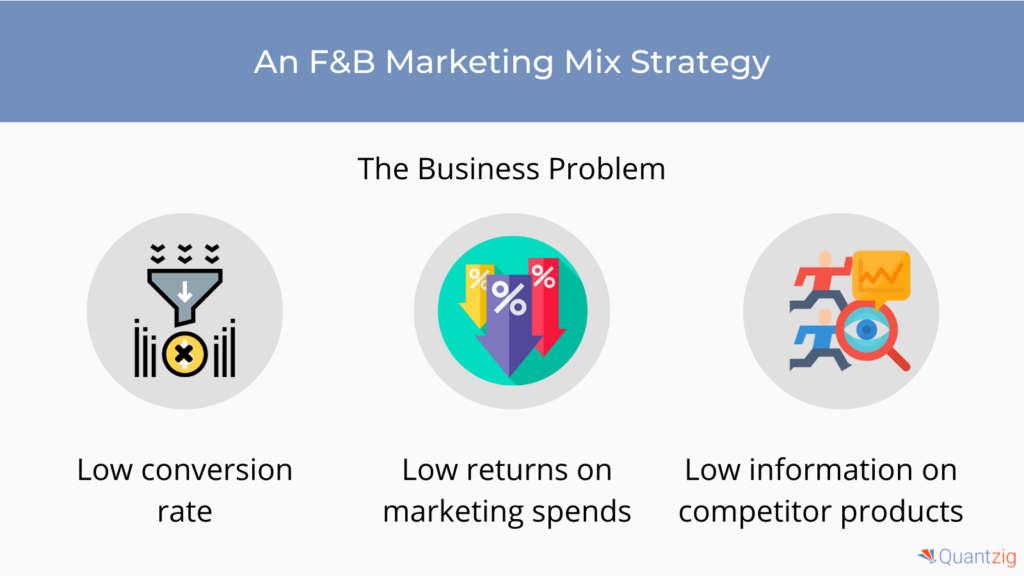 Click here -> and speak with our analytics experts to learn how you can gain accurate insights on the performance of your marketing channels and campaigns, find the optimum marketing mix, drive conversions, and maximize MROI.
Importance of a Robust Marketing Mix Strategy
The marketing mix is a long-term plan of action that is used to help a firm gain a competitive advantage over its competitors. A powerful marketing plan demands a considerable amount of research and outlining. Setting the right elements together can be a challenge but employing a marketing mix strategy can help lead your organization in the right direction.
A marketing mix strategy uses multiple analytic frameworks to examine all the elements and features that might impact marketing. The most general of these frameworks is the "4Ps" – product, price, place, and promotion. The importance of marketing mix in any conventional marketing campaign or tactic should be assumed in the right manner. The elements of a marketing mix strategy allow the marketers to distinguish the demands and wants of their potential consumers. The importance of marketing mix lies in its ability to help a business determine the suitability of a product or a service for a distinct target consumer base.
Vegan Foods Industry Overview
Considering the boom today, veganism no longer seems like a niche option. The interest and potential of vegan foods are always growing. As the trends driving interest in vegan foods seem likely to advance, savvy business people can not only benefit by catering to this demand but also raise demand by offering delicious, convenient, and affordable plant-based foods. As customers are becoming more mindful of the products they put in their bodies and of the environmental impact they have, businesses have begun becoming more alert while catering to such needs.
Get in touch with our experts to know more about advanced analytics.
Client Profile
The client is one of the leading vegan foods manufacturing organizations established in the US. The company is well known for its vegetarian and vegan frozen meals, pasta sauces, canned foods, and much more.
Marketing Mix Strategy Challenges
The food industry is extremely competitive in terms of pricing, promotion, service, place, and quality of food. The client, who is a major player in the vegan food industry, was facing challenges in marketing their plant-based products. They also wanted more information on the availability and demand for alternatives in the market space. After learning about Quantzig from an industry veteran, the client decided to connect with us to understand what they can achieve by working with us.
Their primary aim was to develop a marketing and sales strategy that would ensure that their sales funnel was aligned with online and offline channels. Additionally, they wanted to balance out the use of the basic marketing elements and devise an adequate strategy that would help them understand the needs of end customers and maximize business revenues.
Begin your journey from data to insights today.
Solutions Delivered
With the aid of Quantzig's marketing mix strategy, the vegan foods company significantly addressed the pricing needs and suitably fixed the prices for the vegan foods offered. Furthermore, understanding marketing options enabled the client to vary its marketing activities according to its resources, market conditions, and customer needs. The marketing mix strategy also enabled the client to improve the sales volume and strengthen the level of competitiveness and their market share.
Business Impact
As a result of this engagement, the client was able to achieve –
15% increase in customer acquisition
9% increase in MROI
Data-driven insights on competition products, forecast, and strategy
Why Choose Quantzig's Marketing Analytics Solutions?
With over 15 years of experience in providing analytics services, Quantzig has served 120+ clients and delivered actionable insights that assisted them to deliver continuous market excellence.
As product commoditization and standardization of services continue to fuel the radical shift towards an analytics-driven culture— marketing spend is poised to continue its unprecedented rise. Most businesses haven't figured out the best way to get the maximum benefit from their marketing activities, but they must do so by leveraging marketing analytics solutions that help increase their marketing effectiveness and efficiency and realize better returns on their marketing spend.
Our marketing analytics solutions can help you reduce maverick spend on marketing campaigns, identify relevant marketing channels, generate more qualified leads, improve the efficiency of marketing strategies, and drive conversions and MROI.
Continue reading to know more about the importance of marketing mix strategy for a Leading Vegan Foods Manufacturer or request a proposal.
Related Articles